The inaugural Camogie All-Stars tour is set to travel to Madrid next week.
Players from the 2016 and 2017 All-Stars team, as well as several nominees, will head to the Spanish capital on Wednesday, 29 November, and will play an exhibition match in Universidad Complutense de Madrid the following day.
All-Ireland winning Cork manager Paudie Murray along with Kilkenny boss Ann Downey will manage the sides.
Players from eight different counties will feature on the teams, including Cork's Aoife Murray, Dublin's Aisling Maher and Galway's Rebecca Hennelly, who were all in attendance at today's launch in Croke Park.
The Tour will also include several other stalwarts of the game, including Wexford's Kate Kelly who won her 9th All-Star Award in 2016, and Cork's Gemma O'Connor who moved ahead of Kelly this year with an incredible record 10th All-Star Award.
O'Connor scored the equalising point in this year's senior All-Ireland decider against Kilkenny before substitute Julia White nailed the winner moments later to secure the O'Duffy Cup for the Leesiders.
There were doubts over whether O'Connor would be fit to play the game, but she managed to overcome a knee injury and put in a stirring performance for Cork as they collected a 27th All-Ireland title.
The tour will attend a reception at the Irish Embassy and will engage with the Irish community in Madrid as part of the trip.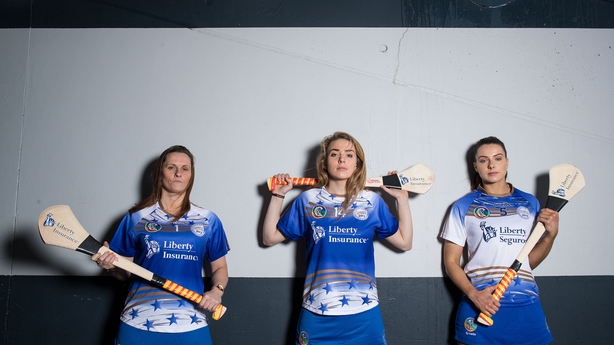 2017 All-Stars Team:
Aoife Murray (Cork)
Tara Kenny (Galway)
Catherine Foley (Kilkenny)
Laura Treacy (Cork)
Gemma O'Connor (Cork)
Máire McGrath (Clare)
Eimear O'Sullivan (Cork)
Meighan Farrell (Kilkenny)
Ashling Thompson (Cork)
Chloe Morey (Clare)
Katie Power (Kilkenny)
Amy O'Connor (Cork)
Ailish O'Reilly (Galway)
Aisling Maher (Dublin)
Aoife Donohue (Galway)
2016 All-Stars Team:
Emma Kavanagh (Kilkenny)
Sarah O'Connor (Wexford)
Sarah Dervan (Galway)
Collette Dormer (Kilkenny)
Rebecca Hennelly (Galway)
Anne Dalton (Kilkenny)
Miriam Walsh (Kilkenny)|
Orla Cotter (Cork)
Michaela Morkan (Offaly)
Shelley Kehoe (Wexford)
Denise Gaule (Kilkenny)
Niamh Mulcahy (Limerick)
Tina Hannon (Offaly)
Kate Kelly (Wexford)