And so the winning sequence continues.
Na Piarsaigh's victory over Ballygunner in today's Munster club hurling final saw the Limerick side capture a fourth provincial crown.
All the victories have come in this decade for a club that can now boast an 11-match unbeaten run in their province.
Yet for a good part of the Semple Stadium clash with their Waterford rivals, Na Piarsaigh were second best in the majority of the 50-50 challenges and were losing ruck balls.
Action was required and in the end, the response yielded a positive outcome, with Adrian and David Breen hitting late goals to seal an eight-point victory.
In analysing how Na Piarsaigh eventually stirred themselves, goalkeeper Podge Kennedy told RTÉ Sport: "We knew we hadn't done the hurling that was needed when we came in at the break.
"You have to give Ballygunner some credit as they came out all guns blazing. They set the tone, they had those weeks of preparation coming into the game, good hardy games.
"Maybe we didn't have that and they brought a different kind of intensity that we've never experienced before.
"We had to step it up. We felt the forwards had to work that little bit harder because I thought our backs were excellent today. They did in the second half and they powered through in the end."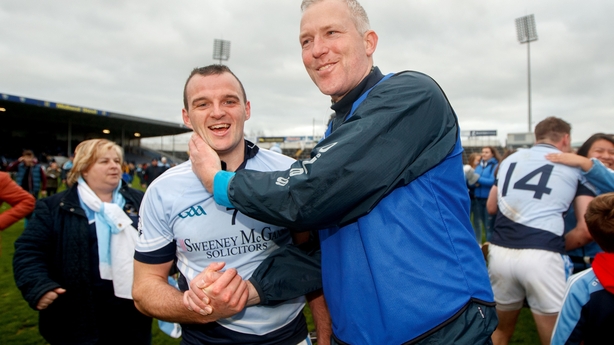 At the end of the game, the custodian felt Na Piarsaigh "were an absolute machine" and that the work put in all year was designed to get them to that point.
He added: "A few harsh words were said at half-time. We asked ourselves is this going to define our year after the work we put in over the last few weeks?
"We did a savage amount of training. The management team had us so well oiled and well drilled. It would have been very disappointing not to come out with anything."
And so Na Piarsaigh are back in the All-Ireland series - two wins away from regaining the All-Ireland crown won in 2016.
Kennedy's thoughts, however, are not yet fixed on St Patrick's Day glory and, not surprisingly are more grounded as to what the new year will hold.
"We take it game by game. There was no talk about a Munster championship at the start of the year, no talk of a Munster championship after the county final.
"Whether it's Thurles, Rathkeale or Ballybrown, it's about that game and that time.
"Once or twice we let ourselves down with our performances this year. Today was the epitome of everything we wanted, a bit of guts, guile and a physical presence.
"We'll enjoy our week. the management will have us well drilled over the winter. We won't be looking past the All-Ireland semi-final, we don't even know what date that game is on or who the opposition will be."