Kilcormac/Killoughey (Offaly) 2-21 Mount Leinster Rangers (Carlow) 0-10
By Conor McKenna
Kilcormac/Killoughey advanced to face Cuala in the Leinster final after a 2-21 to 0-10 victory over Carlow champions Mount Leinster Rangers, in what was a very one-sided game of hurling in Tullamore.
Conor Mahon opened the scoring for Kilcormac/Killoughey with a well-taken point, before Diarmuid Byrne equalised for Mount Leinster Rangers, with a long-range free.
Conor Mahon and Chris Nolan traded points before Ted Joyce put the Carlow outfit into the lead for the first time with a point from close range.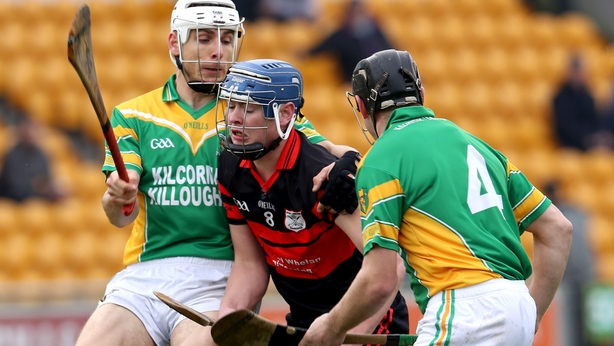 Cillian Kiely equalised for Kilcormac/Killoughey with a decent effort and further scores from Peter Geraghty and Ciaran Slevin gave the Offaly side a two-point lead.
Denis Murphy and Slevin registered a point apiece but the game looked set to change dramatically when Kilcormac/Killoughey's Cillian Kiely was dismissed on a straight red card for an apparent strike on Mount Leinster's Diarmuid Byrne.
The game did change dramatically but not as anyone would have expected as remarkably Kilcormac/Killoughey went on to score 1-06 without reply, giving them an 11-point advantage.
Conor Mahon made an excellent surge towards goal before his effort was magnificently saved by Frank Foley, but James Gorman tapped into an empty net to give his side a five-point lead. 
We're live on @MidlandsSport pic.twitter.com/elkjhZksVz

— Ann Marie (@AnnMarieGuinan) November 19, 2017
The home side were outstanding from that point onwards, completely dominating procedures and two frees from Ciaran Slevin, gave the Offaly champions a 1-08 to 0-04 interval lead.
Mount Leinster Rangers would not have seen seven points as an insurmountable deficit at half time, especially with the aid of an extra man, but it wasn't to be, as a fantastic team performance from KK saw them advance.
Daniel Currams, who was outstanding for KK throughout the game, finished the game with an excellent three-pointer after 41 minutes to give his side a 2-15 to 0-06 advantage.
The match was well and truly over as a contest shortly after when David Phelan was dismissed on a straight red card for a wild swing on Daniel Kilmartin.
Kilcormac/Killoughey held out for a comfortable 17-point win, Thomas Geraghty's 63rd-minute point the final action of the day as his side advanced to a Leinster final against All-Ireland champions Cuala. 
Kilcormac/Killoughey: James Gorman 1-5, Daniel Currams 1-3, Ciaran Slevin 0-5 (five frees),  Conor Mahon 0-3, Peter Geraghty 0-2, Stephen Leonard, Thomas Geraghty and Cillian Kiely 0-1 each.
Mount Leinster Rangers: Chris Nolan 0-4 (two frees), Diarmuid Byrne 0-2 (one free),  Ted Joyce, Denis Murphy, Paul Coady and Jon Nolan 0-1 each.
Kilcormac/Killoughey: Conor Slevin; Killian Leonard, Ger Leonard, Kevin Grogan; Enda Grogan, Daniel Kilmartin, Jordan Quinn; Cillian Kiely, Ciaran Slevin; James Gorman, Conor Mahon, Peter Geraghty; Thomas Geraghty, Peter Healion, Daniel Currams.
Subs used: Stephen Leonard for Peter Healion (HT), Alan McConville for Killian Leonard (49), James Geraghty for Kevin Grogan (51),  Shaun Lowry for Damien Kilmartin (54), Shane Guinan for Daniel Currams (56),
Mount Leinster Rangers: Frank Foley; Willie Hickey, Richard Kelly, Michael Doyle; Edward Coady, David Phelan, Gary Kelly;  Diarmuid Byrne, Richard Coady; Paul Coady, Jack Murphy, Edward Byrne; Denis Murphy, Chris Nolan, Ted Joyce.
Subs used: Michael Malone for Willie Hickey (17), Kevin McDonald for Richard Coady (25), Gary Lawlor for Edward Coady (HT), Jon Nolan for Denis Murphy (HT),
Referee: John O'Brien (Laois).