Ireland's late International Rules call-up Ciaran Sheehan says he isn't bitter over being let go by Carlton.
The Farran native won an All-Ireland title with the Rebels in 2010 before heading Down Under to join the Blues in 2014.
However, a succession of hip, knee and hamstring injuries limited him to just six appearances in four season and he was released by the AFL club last month.
"I've been de-listed by Carlton after four years," he told RTÉ Sport. "I've been lucky enough to get the four years to be honest after the run of injuries.
"It's been a bit of an up and down career for me. I've had six operations in the last two and a half years so it's been quite a journey.
"You learn an awful lot from these things and gain a lot of resilience.
"I'm very grateful to the club for what they've done for me. The help (through) the ups and downs - they've all been there, the coaches, the players, I've been really lucky with the people I've met.
"It's been rollercoaster but I can only wish them the best of luck going forward and thank them for the experience."
How is this 7 years ago? #greattimes pic.twitter.com/gUxKIjBc4v

— Ciaran Sheehan (@Gussyman90) September 19, 2017
Sheehan, who turns 27 on Sunday, insists he has yet to decide whether he'll return to Ireland and resume his inter-county career with Cork or stay in Australia.
"I haven't given it too much thought," he said. "It's been a tough year for me personally.
"There's a lot of pressure around being a professional footballer, especially on performance, and stress levels have been quite high over the last year or so.
"It's been a long year and the last few months I've been thinking about life outside of sport.
"We'll see what happens in the next couple of months.
"We're (he and partner Amy) going home to Cork for Christmas, so I'm looking forward to that and enjoying time around family and friends back home."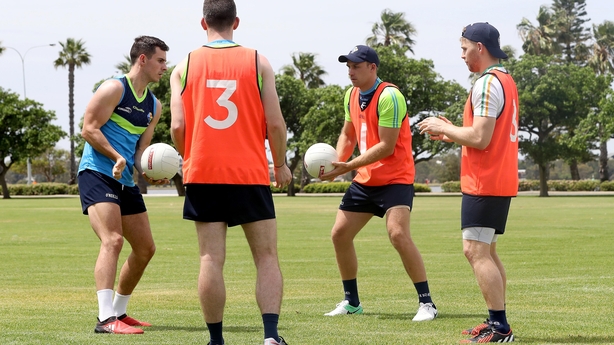 Sheehan, along with Monaghan's Darren Hughes, was a late addition to Ireland manager Joe Kernan's panel for the second test, which he says was a welcome surprise.
"It was a bit of a shock to be honest. I was absolutely privileged to get the call from him. Any opportunity to throw on an Irish jersey is a hug moment for anyone.
"It's been a good week so far so hopefully we can finish the job this weekend.
He is adamant that Ireland can overturn a 10-point first-leg deficit when they face Australia in Perth on Saturday.
"Absolutely. We've had great belief in the group all week.
"We're very positive going into the game. We learned a lot from the first game and going into this game we've gone through some things we needed to tighten up on.
"Some people might be saying the competition is going downhill but certainly not for us, putting on the Irish jersey is a huge honour and we're really looking forward to the game and getting one up on the Aussies."
Australia v Ireland (8.45am start) is live on RTÉ 2 from 8.30am on Saturday morning with a live blog on RTÉ Sport Online from the same time.