Nestled in a corner of County Sligo, close to the Mayo border, is the village of Tourlestrane. 
On Sunday next, most of its inhabitants will be in McHale Park to see their footballers take on Castlebar Mitchels in the Connacht club semi-final.
There is already great excitement around Tourlestrane as the club seek to reach a first provincial decider since 1982.
In the GAA Roll of Honour, Sligo are well down the list, as evidenced by just three Connacht titles at both inter-county and club level. St Mary's provided the latter success in the years 1977, 1980 and 1983.
To many outsiders, Sligo is more associated with soccer and the exploits of Sligo Rovers, a club that emerged within a garrison town.
The legendary 'Dixie' Dean played for Rovers in the 1930s. Over the years many fine players like David Pugh, Tony Fagan, Paul McGee have lined out for the Bit o' Red. In the last decade, Seamus Coleman honed his skills for the Showgrounds outfit before making the switch to Everton.
That said, outside perceptions don't always tell the full story. In terms of Gaelic football, Sligo can lay claim to the brilliant Mickey Kearns, a prolific marksman throughout the 1960s and early 70s. If he had been born in either Galway or Kerry, there is no doubt he'd have won a few All-Ireland medals. 
A latter day Sligo hero is Eamonn O'Hara and it is he, along with Gerry McGowan, that will oversee Tourlestrane's attempt to cause a surprise against the Mayo champions.
Both men were on the line when the club retained their county title against Eastern Harps on 22 October.  Indeed, prior to that success, Tourlestrane had in their last nine county victories failed to retain the championship.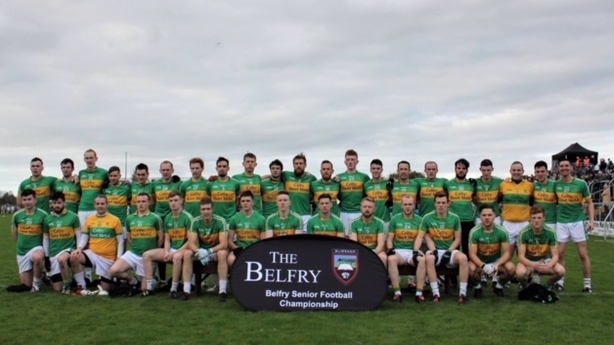 Breaking that unwanted sequence saw them claim a 13th Sligo crown. Neighbouring clubs Tubbercurry (20 titles) and Curry (7 titles) give further proof as to where Sligo's football hotbed resides.
In Tourlestrane, it's quite obvious the club plays an important part in the way of life for its inhabitants, with PRO Jacqueline Kennedy telling RTÉ Sport: "The mainstay of our community is the GAA club. Everything branches out from the club. We have a Lotto that's been running for years. We run a teenage, non-alcoholic disco, where busloads come from Sligo and Ballina.
"We have a fantastic pitch, a pitch where the Sligo team regularly train. Our parish priest Fr Glynn would often give a short sermon telling us that you have to go home and get ready for the game.
"Lives are planned around the matches and that will certainly be the case on Sunday. Dogs in the parish are dressed up and sheep are sprayed."
In assessing this current Tourlestrane outfit, it's fair to say they possess a nice blend of youth and experience, with youngsters Liam Gaughan and John Kelly, along with Brian Egan, leading the way in the scoring stakes.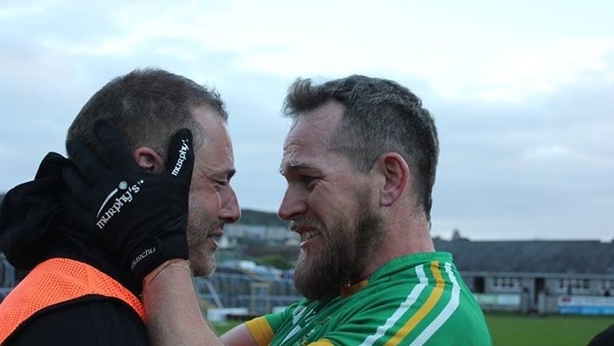 And then there's Shane Dunne with his nine county medals. 
Reflecting on the year so far, Kennedy added: "We are a team that defend in numbers and run at pace. That strategy has served us well so far. We won the Leo Kenny Cup (a competition for Connacht clubs) and we were comfortable winners there, beating Galway's Killannin in the final. 
"As we approach the Mitchels game, we are content to sit there nicely as underdogs. Eamonn and Gerry's approach has been measured, with the well-worn mantra of taking each game as it comes."
In 2016, Tourlestrane went down by eight points to Sunday's opposition at the quarter-final stage. A poor first-half put pay to their chances at Maerkievicz Park. For Kennedy, it's vital that Tourlestrane don't "fall down" this weekend.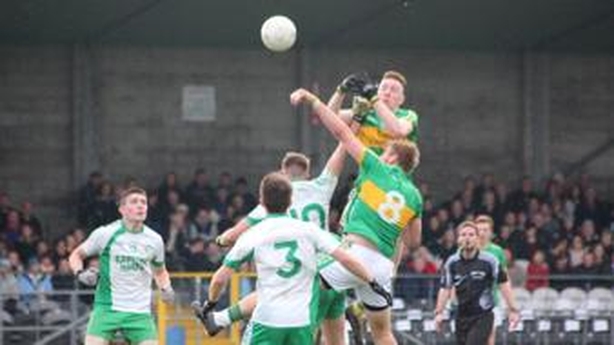 "I know we are playing the underdog card and that Mitchels are a big name, but we have got to make a real impression again in Connacht. It's been a while since a Sligo team (Curry in 2008) got to a final.
"We just didn't turn up against Mitchels last year. We have to on Sunday. Home advantage doesn't always work. You have the Child of Prague in everyone's garden hoping for a fine day. In saying that, a wet day might suit. Whatever the elements, we have to be ready."
Away from events on the pitch, this year has been tinged with sadness for Tourlestrane following the death of Eamonn O'Hara's father Jackie and the tragic passing of Mairead Davey, daughter of club vice president Michael Marren and brother of current player John.
After retaining the county title, Jacqueline Kennedy summed it up by saying: "There was the euphoria of winning back-to-back titles and then collectively we all said 'there you go Jackie, there you go Mairead, this one is for you'."