Former Dublin footballer John Leonard is usually a prolific writer. He runs a website entitled 'Sober Paddy' which carries interesting articles about his life since quitting alcohol, and is also the author of 'Dub Sub Confidential,' a brilliant book about his former days of drink, drugs and sport.
The book also treats us to some fascinating insights about his time in the Dublin senior ranks, when he was Stephen Cluxton's understudy as the sub goalkeeper.
But over the past six to eight months, Leonard went through something of a drought in terms of his writing output. He was preoccupied with his club duties for St Sylvester's and has often found it challenging to balance his training with his passion for writing.
There was also nothing happening in the world around him that could provoke him to write.
"Nothing got to me enough," he told RTÉ Sport.
That was until former Irish Times sports journalist Tom Humphries was handed a two-and-a-half-year prison sentence last month for grooming and sexually abusing a teenage girl.
As a fellow survivor of paedophilia, Leonard could relate to this situation on a deeply personal level. He was just nine years old when he was abused by a priest. It's a period of his life which he deals with in 'Dub Sub Confidential,' and he explains how it ultimately led him down the path of drink and drug abuse.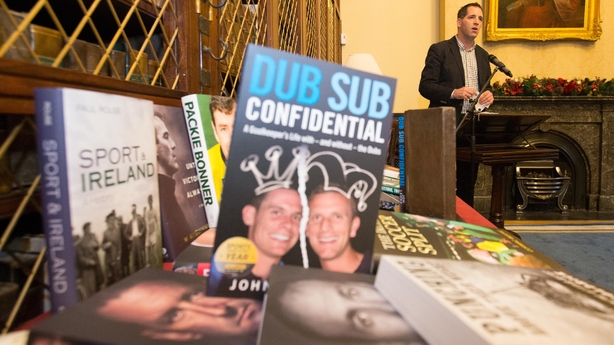 Leonard kept the secret of his traumatic experience to himself until he was in his Leaving Cert year, when he finally confronted his past and admitted to his parents what he had been through. The priest, Father Ivan Payne, was found to have abused several other children and was later sentenced to six years in prison.
The Tom Humphries case revived some memories of that time in his life. It got to him.
The coverage of the case, the articles written about him in the aftermath, and the impact of the character reference letters written by former Cork hurler Donal Óg Cusack and Sunday Times chief sports writer David Walsh, prompted Leonard to put his thoughts into a piece,which he published on his website under the title 'Dealing with the Paedophiles.'
"The reason that I picked up the keyboard," he explains, "was when I heard about the Tom Humphries case and the sentencing. I read some of the reaction in some of the newspapers and some of the articles that were written about him and I really felt, as someone who's been on the receiving end of a paedophile, that I needed to speak.
"It was quite complex as well because Tom Humphries was someone who had inspired me.
"It's something you try not to think about too often because they're never really good memories but it did bring a lot of stuff back. It brought me back to think about what it was like at the time and to put myself in the girl's shoes now who's going through all this stuff and going through this massive public court case that's in the papers.
"It's a really tough thing to go through."
The testimonials from Cusack and Walsh attracted a lot of attention when the case was ongoing, and stimulated debate about whether or not their actions were morally right.
Since the verdict was announced, both men have published statements about their choice to submit the letters. Cusack said he "showed a lack of judgement," while Walsh condemned the crime Humphries had committed but said he would remain his friend despite the conviction.
October 14, 2017
Cusack has since stepped down from his coaching role with the Clare hurlers and as a board member of Sport Ireland, stating that he does not want "any controversy to detract from the important work of the board".
Leonard believes that the extent of what they knew about the truth of the case is an important factor to consider in this instance.
"If they didn't know that he was guilty then I don't have any problems with what they did because I would respect somebody who has that kind of integrity for a friendship. When you believe somebody and trust somebody and they tell you 100% they didn't abuse this kid, I can respect that.
"But if there was a doubt, or if they knew that he was guilty well then I cannot accept that. And I've thought about it deeply, even if you know them, how you can you put your hand up and say 'this is a good person' when you don't truly know who they are.
"If you do stand up for paedophiles, you're going to get dragged through the mud with him and that's what's happening.
"The testimonies that they gave were of his good upstanding and trustworthy character and how great a man he was. Yet, that for me should work against him in terms of sentencing because that was what he used and abused in order to attack and abuse this girl."
Leonard initially had a different plan in mind when he first began organising his thoughts for 'Dub Sub Confidential', but he ultimately knew that his experience with abuse would have to be included.
Fears about others changing their view of him after discovering the truth about his past circled in his mind, but he came to understand that it was part of the fabric of his story. And although it was a difficult process, he was glad with the decision he made.
"People who have been abused came to me and found it so relieving," he said, "and it helped other people who'd been abused. The people that it's helped and given a little chink of a light to, you can't replace that, that's unfathomable.
"I've met some people in the aftermath who've been through more horrific things than I went through and it gave them something. That's a great thing for me and it was a great thing for the book. But it was difficult to put it in there initially."
In the book, we learn how Leonard relied on drink and drugs to channel his emotions following the abuse, although he writes that he does not look back and blame the abuse for all his subsequent choices.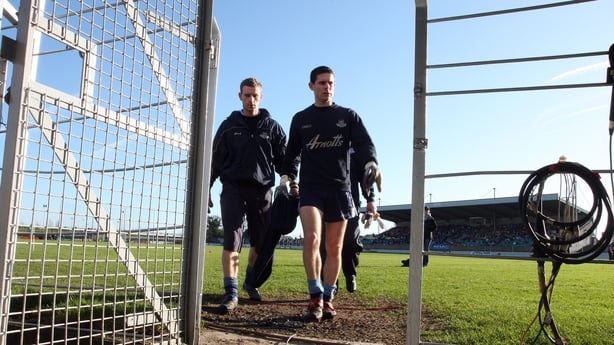 Sport also offered Leonard an outlet for the pain that had been inflicted upon him, and although he was still regularly partying, he managed to dedicate himself to the Dubs.
But as much as he was able to function and perform, he knows that without that damage to his body, he could have given more of himself to the game.
"I think with anyone who has an addictive personality, and that's certainly what I do have, you replace one addiction with another. A good thing to do is to replace a bad addiction with a good addiction and that's what I did. And sport for me was a release. It was an addiction and it was something that I wanted to really excel in.
"I wanted that forever, I wanted that as a young boy and I wanted to be good at sports. Part of me does regret that period of life around 18, 19, 20 when I went off the rails. I had so much talent, I had so much ability and I left so much behind because I didn't face up to what I was going through.
"From the outside, I don't know if it seems like that or not because I seemed to be able to still excel with the Dublin U21s and I won county titles with Sylvester's. I still know that I could have been so much better.
"Most of the time I was stoned training or I was drunk every few days and I was still getting out of it at the weekends. I never really gave it a real shot.
"I was so grateful in my later years to come back and get a shot with the Dubs again, I did that in a very different way.
"When you leave so much behind between 18 and 22, and then I spent four or five years nearly not playing anything and then I came back – you appreciate it so much more."
Leonard no longer considers himself a victim and is enjoying his new life of travelling the world and enjoying new experiences with a clear mind. He has reconciled with the young boy who suffered needlessly.
He visits schools around the country and shares his story with young people in the hope of inspiring them to talk more openly about their own experiences, and realise that they too can reinvent themselves.
"I made a decision on that many years ago, which was to change the story about myself and it coincided with me starting to write 'Sober Paddy.' It was about re-creating a new version of myself and drawing a line in the sand personally feeling it was ok to think of myself as a victim.
"I made that decision to change, and I didn't look back really. I haven't looked back over the last seven or eight years."