Ireland's International Rules manager Joe Kernan admits he is disappointed no Dublin players will making the trip Down Under but believes there is more than enough talent in the squad to put it up to Australia.
The former Armagh boss announced his squad for next month's two-Test series at Croke Park this afternoon, and, for the first time ever, it features no players from the reigning All-Ireland champions.
"Of course it is (a disappointment)," Kernan told RTÉ Sport. "The quality of their players.
"I think we spoke to ten of them. But, in fairness to the fellas, all of the commitment they've given, all they've won this last three years, the way they've behaved, the way they've carried themselves and the way they've performed, something had to give. 
"They had to give their commitment to their club and some of those players are dual players so they're playing every week. Some of them have work commitments, some of them have new jobs, a couple of injuries. Jack (McCaffrey) would have been there, Bernard (Brogan) would have been there. Bernard developed a problem again.
"You can't complain about boys like that. What they've given, they've given their lives for their sport, the Dublin lads. They want to win more and, if they need a breather, then so be it.
"Mayo were the same. I would have had another two or three Mayo players but because of injury. Lee Keegan was definitely in there, Andy Moran, Tom Parsons, Colm Boyle, they all have injuries."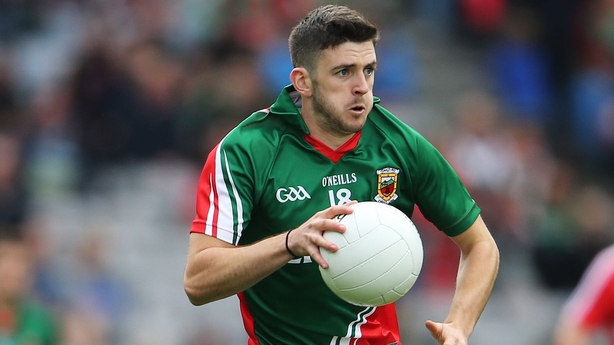 Captain Aidan O'Shea is one of three players from the runners-up, with Brendan Harrison and Chris Barrett among 13 making their international debuts.
"Over half of them haven't played, which is great," said Kernan. "It's great for those boys to get a chance to wear the Irish jersey. 
"They're all good footballers. Shane Walsh (Galway), he has so much potential. I just said I wanted to take the hand-cuffs off him and just let him out and play. Hopefully that's what you'll get. 
"Niall Sludden (Tyrone)  has been a sensation since he's come up here. His running, his skill level, his handling, his quick-thinking. That's what we're looking for. Speed, mobility, good kicking, and good mental awareness."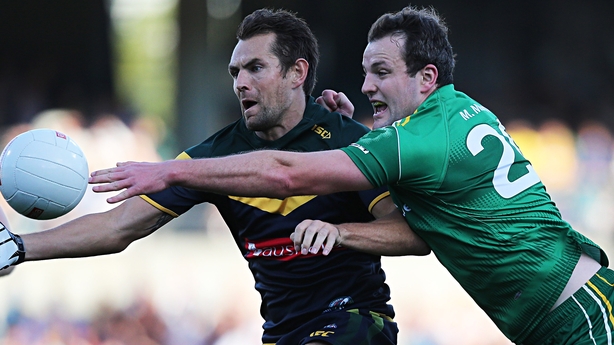 Even without any members of the three-in-a-row-winning Dubs, Kernan is happy that he can form a potent team around the likes of Donegal All-Ireland winner Michael Murphy.
"You'd love to have them. But don't take anything away from the boys that we have here.
"If you look at that forward line... (vice-captain) Conor McManus, Michael Murphy, who's going around like a child in a toy-shop at the minute. He has no injuries, I've never seen him looking fitter and his attitude, toughness, and skill level is unbelievable. 
"Paul Geaney, Conor Sweeney, young Niall Murphy from Sligo - he's done awful well. He played himself onto the squad, without a doubt, with his performances for us.
"Around the middle of the field, we have Gary Brennan, Peace Hanley, Kevin Feeley, Enda Smith. So we have a load of good ball players. If we can get the ball up there we'll cause problems."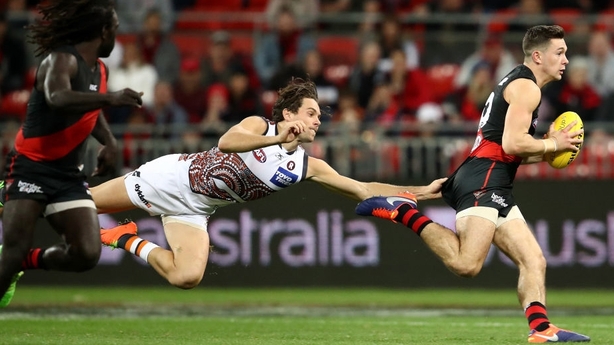 One man who won't be lining out in Adelaide or Perth is Tyrone native and Essendon star Conor McKenna, who tore ankle ligaments in training with Ireland last week.
Paul Kerrigan is also out after Nemo Rangers' victory in the Cork SFC final and Clare's Gary Brennan could join him if Clondegad win the Clare championship this weekend.
Kernan has left two spots in the 23-man squad open and said that although McKenna was a big loss, he was unlikely to call up any other Australian-based Irish players apart from the already named Pearce Hanley and Zach Tuohy. 
"I was really looking forward to seeing him play," lamented Kernan of McKenna. "He showed glimpses here. He'd get a ball, three men would go to tackle him, and he'd just give a shimmy and be gone. That was in wet conditions here. On a dry ball out in Australia...
"The reason we took three boys in this time was that over here in Ireland we felt we could do enough here. But going out there we felt we needed the experience of players out there. To have those three boys, they would certainly not want to play bad against their professional friends or enemies they play against every day."