Mayo's Aidan O'Shea has been confirmed as Ireland's captain for the upcoming International Rules series against Australia.
It will be O'Shea's fourth time on the panel and he will be joined by county team-mates Brendan Harrison and Chris Barrett.
In all, 14 counties are represented in the 21-strong panel with Mayo leading the contingent with four players and Kerry next with three.
There are no representatives from the All-Ireland-winning Dublin team, with on-going club commitments, work and need for a rest cited as the reasons.  
Monaghan forward Conor McManus is vice-captain in his fifth appearance in the series.
Kernan has only announced 21 of his 23 man squad after suffering two late withdrawals. 
Essendon's Conor McKenna has been ruled out after suffering an ankle injury as has Cork forward Paul Kerrigan.
Kerrigan is out because his club Nemo Rangers won the Cork title last weekend and will be playing in the Munster Club SFC.
Team manager Joe Kernan said: "I'd like to congratulate all of the players who have made the panel and acknowledge not only their hard work and training but that of all of the players who trialled and trained with us since our preparations commenced.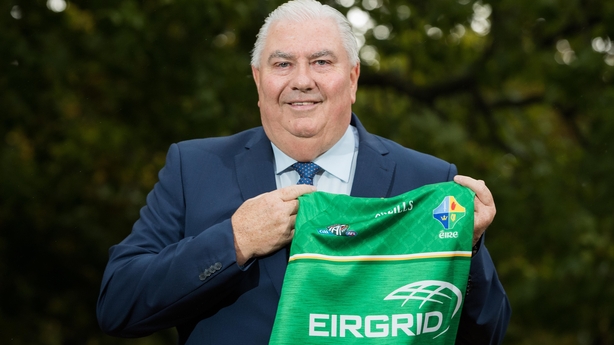 "Everyone involved is enthused by the prospect of representing Ireland and we are fully aware of the challenge involved in trying to retain the Cormac McAnallen Cup won against Australia at Croke Park two years ago.
"We are looking forward to pitting ourselves against the best the AFL has to offer in the coming weeks."
Chris Barrett (Mayo), Killian Clarke (Cavan), Kevin Feeley (Kildare), Paul Geaney (Kerry), Brendan Harrison (Mayo), Niall Murphy (Sligo), Paul Murphy (Kerry), Karl O'Connell (Monaghan), Niall Sludden (Tyrone), Enda Smith (Roscommon), Conor Sweeney (Tipperary) and Shane Walsh (Galway) will all make their international debuts.
The games take place next month and both Tests will be shown live on RTÉ television, with highlights broadcast in the evening. 
The first game will take place on Sunday, 12 November at the Adelaide Oval at 5am Irish time.
The deciding match will take place the following Saturday night at the Domain Stadium in Perth in what will be the final game held in that venue. That game begins at 8.45am Irish time.
Ireland are the holders of the Cormac McAnallen Cup after a four-point win in 2015. 
Ireland 2017 International Rules Squad
Niall Morgan (Tyrone)
Chris Barrett (Mayo)
Gary Brennan (Clare)
Eoin Cadogan (Cork)
Killian Clarke (Cavan)
Peter Crowley (Kerry)
Kevin Feely (Kildare)
Paul Geaney (Kerry)
Pearce Hanley (Mayo)
Brendan Harrison (Mayo)
Conor Mc Manus (Monaghan)
Michael Murphy (Donegal)
Niall Murphy (Sligo)
Paul Murphy (Kerry)
Karl O'Connell (Monaghan)
Aidan O'Shea (Mayo)
Niall Sludden (Tyrone)
Enda Smith (Roscommon)
Conor Sweeney (Tipperary)
Zach Tuohy (Laois)
Shane Walsh (Galway)
Stand-by Players
Mattie Donnelly (Tyrone)
Niall Grimley (Armagh)
Connaire Harrison (Down)
Caolan Mooney (Down)
Sean Murphy (Carlow)
Brendan Murphy (Carlow)
Sean Powter (Cork)