Owen Mulligan dedicated his match-winning score for Fulham Irish in the London SFC Final to a former mentor and joked that he was hoping former Tyrone team-mate Peter Canavan would be at hand for the last-gasp free.
Fulham Irish claimed their first county title since 2011 in dramatic fashion as they beat Tir Chonaill Gaels 0-15 to 1-11 at Ruislip's McGovern Park.
With the game level in injury time, Mulligan stepped up with a free in windy conditions to calmly put the ball over the bar to complete the late comeback.
Despite a decorated career to date, including three All-Ireland medals with Tyrone, Mulligan admitted the win is right up there with anything he has achieved.
"There are no words to describe it. That's the best feeling you will ever get," he told RTÉ Sport.
"It means a lot. I've won All-Irelands, but your club is your club. You come over here and you try and do a bit of work and you get involved, that's what it is all about."
The 36-year-old joked that the 2005 All-Ireland semi-final against Armagh, when Peter Canavan nervelessly slotted over a  free to in the dying moments of an absorbing clash to advance to the final, crossed his mind as he stood over the ball at Ruislip with time almost up on the clock.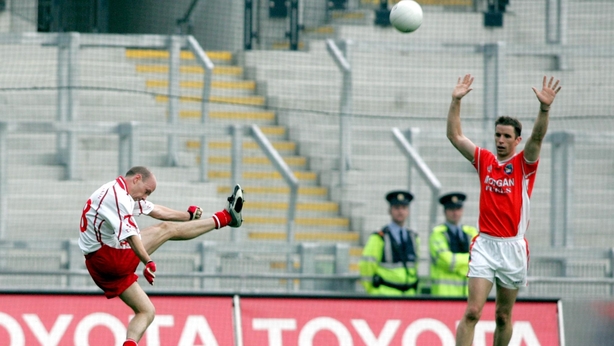 "I was looking for Peter Canavan like I was against Armagh so I was.
"I missed one earlier to go a point ahead and I was kicking myself. When you do that [score the free], it's fairytale stuff."
Mulligan acknowledged the commitment by all the players – singling out Benny Martin who didn't start but registered two points after his introduction – and manager Greg McCartan.
"People say he's a bit of a messer, he's the most passionate man I have ever met. We did that for him today."
The Cookstown native also paid tribute to a recently deceased former mentor and school principal Tony Delvin who had a significant impact in his development as a footballer.
"I didn't get home two weeks ago because a friend passed away.
"He took me at U14 and I'd like to dedicate this win to Tony Delvin."