Cork dual star Briege Corkery says it 'wasn't a big surprise' to hear that the Dublin ladies footballers must do their own fundraising to pay for a team holiday following their All-Ireland victory.
By contrast, the Dublin men's team get a team holiday for winning the Sam Maguire, largely due to a grant from Croke Park to the two All-Ireland finalists.
The ladies team however, is not entitled to receive any such grant as they belong to the Ladies Gaelic Football Association (LGFA), which is a separate organisation from the GAA.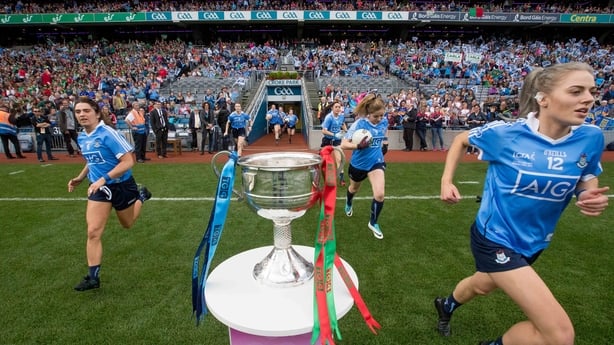 Dublin players Niamh McEvoy and Fiona Hudson were speaking on RTÉ's The Ray D'Arcy show on Saturday night, when Hudson revealed: "We're hoping to go away - we're starting with a bit of fundraising now. I suppose it doesn't come with the package like it does with the guys."
The interview triggered a huge reaction on social media, but while Corkery, who this year opted out of inter-county action, commends Dublin for highlighting the issue, she says the Cork ladies team had the same experience when paying for team holidays to celebrate their All-Ireland victories.
Speaking to RTÉ Sport, she said: "It's the exact same thing as us the last 10 years. We've always had to fundraise for our holidays as well. It (the revelation) wasn't a big surprise to me really.
"It is hard on Dublin to be fundraising but I'm sure there are plenty of businesses out there and I'm sure they'll get plenty of support.
Now that is how to make an entrance - the Dublin Ladies's Football Team #RayDarcyShow pic.twitter.com/ddcRCKYZMH

— The Ray D'Arcy Show (@RTERayDarcyShow) September 30, 2017
"It's great that they got it out there. The Ray D'Arcy show was probably one of the best shows to get it out there on. Most people are watching it and I suppose it's just something that people weren't aware of.
She added: "I think people were automatically thinking that you get a holiday after the All-Ireland final but nobody has actually ever said it (that they don't). People are more aware of it now and that's probably what the difference is.
"I've met people through work who said, 'I can't believe the Dublin Ladies team have to fundraise.' And I just say, 'look, we were the same.' We never saw it as an issue. We were delighted as a team to win an All-Ireland medal and going on a team holiday was a bonus."
According to Corkery, the Cork team often ran golf classics and approached various businesses in order to build a player's fund that would help them afford their team holiday. Any money left over would then be used throughout the following season.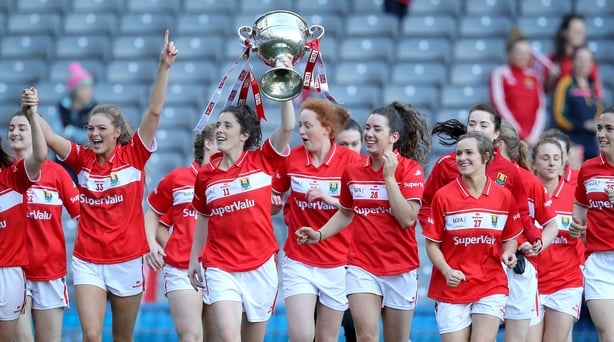 Cork have won 11 of the last 13 All-Ireland senior titles, but Corkery says that the effort required to fund those trips abroad meant they were unable to go every time they won the Brendan Martin Cup.
"It was hard because we have such a big county to try and drive everyone on.
"It was something that we just did. In a good way we were at a disadvantage, in the fact that we had won so many years in-a-row, and we were constantly going back to the same businesses year after year.
"I suppose that was that little bit harder and towards the end you would be like, 'oh God I can't go out again.' We couldn't do it every year because we couldn't be going back to the businesses every year. But then as a team, we felt it was important to enjoy the wins.
"There was only one year where we really splashed out. In 2014 we went to Miami and we went on a three-day cruise. I think that came up to about €30,000 that we had to gather together."
The LGFA is still somewhat in its infancy having first been established in 1974, and Corkery believes that further strides must be taken to catch up to the GAA. She's confident that holiday grants for All-Ireland winning teams will eventually come into the sport, but that it will take time for it to happen.
"In time (things will change). In 2012, there was only 16,000 at the All-Ireland final. Fast-forward five years and you've 46,000 at an All-Ireland final. Give it time and that (holidays for teams) will come as well.
"What Lidl and TG4 have done for Ladies football has been phenomenal and I think in time that'll grow. Ladies football is only 43 years old, the GAA is over 100 years old. We have a lot of climbing to do and I think it's getting there."