Conor McKenna believes adapting to life in Australia is a bigger challenge to Ireland's AFL exports than getting to grips with the oval-shaped Sherrin ball.
The 21-year-old former Tyrone minor, who is set to be part of Joe Kernan's International Rules squad, has been a high-profile success in a sport where even stellar Gaelic football talents can struggle to establish themselves.
The likes of Ciaran Kilkenny and Marty Clarke both quit Oz citing a greater desire to play for their county and McKenna identifies with that feeling.
"It's not really the game that's the problem, it's the homesickness. You adjust to the game pretty quick," the Essendon half-back, who this month signed a new four-year contract after scoring five goals in 19 appearances, told RTÉ Sport.
"My first year (2015), when Tyrone won the under 21 final it really hit home and you start questioning whether it was worth it or not.
"But then this year, to get a few games in a row gives you more belief in yourself.
"Your third year is a big year for most boys. That's when you can sort of tell how you're going to go. It's just to get a consistent game and belief in yourself. To know that you're there for a reason."
Four bounces at extreme speed and a scintillating finish from Conor McKenna! #AFLSunsDons pic.twitter.com/VWz418o0nO

— AFL (@AFL) August 19, 2017
Fortunately for McKenna, he also has a ready-made support network - a number of other Irish youngsters are plying their trade in Victoria, home to 10 of the AFL's 18 clubs.
"There's me, Ciaran Byrne (Carlton), Ray Connellan (St Kilda), Darragh Joyce (St Kilda), Conor Nash and Conor Glass (both Hawthorn) all in Melbourne.
"Then Mark O'Connor, he's just outside with Zach Tuohy in Geelong. All us young lads hang about in Gussy Sheehan's (Ciaran Sheehan, Carlton), hang about every couple of weeks and just meet up for a few pints and a bit of feeding - so it's good.
"My first year it was only Ciaran Byrne really and I met up with him every couple of weeks. When there's five or six of you, you'll always meet up. I'd probably meet up at least once a week with one of them. It's good to just meet up and talk Gaelic and watch Gaelic."
Even before scoring 4-4 in an All-Ireland minor final masterclass, Kerry's David Clifford had garnered some attention Down Under.
David Clifford, an 18-year-old Gaelic footballer, will come onto the radar of several AFL clubs. https://t.co/xWVZo23xA7

— AFL (@AFL) September 17, 2017
Despite much anguish in the Kingdom at the prospect McKenna reckons their young prince should try his hand at Aussie Rules if he gets the chance.
"I haven't heard much about him (going to AFL) but he's unbelievable. I watched him there last week, he's not a bad player. I'm sure if he went, he wouldn't be too bad.
"I'd say to any young fella, if you got the opportunity, go, and if you didn't like it, come home after a year.
"It was an opportunity that if I didn't take it, I'd regret it for the rest of my life. It's been good so far."
"Hopefully I come home at some stage and represent my club, my county"
McKenna, who made a brief substitute appearance for home club Eglish last weekend, likes the idea of emulating Sydney and Kerry star Tadhg Kennelly and eventually returning home for a crack at Sam Maguire.
"It's always in the back of my head," he said. "I follow Tyrone. I watch all the games on GAAGO.
"Hopefully I come home at some stage and represent my club, my county. At the minute, I'm signed for those four years so I'm there for four years anyway.
"In four years I'm going to be 25, I'm a young fella. He (Kennelly) came home when he was 27 or 28; so there's plenty of time and if it's an option, I'll take it."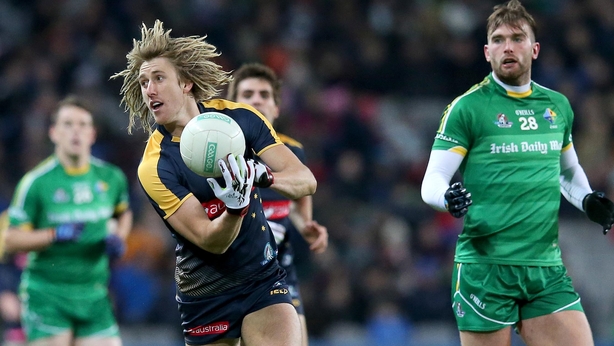 McKenna's Essendon clubmates Brendon Goddard and Dyson Heppell both featured in the 2015 International Rules Series and he has no doubt that the hosts will be raring to go come November.
"I talked to them a bit about it. They all loved it," said McKenna.
"They do it take seriously. It doesn't matter what sport it is, if you're playing professional sport, you're just competitive. If you throw 15 boys on the pitch they're going to go at it.
"I'd love the opportunity (to represent Ireland) and to get a phone call as I was coming home was good.
"I'll go into the trials over the next few weeks and hopefully get a call-up."