After any close match, there is much scrutiny, many ifs and buts. It's hard to pick out one moment that was instrumental in determining the outcome.
If you were set such a task from this year's All-Ireland football final, it may be the red card that Mayo's Donal Vaughan received.
In a contest that was tight throughout, Dublin defender John Small received a second yellow card on 50 minutes for a foul on Colm Boyle – a challenge that saw the Mayoman tumble to the ground. Vaughan, however, saw fit to dish out his own retribution and knocked Small to the turf with a high tackle.
When the latter picked himself up, he was heading for the line as two yellows made red. Referee Joe McQuillan was ultimately left no option but to send Vaughan off the field after him.
It was a stupid challenge from Vaughan and one wonders how would the remainder of the game would have panned out if the westerners had the full compliment?
That question was put to Pat Spillane and Eamonn O'Hara on The Sunday Game's Facebook Live.
"I wouldn't hold Donal Vaughan responsible for Mayo's defeat but it was, nevertheless, a contributory factor. Bear in mind Mayo would have had a free and they could have gone two clear," said Pat Spillane
"With the extra man, Mayo would have pushed up more on Stephen Cluxton's kickouts, they could have made hay from there to the finish," O'Hara opined.
"In the first half, Cluxton took seven kick outs, six of them were intercepted. In the second half none were intercepted. Cluxton eventually found his composure.
"That said, we don't know whether Mayo would have gone on to win with 15. At crucial times their shot selection, missed frees and poor deliveries let them down."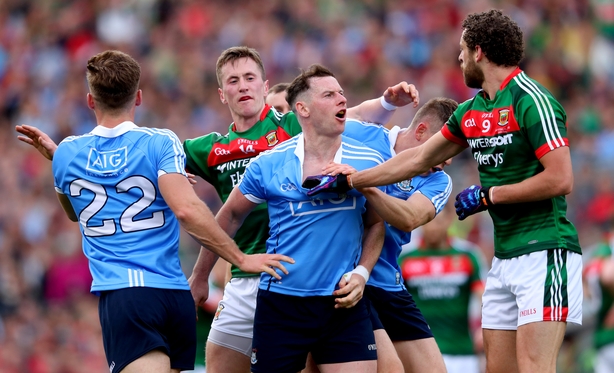 As well as the sendings off referee Joe McQuillan made other key calls in the game. Assessing the Cavan official's contribution, Pat Spiilane felt he had a good day at the office.
"He let the game flow as much as he could, we only had 24 frees in the game and that was exceptionally low," he added.
"You could quibble about one or two decisions on both sides. John Small's sending off for two yellow cards was justified. The ref, I think, also got the Donal Vaughan red card spot on.
"The free that Dublin scored to win - well it was a free - Chris Barrett had an unbelievable game but he did foul. He had no choice about it. The referee had nothing to do with David Clarke's subsequent disastrous kick out.
"He's there to make the big calls and he made the big calls," was O'Hara's summation.
We need your consent to load this Facebook contentWe use Facebook to manage extra content that can set cookies on your device and collect data about your activity. Please review their details and accept them to load the content.Manage Preferences
"People will point to the end of the game when Dublin did get that winning point, and Mayo players being wrestled to the ground. He only dished out one yellow card and a black card, he could have dished out eight cards at that stage.
"If it was the start of the game he would have given out yellow cards. It was a crucial moment in time when Dublin knew how to win."
Both pundits were in agreement that Mayo's inability to seal the deal when the opportunity was there was again their downfall on football's biggest day.
Pat Spillane's view: "I thought the better team won. You normally come away from a Mayo defeat in an All-Ireland reflecting on a sub-standard performance by six or seven players or them getting the tactics wrong. They did pretty much everything right today. At the end of the day they met a Dublin who will go on to be one of the greatest teams of all time.
"The Dubs don't do panic, they eked out a result. They got scores from difficult positions in the second half. That is the sign of champions.
"At the end of the day winners know how to win. Dublin are winners. Sadly Mayo have played in 11 All-Irelands - nine defeats, two draws. They don't know how to win. The finishing line was in sight and they didn't grasp that opportunity.
Eamonn O'Hara's view: "Mayo played the best football today. I thought they were exceptional particularly in the first half.
"At times, however, they went for the wrong option, their shooting was erratic... They went a little bit individual at times in the second half. Up to that it was calm.
"At half-time I thought it was Mayo's to lose. In the end they lost it because they didn't know how to win the game."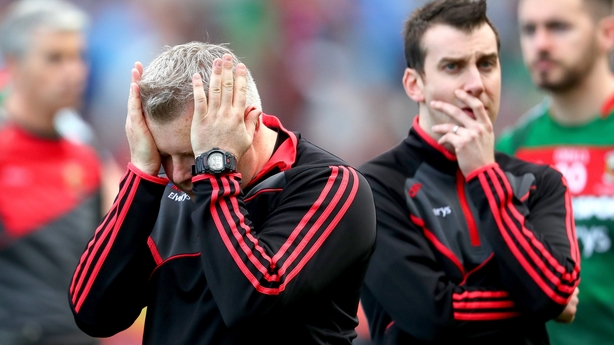 As to what 2018 night hold for the Connacht county, the former Sligo star added: "As bad as last year was, they were even closer this year to winning it. It's going to be a true test of their character. We don't know what's going to happen.
"We thought they were gone after last year's final. Their performance in the league was questionable and then their form in the championship for the most part wasn't great either. We didn't think we'd see them here today. They could have won it.
"Still, you have to tip your hat to them, they are an exceptional bunch of players."