Dean Rock wrote his name into the history books as the man who kicked Dublin to a three in-a-row.
The Ballymun stood nervelessly over a 40-metre free six minutes into stoppage time at the end of an utterly absorbing All-Ireland final.
It all rested on this kick and he sent it sailing over the bar at the Canal End, joyous fans nearly shaking the roof down at the old ground.
There were two more minutes of play, with the Dubs' Ciaran Kilkenny managing to get himself sendtoff in that time, but the Boys in Blue managed to play keep ball and run down the clock.
Sam Maguire will stay in the capital for the third winter in succession - the first time this has happened since 1921-23.
Any Mayo fan will tell you it's the hope that kills you and today must have been pure torture for them.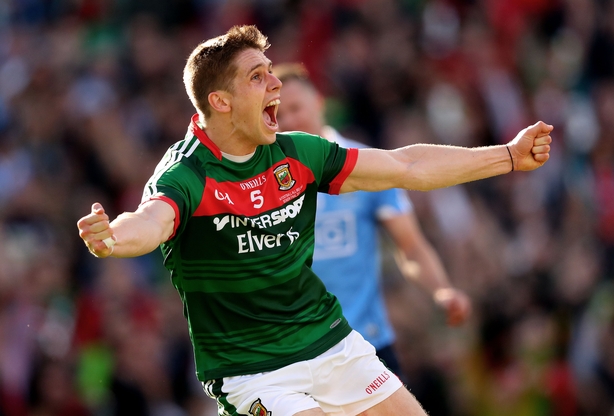 They were every bit as good as Dublin, there's even a strong argument to be made to say they were the better team for long stretches. But the only stat that counts at the end is the final score and once again they came up short.
This is surely the bravest team we have seen in Irish sport because they have gotten back up from so many knocks. They are very, very good, but just not good enough.
They should have been further ahead than the one point they were at the break and in the second half they they struggled to get the scores that would have counted.
This is their ninth All-Ireland defeat since 1989. They're the only team that has really tested Dublin the past two seasons, taking the final to a replay last year, and they pushed them all the way here.
In an airless finale, featuring eight minutes of stoppage time, it was a question of who would blink first.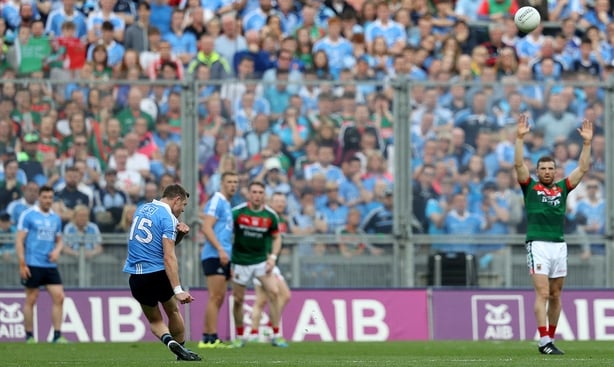 The talk in the build-up was that Dublin's bench would win it and so it proved. Diarmuid Connolly came on and kicked a point and won the free which Rock slotted over. They are now up there with the greatest teams in the annals of Gaelic football.
Compelling. That's the only word to describe this first half. It wasn't the best football in the purest sense, but you couldn't take your eyes off the intense action.
There were the expected changes before throw-in, Eoghan O'Gara in for Niall Scully on the Dublin side and Paddy Durcan taking over from Diamuid O'Connor for Mayo.
The Green Above the Red have shot themselves in the foot so often on the biggest of days and it seemed to have done it again as they conceded an utterly avoidable goal as early as the second minute.
Johnny Small hit a 20-yard pass to Con O'Callaghan on the turn. The Young Footballer of the Year elect just kept on going and when he was in range stuck it in the back of the net past David Clarke.
The Green and Red sea parts and Con O'Callaghan fires an early Dublin goal. Watch #DUBvMayo highlights on The Sunday Game at 9.30pm tonight pic.twitter.com/vLK7Qs8VSU

— RTÉ GAA (@RTEgaa) September 17, 2017
Mayo don't do panic though and 35 minutes later they trotted up the tunnel leading by one 1-05 to 0-09. They limited the Dubs to just six scores, four from play, in the first half and made the defending champions look decidedly ordinary and out of ideas at times.
The Dubs' plans were hurt early on when former Footballer of the Year Jack McCaffrey had to retire injured after only eight minutes, replaced by Paul Flynn. He went to midfield with James McCarthy dropping to wingback.
The kick-out battle in this game was fascinating, with the hosts occasionally pushing five men across their full-forward line to tempt Clarke to go long. Go long he did and his midfielders repaid his faith.
Dublin crowded the centre of defence on Stephen Cluxton's restarts, trying to open up the wings. Mayo were wise and pushed hard, forcing Cluxton to go long and again Tom Parsons and Seamus O'Shea won the battle in the air around the middle.
With this level of possession Mayo had something to build on and once again Andy Moran added the finishing touches, winning ball out front and hoisting over three great first-half-points.
The worry was that they weren't getting enough pay-off. They hit five wides before the break, dropped two short and, the biggest concern for manager Stephen Rochford, was Cillian O'Connor's slump in form.
Dublin exhibited far more composure at the start of the second half, with Gavin making two big changes - Connolly and Kevin McManamon replacing O'Gara and Paddy Andrews.
Without much fuss they slid in to a two point lead, Jason Doherty squandering a great goal chance for Mayo when one-on-one with Cluxton, though he did earn a pointed free when he jumped on the rebound.
Paul Mannion had a chance for Dublin too, but he pulled the trigger to early and Clarke got his boot the ball.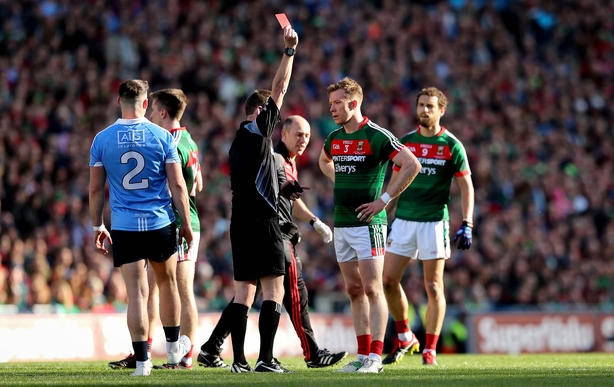 Both teams went down a man just past the three quarter-hour mark - Dublin's John Small picked up a second yellow for planting Colm Boyle with a shoulder into the chest. Donal Vaughan weighed in with an elbow on small and got a straight red - had he held his head Mayo would have had a numerical advantage.
The tension didn't relent and Mayo hit the front when Moran, who was taken off shortly after, showed quick hands to release current Footballer of the Year Lee Keegan, who scored a goal in an All-Ireland final from wing-back for the second year in-a-row.
In the last ten minutes that was played though, Dublin outscored Mayo four points to one. It was enough to win Sam Maguire, which Cluxton lifted for the fourth time.
Scorers for Dublin: Dean Rock 0-7, 3f; Con O'Callaghan 1-00, Paul Mannion 0-03; James McCarthy 0-02; John Small, Eoghan O'Gara, Kevin McManamon, Brian Fenton, Diarmuid Connolly 0-01 each.
Scorers for Mayo: Cillian O'Connor 0-07, 4f; Andy Moran 0-03; Lee Keegan 1-00; Jason Doherty, Kevin McLoughlin 0-02 each; Donal Vaughan, Colm Boyle 0-01
Dublin: Stephen Cluxton; Jonny Cooper, Philip McMahon, Michael Fitzsimons; John Small, Cian O'Sullivan, Jack McCaffrey; Brian Fenton, James McCarthy; Ciaran Kilkenny, Dean Rock, Con O'Callaghan; Paddy Andrews, Eoghan O'Gara, Paul Mannion
Subs: Paul Flynn for McCaffrey 8 mins; Diarmuid Connolly for Andrews HT; Kevin McManamon for O'Gara HT; Bernard Brogan for Paul Flynn 64 mins; Niall Scully for O'Callaghan 68 mins; Cormac Costello for Mannion 73 mins.
Mayo: David Clarke, Chris Barrett, Brendan Harrison, Paddy Durcan; Lee Keegan, Keith Higgins, Colm Boyle; Seamus O'Shea, Tom Parsons; Kevin McLoughlin, Aidan O'Shea, Donal Vaughan; Jason Doherty, Cillian O'Connor Andy Moran.
Subs: Diarmuid O'Connor for Seamus O'Shea 50 mins; Stephen Coen for Boyle 55 mins; Conor Loftus for Andy Moran 62 mins; David Drake for Doherty 69 mins Danny Kirby for McLoughlin 74 mins; Ger Cafferkey for Higgins 74 mins.
Referee: Joe McQuillan (Cavan)