Micheál Donoghue is the fifth man to manage Galway to an All-Ireland hurling final since the end of Cyril Farrell's second stint in charge in 1991, and the only one of the five to lead them into the decider as pre-game favourites.
Through it all, he has retained as low a profile as it is feasibly possible to retain in such circumstances. And he's gained a reputation as possibly the most inscrutable man in hurling, almost as buttoned up and on-message as Jim Gavin.
He arrived into the job after the messy revolt against Anthony Cunningham and his appointment, very late in 2015, was treated as an afterthought in the national media.
He had worked as a selector with Eamonn O'Shea's Tipperary for the previous couple of years and the most striking achievement on his CV was managing Clarinbridge to the All-Ireland club title in 2011.
But his name was neither Davy Fitzgerald nor Anthony Daly so national media interest was relatively limited. Galway hurling was still hurting after the demoralising second half no-show against Kilkenny in the All-Ireland final and the bitterness unleashed by the putsch against Cunningham.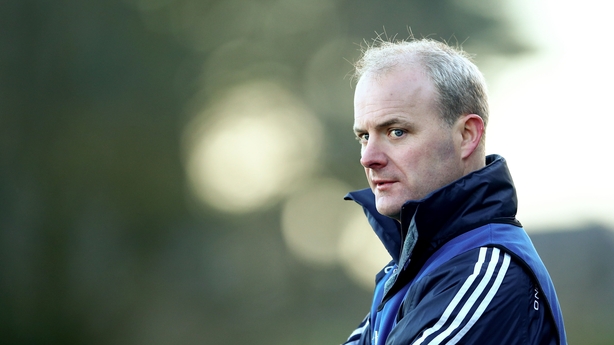 In that context, apathy reigned. Almost two years later, the climate has rarely been better.
Alan Kerins, the former Galway dual player and a senior player on Clarinbridge's All-Ireland winning side, says those who had played under him were serenely confident from the day of his appointment that he would bring Galway to new highs.
"I knew we would (hit this form). I knew what he (Donoghue) was going to bring. Micheál went for the job a few years ago and possibly should have got it. We knew with the players he was going to have, that he would have a great chance."
As most know, his first season ended with a one-point defeat to Tipperary in the All-Ireland semi-final, but rarely has a Galway championship exit been accompanied by so little recrimination.
"I knew what he (Donoghue) was going to bring. Micheál went for the job a few years ago and possibly should have got it."
Galway, with both Joe Canning and Adrian Touhy forced off at half-time, played superbly but were edged out in the finish after a couple of Tipp goals in the final quarter.
The Irish Examiner hurling writer Enda McEvoy tweeted afterwards: "The better team (barely) won (barely) and deserved to. But how good will Galway be after another year of Micheál Donoghue?"
Just over twelve months on, we are closer to knowing the answer.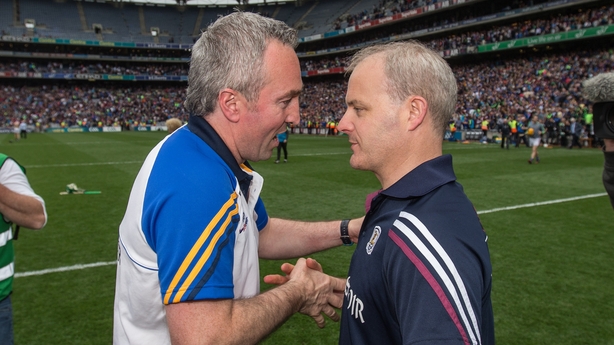 Kerins is four years younger than Donoghue and played alongside him for several years at club level.
Donoghue was his captain at Clarinbridge when, managed by future Galway boss John McIntyre, they toppled the mighty Athenry to win their first ever Galway county title in 2001.
"He was our spiritual leader back then. He was captain that year (2001) and he was a huge driving force. He was always demanding more from everyone. He was a very good stick man as well. He was a lovely, stylish player. But very commanding."
An All-Ireland minor winner with Galway in 1992 (they beat a Waterford team containing Derek McGrath - a titbit that will be impossible to avoid this week) and a member of Galway's 1993 All-Ireland U21 winning side, Donoghue's progress at senior level was hobbled by injuries, most especially to the lower back.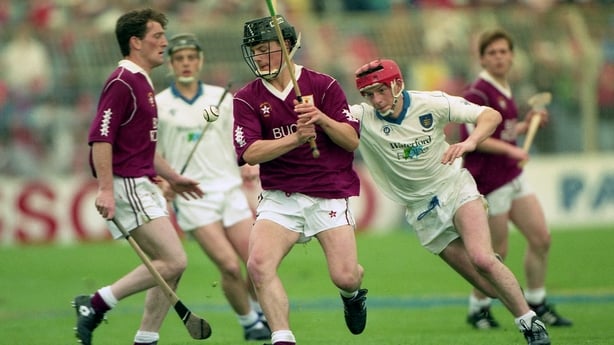 After two back operations, he was forced to retire at the age of 28, not long after lifting the Tom Callanan Cup in 2001.
In the end, his only senior championship appearance for Galway came against Wexford in the 1996 All-Ireland semi-final. Despite manager Mattie Murphy's pre-match bullishness, Galway were beaten by three points by the eventual All-Ireland champions.
(Hurling's 'revolution years' passed by Galway entirely, the rustiness engendered by beginning a championship 'campaign' in August perhaps finally beginning to tell as hurling moved into a new era.)
Paul Callanan, who captained Clarinbridge to the All-Ireland club title in 2011, thinks Donoghue's shortened playing career motivated him to throw his energies into management.
"He was always a high achiever. And when the injury came, he was still clearly an ambitious lad. And he obviously channelled the ambitions he had as a player into management."
"You'd know by him he wanted him to be a manager. He got involved young with Vincent Mullins on the U21 teams. What he wanted to do was to manage Galway eventually. And he got there," says Kerins.
We need your consent to load this YouTube contentWe use YouTube to manage extra content that can set cookies on your device and collect data about your activity. Please review their details and accept them to load the content.Manage Preferences
He took the Clarinbridge job in 2009. They hadn't reached a senior final since their victory in 2001 and were, like everyone else in Galway, living in the shadows of one of the greatest club sides of all time, the Portumna team of the late noughties.
"He came in in 2009. And we had very much underachieved in our own eyes. We were wasting away really. We weren't really putting it in. We were token efforts to be honest with you," remembers Kerins.
"And Micheal came in and he changed the culture. And changed the culture amongst us older players especially. We started demanding excellence from everybody.
"He taught us that the players must set the standards. If the management are driving it, it's a waste of time. You've got to have that inner desire to win and set the standards yourself."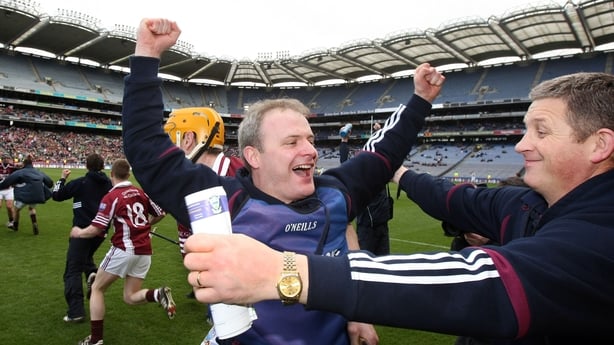 Together, Kerins and Callanan sketch a portrait of a meticulous and highly-enlightened manager who soaks up information from every available source. A managerial all-rounder who excels in both the man-management and tactical side of things.
"He gets great people around him. He's no ego. When we were in Clarinbridge, he got Eric Elwood in for a session, he got Eamonn O'Shea in for a session. He got those people involved to bring us to the next level," says Kerins.
"I know he's always meeting other managers. And learning always about the ways to get the best out of teams. Full-time learning."
Callanan stresses Donoghue's emphasis on building the right backroom team, something plainly evident in Galway at the moment.
"There was a notable step-up when Micheál got involved. He'd always be looking to evolve and find out better ways of doing things.
"And he surrounded himself with a good backroom team when he was with us. Tom Helebert (1996 All-Star with Galway) was involved.
"And with Galway at the moment, it would be similar with the likes of Franny Forde and the strength and conditioning guy Lukasz Kirszenstein.
"He would raise standards. He would be meticulous in preparation. The likes of video analysis, we wouldn't done (at Clarinbridge) before he was involved."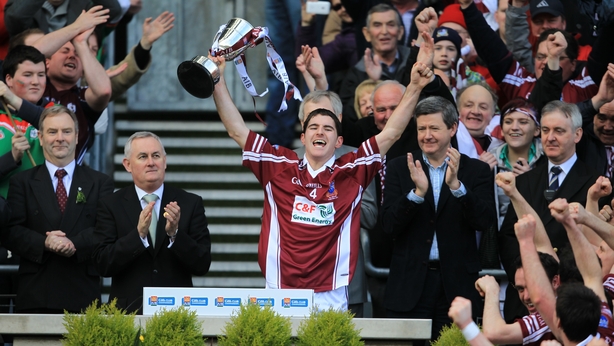 Both laud his tactical shrewdness, particularly his in-game decision making, but for Kerins, his strength is man management.
"Micheál is very much a hand around the shoulder type and a players' man. But he can be quite ruthless when he needs to be. He's just a good man-manager.
"Certain people just have a knack of knowing when it's right to put the arm around or put the boot in. He just knows the right thing to say at the right time.
"But everyone knows where they stand. There's no miscommunication which can lead to disharmony. There's huge harmony this year."
In goal for Clarinbridge on St. Patrick's Day 2011 was Micheál's twin brother Liam, a former inter-county goalkeeper and the captain of the Galway team that unexpectedly reached the All-Ireland final in 2005. The pair both hurled at the highest level but are quite different personalities, says Kerins.
"Liam captained us in 2005 to an All-Ireland final and we lost to Cork. They're like chalk and cheese. Micheal would be more quiet and reserved and Liam would be more outgoing."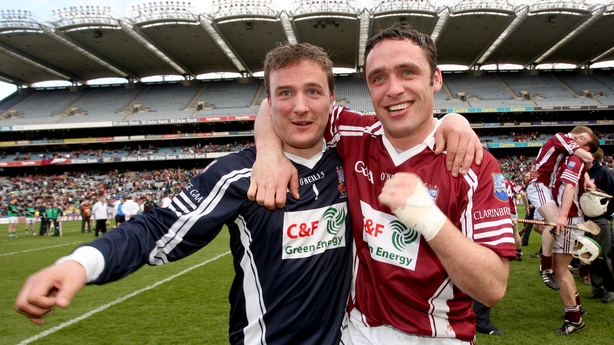 Unsurprisingly, the most memorable bit of commentary offered on Donoghue in his first year came via the pen of Ger Loughnane.
In the course of a scattergun attack on the Galway players after their Leinster final loss to Kilkenny, Loughnane took a swipe at their manager.
Donoghue's sideline manner didn't sufficiently resemble Timmy Ryan, Jon Kenny's tyrannical U12 hurling coach/sledging guru from the first D'Unbelievables video.
The softly spoken Donoghue, Loughnane said, reminded him of Dermot Morgan's Fr. Trendy character from 'The Live Mike' in the early 1980s. Elaborating further, he said that "Micheál Donoghue comes across as an amiable curate coming into a new parish - and they're expecting to win with him?"
The suspicion was that this odd line of attack from Loughnane was less about Donoghue and rather another way of getting at the players for removing Cunningham.
Donoghue's sideline manner didn't sufficiently resemble Timmy Ryan, Jon Kenny's tyrannical U12 hurling coach/sledging guru from the first D'Unbelievables video.
Either way, Galway beat Clare by six points in Thurles a fortnight later and Donoghue, as it happens, got into a sideline shouting match with Davy Fitzgerald (admittedly not a guarantee of belligerence).
Rebuttal is barely required but his former players dismiss the notion.
"I think there's a difference between able to keep your emotions together on the sideline and make cool definitive decisions and how you convey your passion in the dressing room. Roaring and shouting only takes you so far. There's no way that man lacks passion," says Callanan.
A year down the road, such critiques are thin on the ground. Donoghue has offered the pundits precious little to criticise and much at which to marvel.
The cult of the manager didn't exist in 1923 meaning that Cyril Farrell has to be considered the only man to guide Galway to Liam MacCarthy.
On Sunday, Micheál Donoghue has the chance to become the second.
Live coverage of Galway v Waterford in the All-Ireland SHC final (3.30pm) on The Sunday Game Live from 2pm on RTÉ2, with live radio commentary on Sunday Sport, RTÉ Radio 1 from 2pm.
Live blog from 1pm on RTE Sport Online and the News Now App.
Highlights of all the day's action on The Sunday Game on RTÉ2 from 9.30pm.