With the news that Waterford's Austin Gleeson has been cleared to play in the All-Ireland hurling final, the GAA finds itself back in depressingly familiar territory.
Yet again, the Association's commitment to discipline is in question.
The case seemed straightforward enough. For a player to "behave in any way which is dangerous to an opponent, including to deliberately pull on or take hold of a faceguard or any other part of an opponent's helmet" is a straight red-card offence.
Shortly before half-time in the semi-final, video replays showed Gleeson closing his hand around Luke Meade's face-guard and pulling the helmet from the Cork player's head. Even the most diehard Déise fan would find it difficult to argue that it wasn't a deliberate act.
Gleeson should have been sent off but he stayed on the pitch and in the course of an impressive second-half display scored a brilliant, crucial goal that helped Waterford to victory.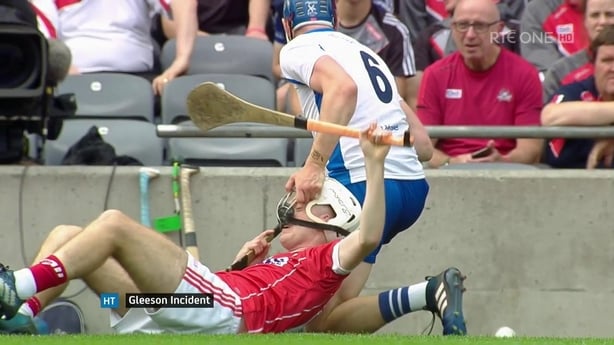 In the immediate aftermath, the focus shifted towards the expected ban that would rule the Mount Sion man out his county's first All-Ireland appearance since 2008.
The incident had gone unpunished by referee James Owens at the time. Forgivable perhaps, given the speed of the game and the officials' lack of access to video replays.
However, in his official report, Owens said he was satisfied with how he had dealt with the incident, ruling out any retrospective action by an apparently unimpressed Central Competitions Control Committee.
Either Owens does not understand the rule - doubtful given he is a top-level hurling referee who refereed the 2015 All-Ireland final - he misinterpreted what he saw, or he didn't want to play any part in Gleeson missing the final. Less forgivable.
We need your consent to load this rte-player contentWe use rte-player to manage extra content that can set cookies on your device and collect data about your activity. Please review their details and accept them to load the content.Manage Preferences

Would it have been a good thing for the reigning Hurler of the Year to miss the sport's biggest day? No. Whose fault would it have been if he did? Only his own.
The fact that two of Gleeson's team-mates - Stephen Bennett and Tadhg de Búrca - had already been banned for helmet interference this season made his behaviour all the more bizarre. Foolish is among the kinder words applicable.
Hurling is a contact sport and adrenaline is understandably flowing but failing to enforce the rules punishes the players who do keep their discipline and encourages teams to gain an unfair advantage by fouling.
That this statement of the obvious even seems necessary is telling. Whenever disciplinary issues arise in Gaelic games, there is a rush to blame referees, rules, officials, or even The Sunday Game panel for discussing them, rather than the player who made the decision to break the rule.
Rarely do you hear a manager admit that one of their players deserved to be sent off.
There is an absence of a culture of personal responsibility that perhaps reflects Irish society all too well.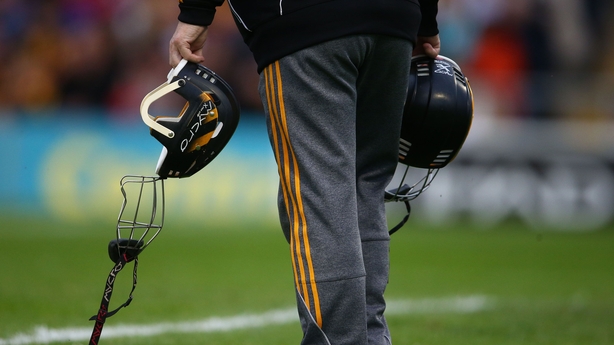 Where does the GAA go from here? It seems to me you either ensure the rule is consistently enforced or change it.
The first and perhaps most sensible step would be to downgrade the offence of helmet interference to an automatic yellow, with referees perhaps given the option of a red for more dangerous offences such as pulling the faceguard with force.
None of the incidents this summer resulted in serious harm to opponents and it's certainly hard to argue that what Gleeson did was as deserving of a red as the one his namesake Conor was shown for an off-the-ball pull on Cork's Patrick Horgan.
As with the haphazardly implemented black card in football, judging whether something was done "deliberately" also creates its own problems and get-out clauses.
Secondly, as has been previously proposed and defeated at Congress, the CCCC should have retrospective power to investigate incidents, regardless of referees' reports.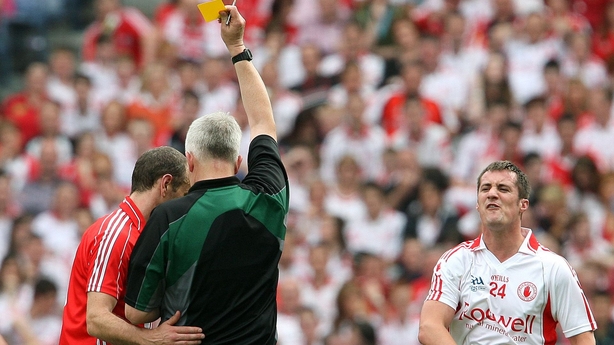 James Owens may have felt under pressure not to incriminate Gleeson but officials that overlook the rules should not be appointed to games.
We have been here before. Cork's John Miskella should have missed the 2009 All-Ireland football final for punching Tyrone's Brian McGuigan in the semi-final but referee John Bannon stood by his decision to only show a yellow card.
And it's not only refs who seem to be affected by 'ah sure you can't make the poor lad miss the big game' syndrome. In 2015, Mayo's Kevin Keane and Dublin's Diarmuid Connolly were cleared by the CHC and DRA respectively to play in All-Ireland SFC semi-finals despite having clearly struck opponents.
The lack of sanction for frivolous appeals, and a perception that a case becomes stronger as it winds its way through the convoluted GAA system, have fostered a culture of teams chancing their arm.
'The precedent has been set' - The panel discuss the removal of Bonnar Maher's helmet by Galway's Adrian Tuohy pic.twitter.com/cwPwPvZK9j

— The Sunday Game (@TheSundayGame) August 6, 2017
In a certain respect, this time justice has been accidentally served.
Galway's Adrian Tuohy escaped a ban for interfering with the helmet of Tipperary's Patrick Bonner Maher in the other semi-final and, though that case was less clear cut, it would be hardly be fair for Gleeson not to play while Tuohy did.
That is of little solace to Tipperary, or a young Cork team who were matching Waterford score for score until they lost Damien Cahalane to a red card. How different might the outcome have been had Owens doled out the appropriate punishment to Gleeson?
In fairness to the GAA, they have made efforts to improve discipline in recent years, such as the introduction of match-bans rather than often-irrelevant timed suspensions, and independent adjudication.
But in this case, punishment appears to have been avoided based on the stage of a competition, which is farcical.
As with training bans, appeals and payments to managers, the Association's willingness to enforce its own rules is once more the talking point.