Team-mates, opponents and managers have led the tributes to the "fearless" Tony Keady after the Galway hurling legend passed away aged 53.
The former Hurler of the Year, who was in attendance for Galway's one-point win over Tipperary in last weekend's All-Ireland semi-final, took ill earlier this week and was rushed to University Hospital Galway where he was treated in the intensive care unit.
It was ultimately a battle he lost and there has been a nationwide outpouring of tributes laid upon a key member of the Tribesmens' last All-Ireland winning team of 1988.
Conor Hayes captained the victorious sides in 1987 and 1988 from full-back, and remembers the stability Keady brought in a decorated half-back line.
"He was such a gifted hurler. I often played behind him and I always was confident with Tony in front of me," he told RTÉ Sport.
"When it came to 50/50 balls, he was dominant and then he could pick out a pass. He's probably similar to Tadhg de Búrca now for Waterford.
"People ask me how he would get on in the modern game and I have no doubt he would excel. He was so naturally gifted and was a brilliant distributor of the ball."
Keady is survived by his wife Margaret and their four young children and Hayes says the hurling blood is running through the household.
The GAA world is in mourning at the untimely passing of Galway great Tony Keady overnight. pic.twitter.com/pV6DPrLvkd

— RTÉ GAA (@RTEgaa) August 10, 2017
"He was such a proud family man.
"I called up to his house recently and there is a mini Croke Park out the back. I was putting up nets so we could go practicing frees."
Like the rest of the community, he is struggling to process the passing of a former team-mate.
"It's harder to come to terms with it when I was only remarking how fit and healthy he looked recently" – but fondly remembers his ultra-relaxed approach to the big Championship days.
"He used to joke that a 65 was close-range free"
"While the rest of us might have been anxious on the day, Tony took it all in his stride.
"Sometimes before a game you'd give him a bit of a dig, to get him going, it was like he was too relaxed, but it made no difference. He always went out and played out of his skin.
"Sometimes people worried about his attitude and in training and in League games, but when it came to the Championship, he stood up.
"And he was so good at long range frees, he could drive them over from 80, 90 metres. He used to joke that a 65 was close-range free!"
Sincere sympathy to the Keady family and wider Galway hurling community. A great sporting player. May he RIP. #tonykeady

— Joe Dooley (@DooleyJoe) August 10, 2017
President Michael D Higgins has also spoken of his sadness at the news: "It is with deep sadness I have learned of the death of legendary Galway hurler Tony Keady.
"A two-time All Ireland winner, Tony was one of only three Galway hurlers to be awarded the title of Hurler of the Year, which he won in 1988.
"He will be missed by all his colleagues in Killimordaly GAA Club, and by the hurling and GAA community at large.
"Sabina and I wish to express our deepest sympathy to his wife Margaret, his four children, his friends and colleagues."
Cyril Farrell, Keady's Galway manager for his seven-year inter-county career, agreed with the notion that Keady was the master at rising to the big occasion.
"He came in to me as a young lad and was a brilliant hurler and a brilliant player. The bigger the occasion the better he played.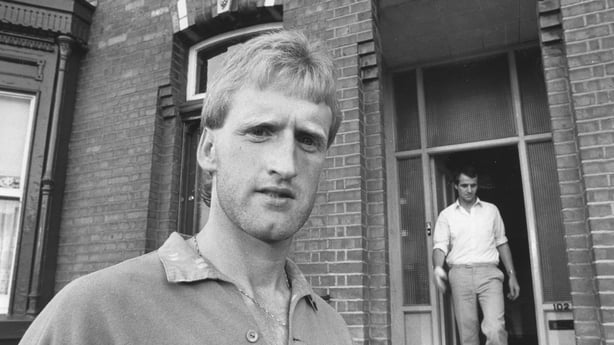 "He believed if there was 70,000 in Croke Park then they came to see him playing. He'd say 'this is what we're training for'.
"He was a free spirit, it's hard to believe it, he was in great form and you talk about fitness – he was as fit as a fiddle," Farrell added.
"Your heart would go out to Margaret and the kids, they had a few days there in the hospital and hoping and hoping and everyone was hoping because this character was bigger than life and so fit and strong."
Tomás Mulcahy encountered the Galway "stalwart" on a number of occasions during his Cork playing days and believes the famous half-back trio of Keady flanked by Gerry McInerney and Pete Finnerty was one of the best in the business.
"They were probably the most famous half backline that we ever spoke about back in that era," he told RTÉ Sport.
"They were a brilliant force. They were great buddies off the field and on it they were fantastic players. To beat Galway, you had to beat the three of them."
Mulcahy enjoyed the bragging rights in the All-Ireland Final wins over Galway in 1986 and 1990, but says it was hard-earned.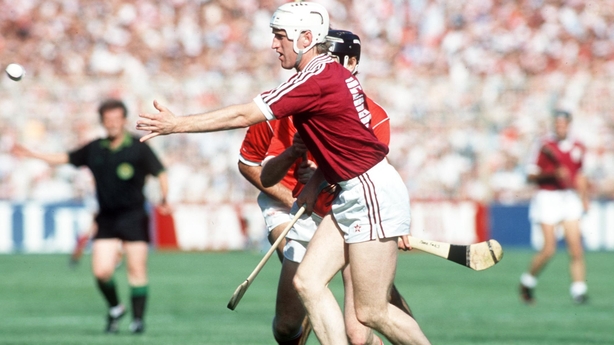 "I was on Tony on both days. We had great battles. There was a lot that went on the field of play, but afterwards we met over the years and we'd laugh and joke about the days we had in Croke Park. They were great occasions.
"He gave as good as he got, I gave as good as I got. He was a fantastic reader and passer, a stalwart and who had a fierce presence at centre back."
"At 53 years of age, it's just too young for life to be taken away from you. You are losing a serious iconic figure, a guy that lit up the hurling world."
The All-Ireland winning captain added the GAA will be a poorer place in the absence of the teak-tough defender.
"At 53 years of age, it's just too young for life to be taken away from you. You are losing a serious iconic figure, a guy that lit up the hurling world."
Keady won his first senior medal in 1987, two years after making his senior bow, but was controversially banned for playing in the United States in 1989 and missed the semi-final loss to eventual winners Tipperary.
His exploits in 1988 earned a second All-Star award and the Hurler of the Year crown and he played in a fifth All-Ireland final in six years when Cork defeated them in 1990.
Keady was only the third Galway man to win the Hurler of the Year award - Joe Connolly in 1980 and Joe Cooney in '87 were the others - and nobody from the county has won it since.