To those not steeped in the great traditions of the small ball game, clashes involving Cork and Waterford may not have great resonance. Yet, you only have to go back to the last decade when both counties produced some epic encounters in the provincial and All-Ireland series.
In the last year of the 20th century, the Rebels got the better of the Déise in the Munster semi-final, in what was a taste of things to come. It was a step along the road that saw Jimmy Barry Murphy's youthful side claim Liam MacCarthy come September.
Cork were not fancied at the start of that 1999 campaign and it's fair to say that not many people were expecting them to still to be involved in the race for Liam at this point in the 2017 season.
Kieran Kingston's side are there on merit but will have to get past a Waterford side in Sunday's semi-final who, no doubt will be keen to avenge their provincial semi-final loss in June and so reach a first All-Ireland decider since 2008.
A nod to the past only whets the appetite for what lies in store.
26 May 2002 - Munster SHC semi-final - Waterford 1-16 Cork 1-15
A talent like Flynn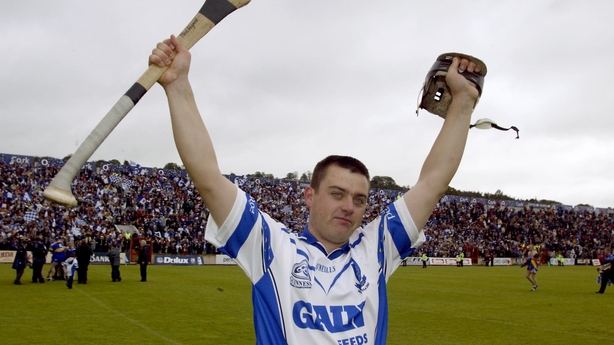 Paul Flynn played superbly for Waterford and was responsible for eight of his side's first half points as the Déise trailed 1-09 to 1-07 at half time in Semple Stadium, with Eamon Collins plundering the Cork goal.
Justin McCarthy's team came out firing in the second half and were back in business when Tony Browne got a goal shortly after the restart, that was followed by points from Browne and Flynn as Waterford moved 1-15 to 1-10 ahead.
Cork responded as you would expect though and some fine points narrowed the gap before Joe Deane levelled the match with minutes remaining. There was time for a hero though and it came in the shape of Ken McGarth.
With little time left on the clock, he got one chance and took it. His point gave Waterford a deserved victory in injury time.
29 June 2003 - Munster SHC final - Cork 3-16 Waterford 3-12
Rebels come good when it matters most
Cork regained the Munster crown after a gap of three years when winning in Thurles.
Waterford were very much in charge in the early stages, but as the opening half wore on missed points and some indiscipline gave Cork a chance to pin them back.
John Mullane's first goal of three came when he capitalised on some dithering by the Cork backs. From this stage Waterford began to exert their dominance and the Rebels just couldn't get into the game.
A point scoring spree from Eoin McGrath, Dave Bennett and Paul Flynn had the Déise six points ahead at one stage. Then Cork began to get a handle on the game. Niall McCarthy got their first score for 15 minutes and their opponents began to miss simple points and give away silly frees. The half-time score was 1-09 to 1-04 in favour of Waterford.
Cork opened the second half in fine style.
Niall McCarthy hand-passed to Setanta O'hAilpin who drove the sliotar off the crossbar for Joe Deane to knock over the point. It was the first of five white flags without response before Waterford won a free through John Mullane and, instead of pointing, Paul Flynn passed it short to Mullane who rocketed it into the back of the net.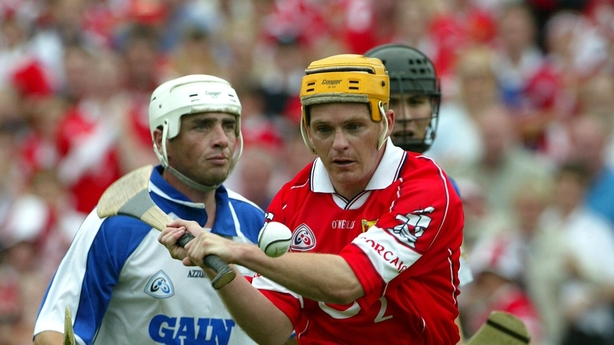 The third goal of the game would be followed by three more.
Alan Browne was on hand after 52 minutes to put Cork three clear. Mullane completed his hat-trick in the 55th minute and we were level again. The crucial green flag came three minutes later when Joe Deane plucked a long drive from Mark Prendergast out of the air ahead of his marker, scooted in from the left and drove the ball to the net.
While these goals were being scored simple points were being missed, but for the last ten minutes normal service was resumed with points coming from the Cork trio of Browne, Ben O'Connor and John Gardiner, while Waterford tried to stay in touch through Paul Flynn and Dave Bennett.
The losers, however, began to lose discipline and in the 72nd minute Flynn was sent-off. It made no difference as Cork were cruising to victory by that stage.
27 June 2004 - Munster SH final Waterford 3-16 Cork 1-21
A game for the ages
Waterford turned in a colossal performance to narrowly beat Cork in a Munster final for the first time in 45 years in a pulsating game that saw Paul Flynn rise to fill the gap left after the sending off of John Mullane early in the second half.
Mullane, who would not play again for the rest of the year, picked up a red card for an off-the-ball incident involving Rebels defender Brian Murphy.
Speaking to RTÉ Sport after the match, a clearly emotional Mullane apologised for having been dismissed at such a crucial stage, saying, 'I'm delighted that the lads did it on the pitch today. I didn't want to leave the people of Waterford down, they're my life.'
"I Love my county"
Having trailed for 50 minutes, Paul Flynn audaciously knocked the ball to the Cork net from a short-range free, leaving Waterford a point ahead 3-12 to 1-17.
Although another Joe Deane point for Cork levelled the match, Eoin Kelly and Paul Flynn then pointed again to put their side back in the lead.
In the final ten minutes there was some nervy moments for the Waterford fans as Flynn displayed the schizophrenic nature of his hurling - three bad misses in a row were followed by a brilliant point from the sideline with his back to goal.
Flynn's missed scores meant that Cork still trailed by only two points, which was reduced to the minimum after a great passing movement found Jerry O'Connor at the end to point well, leaving the score 3-15 to 1-20 with seven minutes to go.
Then followed a tense five-minute phase of the game as the backs on each team pumped the sliotar from one end of the pitch to the other without a score, but with no less excitement or skill. When, in the 69th minute, Seamus Prendergast stepped up to put Waterford two ahead, it was instantly cancelled out by Tom Kenny, who scored to keep the Rebels in touch.
A Hail Mary puck out from the Cork backs seemed to be heading for a Rebel hand and from there over the bar for the equaliser - but Ken McGrath rose from the midst of the red jerseys to catch and drive the ball back up the pitch for what was probably the most important intervention of the game.
The sliotar never got the chance to come back down the pitch as the final whistle was met with roars of rapture from the Déise fans.
24 July 2005 - All-Ireland SHC quarter-final - Cork 1-18 Waterford 1-13
Corcoran's moment of magic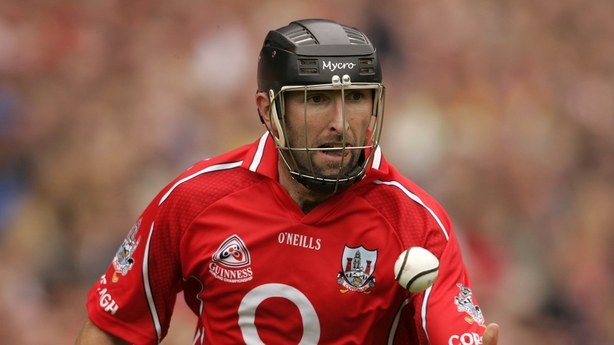 In May of '05, Cork had a 2-17 to 2-15 win in the Munster semi-final victory en route to retaining their title. Back then All-Ireland quarter-finals were in play and the sides were subsequently drawn to meet each other again at that stage.
Brian Corcoran crashed home a 63rd minute goal that inspired his side to a late surge to see off Waterford 1-18 to 1-13 in an enthralling encounter at Croke Park.
The sides were deadlocked 0-15 to 1-12, when a long delivery towards the Déise end line looked like going wide.
With the Waterford defenders guiding the ball towards the line, substitute Neil Ronan amazingly managed to flick the ball back into the path of Corcoran and the experienced full-forward left keeper Clinton Hennessy helpless with a shot to the corner of the net.
The reigning All-Ireland champions never looked back following this breakthrough, going on to add three further points, as the Waterford challenge crumbled, a challenge that for so long looked like causing an upset as they took the game to their opponents.
In his first year as manager, John Allen came up against his stiffest test, but his players responded with a performance rich in quality.
Their defence put up the shutters in the face of some quality Waterford attacks, while Tom Kenny and Jerry O'Connor got a grip on midfield in the closing twenty minutes.
Cork were simply electrifying in the closing 15 minutes as they took on the Waterford challenge.
The half-back line of John Gardiner, Ronan Curran and Sean Og O hAilpin was simply superb, while the attack eventually got their game together, as they fashioned 1-03 in an amazing closing seven minutes to keep their title chase very much on course. They would go on to win the All-Ireland, beating Galway in the final.
6 August 2006 - All-Ireland SHC semi-final - Cork 1-16 Waterford 1-15
Naughton's introduction proves crucial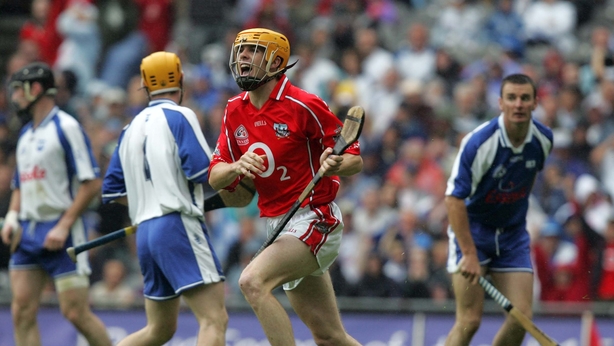 Waterford's dreams of a first All-Ireland SHC final appearance since 1963 were dashed in the Croke Park rain as 'super sub' Cathal Naughton rescued Cork in a tense 1-16 to 1-15 victory.
The Newtownshandrum youngster came off the bench to score a vital 1-01 as the champions maintained their All-Ireland treble aspirations in front of 61,753 spectators.
Cork were two points ahead of the Déise on seven occasions in the first half but two late John Mullane points made it 0-08 apiece by the break.
Top scorer Eoin Kelly (1-06) rattled in a 36th-minute goal to help Waterford go four points clear, but Naughton's 59th-minute strike gave the Rebels enough of a cushion to book their spot in the decider.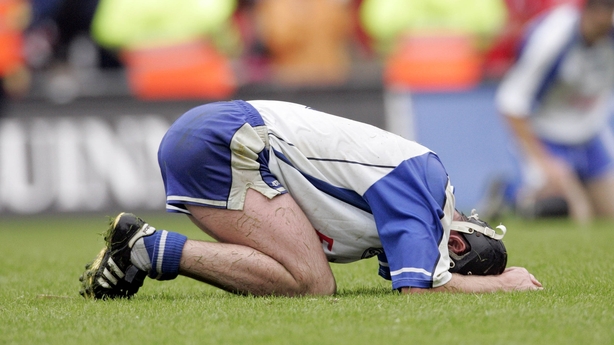 This meeting of the Munster minds really came to a head in the second half, sparked by McGrath's early goal.
Waterford were over reliant on Kelly, and although John Mullane cracked over four points from play, the underdogs were caught out in the finish as Dan Shanahan and substitute Paul Flynn, amongst others, made little or no scoring contribution.
Bar Mullane's efforts, only Shanahan, Seamus Prendergast and Eoin McGrath scored from play, while the winners only needed four points from frees – all from Joe Deane.
However, in the end, just as they were forced to do in their quarter-final win over Limerick, John Allen's champions were left scrambling for points as they staved off an injury-time fight back.
Twice Mullane had replied to Deane frees to keep the gap to the minimum but time ran out on the luckless Dése, who were losing to Cork for the seventh time in ten championship clashes.
The trilogy - Waterford's time to shine
17 June 2007 - Munster SHC semi-final - Waterford 5-15 Cork 3-18
Waterford dethroned the Munster Cork in a pulsating eight-goal encounter at Semple Stadium, as Justin McCarthy's men emerged as worthy three-point winners.
The Deise were at their clinical best - hitting only four wides throughout - as they powered through.
The sides swapped six goals in an opening half that ended 4-08 to 2-09 in Waterford's favour. Dan Shanahan grabbed a brace with John Mullane and Paul Flynn also netting.
Sarsfields clubman Kieran Murphy notched Cork's first two goals, Pa Cronin also raised a green flag and while Ben O'Connor levelled the tie, 20 minutes from time, but Eoin Kelly's goal helped Waterford hold on.
Any DVD makers covering these teams' seasons or the championship on a whole will surely have to extend their prospective productions by a good hour after this game - indeed there was enough quality on show here in the cauldron of Thurles to warrant a DVD of its own.
There was more to come, however, in that same season....
29 July 2007 - All-Ireland SHC quarter-final - Waterford 3-16 Cork 3-16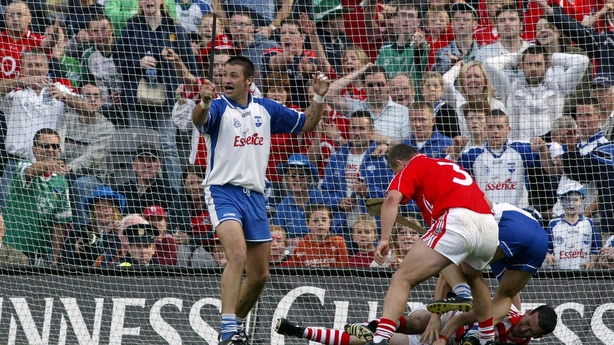 William Shakespeare may never have heard of hurling but if he did then he probably would have created a new word for the English vocabulary that would have adequately described this tussle.
For the rest of us mere mortals, words almost fail us. Epic, thrilling, exciting, magnificent all seem to come up short when describing the happenings on the historic green sward of GAA Headquarters on this day, 29 July 2007.
This was a game that captured the imagination and interest, not just of the 72,426 that were lucky enough to witness it in person but the hundreds of thousands that watched it on the Sunday Game Live.
It ended all level at 3-16 each amidst drama that will be hard to match now or any other time in the future.
The story began around 4pm when Stephen Molumphy opened Waterford's account after 22 seconds. It ended close to 5.30pm when substitute Eoin McGrath got inside the Cork defence at the Canal End with his side trailing by one point and time ticking away- in fact seconds away from the final whistle.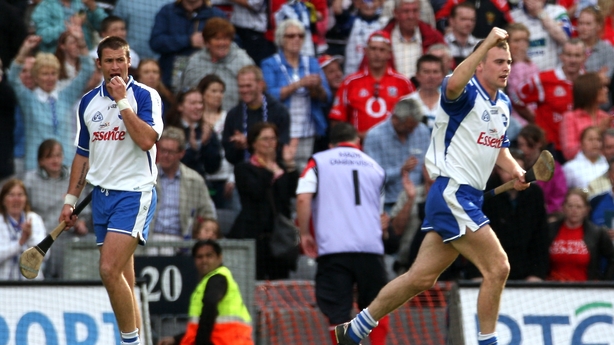 He ran and ran and suddenly the crowd realised McGrath was not going for a simple tap over for an equaliser but going for glory.
His bullet-like shot was brilliantly saved by Cork goalkeeper Donal Óg Cusack, the rebound came out to Paul Flynn who pulled first time only to see it saved on the line by Diarmuid O'Sullivan.
Cusack seemed to lie on the ball and was immediately challenged by Flynn. What would the referee Brian Gavin do? Give a free-out? Throw in the ball? Or give a free-in?
He gave the latter and Eoin Kelly had a simple tap over to draw this quarter-final and force a replay.
5 August 2007 - All-Ireland SHC quarter-final replay - Waterford 2-17 Cork 0-20
This replay was tense, tight and contained all the ingredients that you would relish in a mouth-watering contest.
Level ten times over 70 minutes must be some sort of a record, as play and dominance swung first to the Leesiders and then back to the Déise.
Dan Shanahan bagged two goals for Waterford and in the end it was crucial as Justin McCarthy's troops progressed to the semi-final where they would lose to Limerick just seven days later.
Live coverage of Cork v Waterford in the All-Ireland SHC semi-final on the Sunday Game, RTÉ One from 2.15pm. Live radio commentary on that game plus updates on Cork v Dublin in the MHC semi-final on Sunday Sport, RTÉ Radio 1 from 2.00pm. Live blog on the day's hurling action on RTE Sport Online and the News Now App from 1pm.