A stunning opening quarter laid the groundwork for Galway as they charted a comfortable path to the last four of the Liberty Insurance All-Ireland Senior Camogie Championship where Cork await.
The result of the opening quarter-final at Semple Stadium would have ensured that Mark Dunne's players were extremely wary of the Tipperary threat and they laid down a marker from the beginning, streaking into a 0-10 to 0-0 lead despite playing into the wind.
Tipperary did show plenty of spirit however and did extremely well to peg back the westerners to a seven-point margin at the interval, when they trailed by 0-12 to 0-5.
Orla O'Dwyer reduced that by one more 35 seconds after the resumption but with the wind at their backs and the speed and movement of their forwards creating so many opportunities, there was no way that Brian Boyle's crew were likely to prevail having started so poorly.
It was all too easy for the westerners early on as the McGrath sisters Orlaith and Niamh got on the scoresheet, with the youngest of the four siblings on the squad Siobhán causing carnage and adding two of her own later on.
Maria Cooney and Niamh Kilkenny also shot a pair of points each, while Ailish O'Reilly punished Tipp's defensive indiscretions clinically, converting four from four placed balls.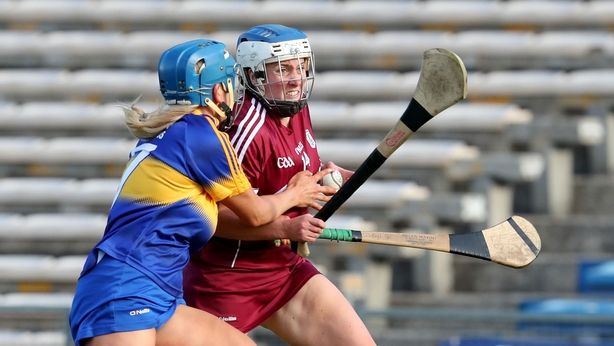 Ciardha Maher finally got Tipp on the board in the 21st minute, after Sarah Healy had saved Mary Ryan's hand-passed attempt at goal and that seemed to settle the home side. Cáit Devane, Orla O'Dwyer, Mairéad Teehan and Maher also found their range to give their side hope at the break.
O'Dwyer's second score added to that optimism but when O'Reilly profited from a neat touch by Aoife Donohue to calmly place a ground shot beyond Orla McEniry for a goal and it was over from that juncture.
Ann Marie Starr, Niamh McGrath, Donohue and the graceful Kilkenny kept the scoreboard ticking over and though Devane, Megan Ryan and Róisín Howard did earn some reward for their efforts, the margin would have been much greater but for the 11 wides Galway recorded as they became a little self-indulgent with the game in the bag.
Notably, the Galway defence kept up their intensity and work-rate throughout, pulling off a range of hooks and blocks and forcing numerous turnovers.
Tara Kenny and Heather Cooney were magnificent in that regard with the former earning the Player of the Match award, although there were plenty other contenders.
In the end, both sides introduced a host of subs as the game fizzled to its inevitable conclusion but while Tipperary will be disappointed that they didn't ask more questions of Galway, the Tribeswomen appear hell-bent on adding to their haul of two All-Ireland titles, and winning their first since 2013.
Scorers for Galway: A O'Reilly 1-7(0-6fs, 0-1 45); N Kilkenny 0-4; N McGrath 0-3; M Cooney, S McGrath 0-2 each; O'McGrath, A M Starr, A Donohue, C Finnerty 0-1 each
Scorers for Tipperary: C Devane 0-3(2fs), Ciardha Maher 0-2, O O'Dwyer 0-2, M Teehan 0-1, Megan Ryan 0-1, R Howard
Galway: Sarah Healy, S Dervan, R Black, T Kenny, H Cooney, R Hennelly, L Ryan, O McGrath, A M Starr, N McGrath, M Cooney, N Kilkenny, A Donohue, A O'Reilly, S McGrath. Subs: N Hanniffy for Cooney (51), C McGrath for Black (55), Shauna Healy for Kenny (56), C Finnerty for Donohue (58), N Coen for S McGrath 58)
Tipperary: O McEniry, C Walsh, G Grace, J A Bourke, A McGrath, Caoimhe Maher, C Quirke, E Fryday, Megan Ryan, O O'Dwyer, C Devane, N Walsh, Mary Ryan, R Howard, Ciardha Maher. Subs: M Teehan for McGrath temp (23, McGrath for Fryday 33), T Ryan for Caoimhe Maher (37), E Loughman for Bourke (37), M Campion for Walsh (53)
Referee: O Elliott (Antrim)