Cian O'Neill admitted he was extremely disappointed at his side's failure to reach the All-Ireland SFC quarter-finals but insisted they would improve for the experience.
The Lilywhites were fancied to get by Armagh in Saturday's Round 4B qualifier but were edged out 1-17 to 0-17 in a shootout at Croke Park.
Andrew Murnin's goal had the Ulster men ahead 1-08 to 0-08 at the interval and though Kildare fought back to lead by the 53rd minute, Armagh scored four of the last five points to close out an impressive victory.
"When we brought the match back level in the second half it was in the melting pot," O'Neill told RTÉ Sport.
"We just needed to put a little bit more pressure on them. They came back down and got another score and you're always chasing a point, two points.
"There was very little between the teams all match but I think Armagh executed superior to us and that was the key thing.
"Ultimately, we didn't get that goal, they did, and that was what was between the teams at the end."
WATCH highlights via GAANOW of @armagh_GAA's superb win over @KildareGAA earlier as the Orchard County edged the Lilywhites by 3! #ARMvKIL pic.twitter.com/DqXtT50nnX

— The GAA (@officialgaa) July 29, 2017
O'Neill thought Kildare's shooting and decision-making up front let them down.
"We just didn't take our scores, particularly early on.
"We had a lot of chances in the first ten minutes, similar to the Dublin match and just didn't execute. We paid for it down the back end.
"Even in the dying minutes we had chances. We probably tried to force a goal too soon.
"We lacked a bit of composure at times where if we had worked a couple of scores we might have got it down to a point."
"Today was a match we felt we could have won if we had performed and we didn't"
Despite gaining promotion to Division 1 and reaching a first Leinster final since 2009, O'Neill insisted the defeats to Dublin and Armagh made Kildare's season only a qualified success.
However, he backed the team to go on to better things next year and said he was looking forward to the challenge of taking on the league's top-tier sides.
"We're not happy at all to be honest," he said.
"We're very happy with promotion but we got to a Leinster final and didn't perform as well as we would have liked.
"Today was a match we felt we could have won if we had performed and we didn't.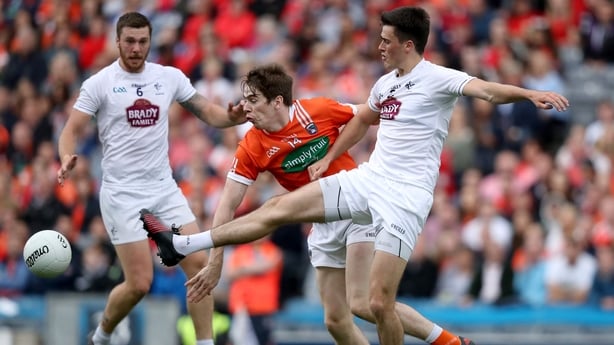 "There's no doubt there were gains and positives but it was really about getting to that quarter-final stage and we haven't done that.
"It's disappointing but they're a very young group and there are a lot of young guys who are ready to step up next year again.
"They'll learn a lot from this year and we'll come back bigger, stronger and better.
"Ultimately we hope playing in Division 1 will take us to the level we need to be to perform in the Championship against the top teams."