Jamie Clarke dazzled again for Armagh as they set up an All-Ireland quarter-final against either All-Ireland champions Dublin or Ulster winners Tyrone next weekend after their 1-17 to 0-17 victory over Kildare.
Clarke was not alone though as Gavin McParland and Andrew Murnin's stunning form meant the trio combined for 1-08 of their side's total, while a well marshalled defence kept Kildare's danger men quiet for the most part.
Midway through the opening half Kildare looked well set to power on into the last eight when they landed four unanswered points to take the lead, but a goal from Murnin in the 31st minute meant Armagh lead by three at the interval.
Kildare rallied again thanks to some powerful play from Fergal Conway to retake the lead with 14 minutes remaining, but Clarke added his third and fourth points of the game and Brendan Donaghy stepped up with an excellent score to see his side to the win.
Battle hardened by their route through the qualifiers, the ferocity of the Armagh defenders resulted in countless Kildare attacks being turned over, and when the Lilywhite shooters did manage to gain a yard they were still under severe pressure and kicked six wides and just eight points before the interval.
Less than a minute had elapsed when Keith Cribbin pointed for Kildare, but in the next 17 minutes Armagh found their match pace and outscored the Leinster side by six points to two.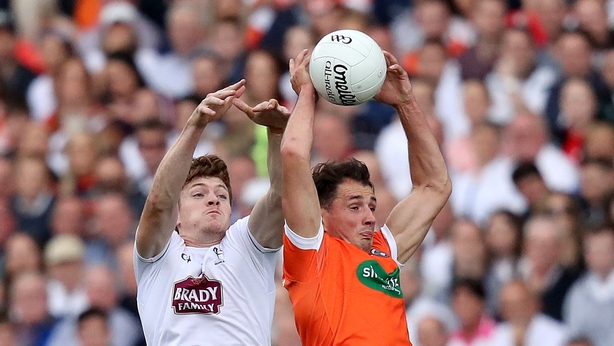 The fluid movement of the Armagh attack meant scores seemed to come easier to McGeeney's side, but they also showed great patience in their build up play to wait for the best possible chance to present itself.
All three of their full-forward line scored their opening scores, while eye catching points from Rory Grugan and Aidan Forker meant Armagh were well on top by the end of the first quarter.
Kildare kept in touch though thanks to Kevin Feely's free and Niall Kelly, while goalkeeper Mark Donnellan also came forward to slot a brilliant free from the right.
Donnellan was involved in a controversial moment though after he missed a later 45 for his side, and on his way to goal, he appeared to trip Murnin, but he escaped with a yellow card rather than a black.
That seemed to inspire Kildare into action and Kelly spurred his side into a run of four unanswered points, which saw them take a 0-07 to 0-06 lead after 29 minutes.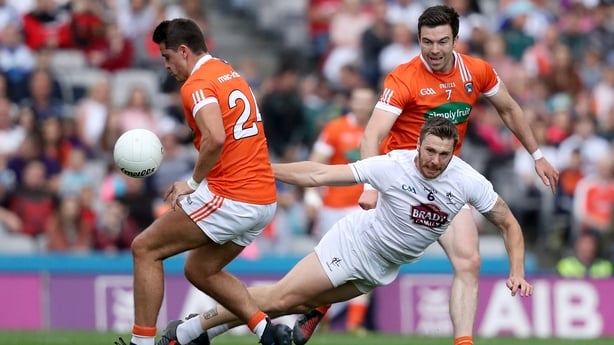 But Murnin had his revenge. A brilliant dummy from Grugan on the left saw him shake off Keith Cribbin and he picked out Murnin in front of goal. His initial shot looked to be going wide, but it was blocked by Mick O'Grady and Murnin then poked the ball over the line which helped his side to a 1-08 to 0-08 half-time lead.
Both teams were keen to gain the upperhand after the restart, but instead they shared four points evenly, including a point from Armagh substitute Joe McIlroy with his first touch. But a powerful five minutes from Kildare saw them pull level as Paddy Brophy, Keith Cribbin and Daniel Flynn all pointed from play.
Kildare actually took the lead thanks to a couple of points from the influential Fergal Conway, but with Clarke and McParland working well to score, the lead was soon Armagh's and they refused to relinquish it again.
Armagh: B Hughes; J Morgan, C Vernon, P Hughes; M Shields, B Donaghy (0-01), A Forker (0-01); S Sheridan, N Grimley (0-02, 0-02f); A McKay, S Campbell (0-01), R Grugan (c) (0-02, 0-01f); J Clarke (0-04), A Murnin (1-01), G McParland (0-03).
Subs used: J McIlroy (0-01) for McKay (38 mins), C O'Hanlon for Forker (45), E Rafferty (0-01) for Murnin (48), O O'Neill for Campbell (49), A Duffy for Grugan (65).
Kildare: M Donnellan (0-01, 0-01f); M O'Grady, D Hyland, O Lyons; P Kelly, J Byrne, K Cribbin (0-02); K Feely (0-05, 0-05f), P Cribbin; F Conway (0-02), N Kelly (0-02), D Slattery; P Brophy (0-03), D Flynn (0-01), B McCormack (0-01).
Subs used: C McNally for B McCormack (45 mins), F Dowling for Slattery (51), M Hyland for Kelly (57), C O'Donoghue for K Cribbin (59 black), E Callaghan for Kelly (65), T Moolick for Flynn (68).
Referee: Derek O'Mahoney (Tipperary).