Jackie Tyrell believes that Tipperary have no hope of retaining their All-Ireland title without exiled All Star corner-back Cathal Barrett.
The Holycross-Ballycahill defender was dropped from the panel for a breach of discipline in May, a week after Tipperary's Munster quarter-final defeat to Cork.
The Premier County conceded three goals in their nervy 0-28 to 3-16 qualifier win over Clare on Saturday and Tyrrell, who won four All-Stars playing corner-back for Kilkenny, thinks the time has come for Barrett to return to the fold.
"For me, Tipperary are not going to win the All-Ireland without Cathal Barrett," he said on The Sunday Game.
"I'd have a full-back line of Cathal Barrett, James Barry at full-back and Donagh Maher, who has been brilliant this year for them.
"It's worrying times for Michael Ryan, he has to get Cathal Barrett back into that full-back line."
Jackie Tyrell and Donal O'Grady think Tipperary need All-Star Cathal Barrett back in the fold and lining out at corner-back #GAA pic.twitter.com/gjhfaPP5qB

— The Sunday Game (@TheSundayGame) July 23, 2017
In Barrett's absence, last year's All-Star full-back James Barry has played in the corner, with Tomas Hamill in the centre.
It's a switch that does not appear to suit the Upperchurch-Drombane man and Tyrrell believes that the line is now a major weakness in the team.
"It's a real headache for Michael Ryan now," he said. "He'll be really concerned because they're shaky, there's no conviction and they're very weak in the air.
"The two goals came from nothing long balls into the square and they've conceded six more points than last year on average.
"James Barry had a great year last year but he is struggling for a bit of form. He probably misses being full-back.
"If Clare had their heads screwed on they would have really went at it hitting high balls in. There were more goals there.
"There was another ball went in where there was uncertainty between Tomas Hamill and his goalkeeper and Aaron Cunningham could have had a hat-trick."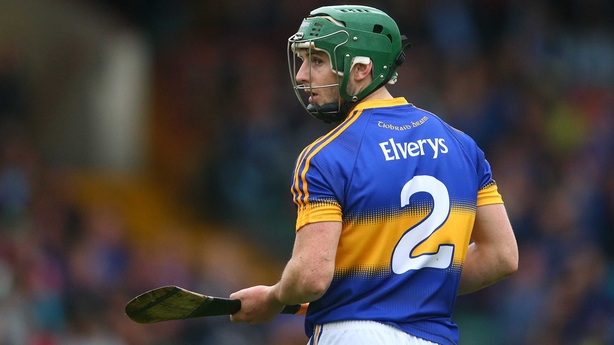 Tyrrell's fellow panellist, former Cork and Limerick manager Donal O'Grady, agreed.
"He (Barrett) might have been just a sacrificial lamb when Cork beat them," O'Grady suggested.
"Mickey Cahill isn't playing either, he's suffered a lot of injuries, so they're short of two corner-backs, and James Barry wasn't comfortable.
"Their full-back line against Cork was poor enough, even though Cathal Barrett was in it.
"I would have thought if he's fit enough, you introduce him after 20 minutes. He's one of the best corner-backs in Ireland."