Donegal selector Maxi Curran says his side have serious questions to ask of themselves after their nine-point defeat to Tyrone in Sunday's Ulster senior football semi-final in Clones.
A dominant spell in the ten minutes before half-time gave Tyrone a six-point lead at the break.
Donegal needed a quick start to the second half but instead on 38 minutes Tiernan McCann powered through the heart of the opposing defence to give Tyrone the opening goal of the game.
The match was effectively over as a contest with 20 minutes remaining though wing forward Michael Carroll lashed home a consolation goal on 61 minutes.
Curran was at a loss to explain his team's performance but pinpointed the second quarter as the period when the game got away from them.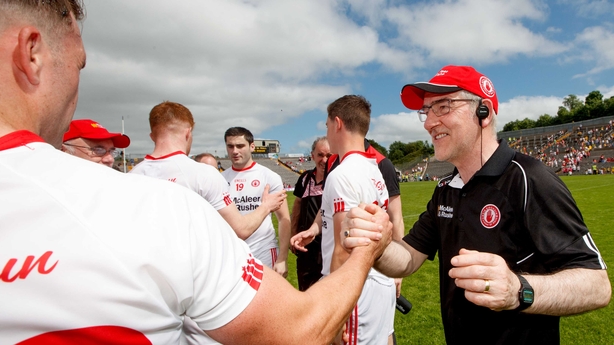 "It's hard to figure out where that came from and where things went wrong. Tyrone were brilliant. Far superior on the day. They were full value for their victory," he said.
"Those ten minutes before half-time was crucial. It's probably what killed us. We never really recovered from that. It left the mountain too high for us to climb. We've serious questions to ask of ourselves now."
Curran refused to offer the relative inexperience of this Donegal team as an excuse for the loss.
"There's major issues for us in terms of where the game was lost. We conceded five or six points at the end of the first half that really should have been closed down. They were shooting at will inside our 45. That was the winning and losing of the game.
"That's nothing to do with experience or age. We just got it wrong on the day. We have a sharp bit of analysis to do to see where it came from."