Anthony Daly believes Dublin now have no choice but to stick with a young, inexperienced panel on a "tough road".
Ger Cunningham's Sky Blues started their Leinster SHC with a chastening 14-point loss to Galway in Tullamore on Sunday.
Shorn of several seasoned campaigners who've left the panel over the last 12 months, the Dubs camp has been plagued by rumours of discontent and criticism of the management.
Clare man Daly, who led the capital to a Leinster crown in 2013 during a six-year spell in charge, described Cunningham as a "very, very astute guy", but admitted things look badly from the outside looking in, and lamented the absence of men who could make a difference.
"I'd just love to see the Dubs with five guys, maybe six guys who I think should be there starting," Daly told RTÉ 2fm's Game On.
The Schuttes kind of put the tin hat on it. Paul and Mark going off with the footballers... other lads as well."
"You're looking at the likes of Donal Burke inside on Daithi Burke, just out of minor probably facing the best full-back in the game at the moment. That's hard going.
"It will take time with Dublin now. You have to stick with these younger lads now. Some of the lads who may have still been around would be nearly gone off the scene now anyway.
"But there's still some that should be there. The Schuttes kind of put the tin hat on it. Paul and Mark going off with the footballers... other lads as well.
"Wouldn't you have loved to have seen maybe Johnny McCaffrey and Shane Durkin in the middle of the field on Sunday, both 28-year-olds?
"It will be a tough road for a while. Maybe 1B will be no harm next season for the Dubs. It gives you a chance to maybe get a winning roll under your belt."
Cunningham was part of John Allen's back-room team in 2005 when they beat Clare, then helmed by Daly, in an All-Ireland semi-final.
Although the current Dublin manager has come in for his share of criticism, Daly highlighted his tactical nous and experience as a big asset.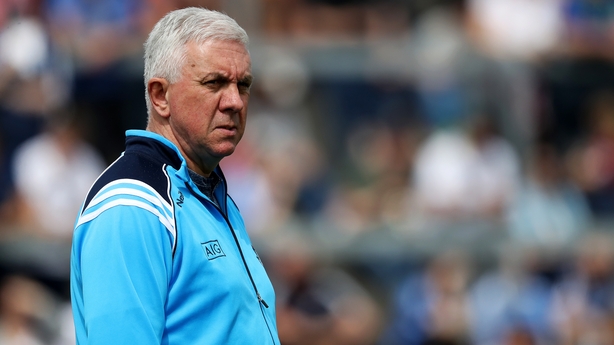 However, with a squad Daly described as "threadbare" at his disposal thrust into the cut-throat world of championship hurling, even that knowledge may not be enough to save Dublin's summer.
"Ger Cunningham is a very, very astute guy," Daly said. "I remember him making two changes for Cork, probably costing Clare an All-Ireland.
"We were leading them by six points and he made the call (to John Allen) take off Ronan Curran and Brian Corcoran, two iconic men.
"I'll never forget it. He came down from the stands and said it. It was a massive call. 
"It just doesn't seem to be gelling at the minute. At the minute they just look threadbare. 
"I was talking to Dottsy (O'Callaghan) about two weeks ago. He said he was out with a hamstring injury. You see him coming on then. John Hetherton came on to the panel 27 or 28 days ago after playing okay for Vincent's in the championship and he comes on.
"He did very well, but that's not really ideal championship preparation and John would be the first to tell you that.
"I just hope it improves. There's so much good will and great effort that goes into Dublin hurling. I hope it turns around and the sooner the better."