Sunday's meeting between Kilkenny and Wexford has probably arrived a few months earlier than Yellow Bellies manager Davy Fitzgerald would have liked.
The Clare All-Ireland-winning player and boss guided his team to a clean sweep in Division 1B to move into the top flight quarter-finals, where they will face the Cats at Nowlan Park.
The pair are likely to clash again in a Leinster semi-final on 10 June and that's a date that Davy Fitz will have had in his diary from the day that draw was made late last year.
What: Kilkenny v Wexford, Allianz Hurling League Division 1 quarter-final
Where: Nowlan Park
When: Sunday, 4pm
Fitzgerald is around long enough to know that his young Wexford side are unlikely to win an All-Ireland this year. But he also knows that silverware in his first season in charge, be that in League or Leinster, will mark 2017 down as a runaway success regardless of what happens afterwards.
Clare last year, when Fitzgerald was in charge, and Waterford before them have both won Division 1 from the second tier so he isn't exactly treading on uncharted territory here.
As a shrewd and analytical coach he is likely working on something special to overturn Kilkenny in June, who Wexford will play if they beat the Leinster round-robin winner, though he'll be keeping that under wraps until the big day. This weekend though he'll still want to see his team tearing into the 2015 All-Ireland champions.
By the same token the Cats will want to maintain their long unbeaten competitive run over the Model County and rest assured if they sniff any blood in the water at Nowlan Park this weekend they'll go in for the kill.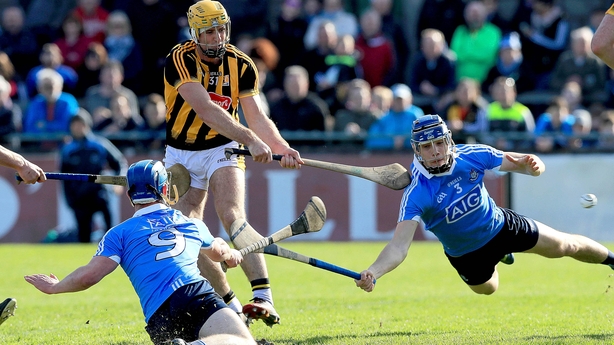 Brian Cody's teams are past masters of smothering opponents when they're struggling for air and they'll know that if they can put a decent score on Wexford this time around it will plant seeds of doubt for their Championship meeting.
This is a dress rehearsal, but there is still a huge amount to play for for both teams - far more than a straightforward place in the League semi-finals.
If this was two years ago, Wexford would be given no chance. But Kilkenny aren't the force they were 24 months ago and Wexford are a completely different animal too.
They cruised through Division 1B with a 100% winning record - Meath in Division 2B are the only other county to boast such a thing in hurling - and they took the scalps of promotion rivals Limerick and Galway in the first two weekends of action.
The Cats squeezed into the quarter-finals thanks to a far-from-straightforward win over 14-man Dublin at Parnell Park on Sunday and they finished with five points from five games, dropping half of the ten that were available to them through two defeats and a draw.
The sideline meeting of Cody and Fitzgerald will be enjoyable to watch too, given their contrasting styles. Cody is sphinx-like and gives little away while his opposite number is a high-octane ball of emotion that holds nothing back.
The build-up to this game is fascinating and however it turns out it will inform one of the most anticipated games of the early summer.