Referees chief Sean Walsh admits that there have been inconsistencies with the application of the black card but he insists that it has had an overall positive effect on Gaelic football and is "here to stay".
The rule has sparked furious debate since its introduction in 2014, when it was brought to discourage cynical fouls, with opponents suggesting that players are being harshly dismissed.
A total of four black cards were shown across the All-Ireland final and final replay: Dublin's James McCarthy in the drawn game followed by his team-mate Jonny Cooper and Mayo pair Rob Hennelly and Lee Keegan in the rematch.
Replay referee Maurice Deegan caused a stir yesterday, when he revealed that he regretted not issuing another one to Dublin defender John Small for a trip.
"The problem with the black card is the inconsistency we have with refereeing games in relation to it," Walsh, who is also a candidate in February's GAA presidential election, told RTÉ Sport.
"As chairman of the referees, and the referees themselves, we have discussed it ourselves all through the summer.
"Our task from the first National League game of this year is to try to eradicate the inconsistency in relation to the use of the black card.
"If there is a clear black card and it's missed then that's what's causing the aggravation. You'll get put off for one and you'll miss another - that is our problem and what we have to get over for the coming year."
We need your consent to load this rte-player contentWe use rte-player to manage extra content that can set cookies on your device and collect data about your activity. Please review their details and accept them to load the content.Manage Preferences
Nonetheless, former Kerry and Munster chairman Walsh highlighted what he sees as the benefits of the change.
"If you take it pre-black card and now, I believe it is working and having the help it was intended to," he said.
"We have to be very mindful of that fact when you look at the games, when you look at the scoring, when you look at everything.
"But we can't be in a position next year to say that there are still inconsistencies. Maybe there will be little inconsistencies but we have to limit them.
"The black card is here to stay. That's the message I'm giving loud and clear."
Despite admitting to that mistake in the All-Ireland replay, ref Deegan is a firm supporter of the black card.
"I think (it has been) very positive. It has cleaned up the game. Let's be honest.
"The body collide is gone. That was a serious thing in the game, players being taken out of it altogether.
"There are inconsistencies within the black card with referees and that's something that we have to work on; pull-down, hand-trip - all those type of things. They jut have to be looked at. And it's up to us to fine tune it."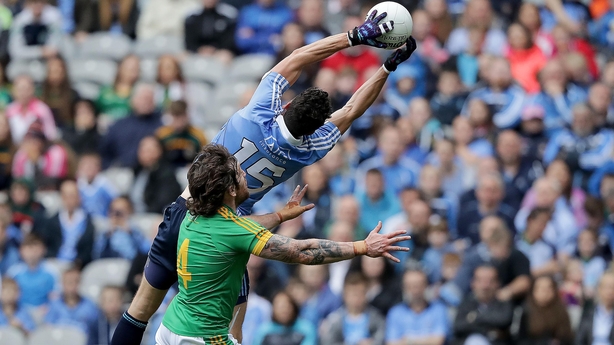 As for the latest addition to Gaelic football's rule book, the mark, Deegan has already had first-hand experience of it while refereeing Higher Education League games.
"What I think it will stop are melees around the middle of the field, like when a ball breaks and four or five lads are there – one lad will catch it but straight away he will have four or five around him," he said.
"What will happen now is when the free is given with a mark it will stop all that. So the ball will move on quicker.
"What you don't want is to have five or six players all encroaching on top of each other because you are inviting trouble straight away."
He also observed that teams conceding marks were using the delay in play to get players behind the ball.
"A player catches the ball around the middle of the field, he gets the mark and stops to take it then all the defenders will flood back straight away. That's the way it is going to be.
"From what I can see is what you're trying to do is reintroduce a skill that I think has gone, the high fielding plus you are preventing melees from happening around the field.
"They are the two things that as referees we can see. As for tactics, I'll let you talk to the managers on that."