All Star Michael Quinlivan has revealed the kind gesture made by the county's only other football All Star Declan Browne prior to Friday's gala ceremony.
The Premier County exceeded all expectations by reaching the All-Ireland semi-final and the talented Clonmel Commercial's forward was rewarded for his excellent campaign when he was named in a full-forward line that contained All-Ireland winner Dean Rock and Kerry's Paul Geaney.
The 23-year-old became just the second Tipperary footballer to claim an All Star, joining Browne who won the personal accolades in 1998 and 2003.
The ace attacker received his 2016 GAA/GPA Opel All Star at a gala ceremony at the Convention Centre in Dublin, but was given an inkling by the Tipperary legend in advance.
Quinlivan, however, was fearful of tempting fate and was in two minds whether to respond before the ceremony.
"It was nice to do," Quinlivan told RTÉ Radio's Saturday Sport programme.
"He just wrote to me saying, 'Well done' and I didn't really want to jinx it.
"This was the night before, so someone had obviously said it to Deccie that it had happened."
That was followed by a text message from the Moyle Rovers legend and Quinlivan is able to look on the funny side with the award safely collected.
"Eventually I just text him saying, 'To be honest Deccie, I don't really know myself'. Then he started to panic...'Oh jeez, I'm really sorry about being the one'.
"I was like, I'm sure we'll make a good story out of it."
Browne is recognised as one of the finest footballers of his generation and spent 11 years in Tipperary colours and claimed seven county titles with his club and Quinlivan was effusive in his praise for Browne.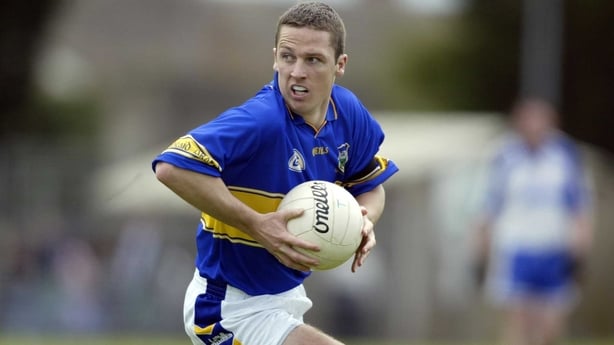 "He's the one everyone loomed up to. He was an unbelievable talent, as much as he broke Commercial's hearts being from Moyle Rovers.
"You'd be in awe of some of the stuff he can do on the pitch."