David Clarke has won an All Star despite being dropped for this season's All-Ireland final replay.
Mayo's Clarke was given the nod as goalkeeper on the 2016 GAA/GPA Opel All Star team, which was unveiled on Thursday morning.
The Ballina man took over in goals during the Green Above the Red's qualifier run this summer, but in a shock move he was left on the bench by manager Stephen Rochford, who went for Robbie Hennelly between the posts instead.
What happened next is well known - Hennelly gave away a penalty, picked up a black card and Clarke came into the action as Mayo went on to lose a pulsating rematch to Dublin.
Here is the 2016 football All Stars selection: pic.twitter.com/0PWq5d63lE

— RTÉ GAA (@RTEgaa) November 3, 2016
As usual, the All Star team is dominated by the All-Ireland finalists.
The county-by-county breakdown is six for Dublin, four from Mayo, two from Ulster champions Tyrone and one each from Donegal, Munster champions Kerry and this summer's surprise packages Tipperary.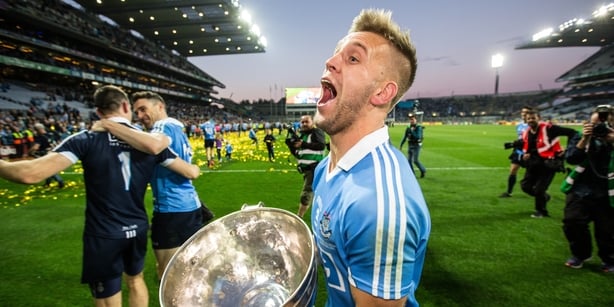 In front of Clarke the full-back line is made up of rookie Brendan Harrison (Mayo), who had a great first season, and Dublin's duo of Jonny Cooper and Philly McMahon.
Mayo provide two-thirds of half-back line in the form of Lee Keegan and Colm Boyle, with Donegal's Ryan McHugh in the left wing-back position.
Dublin sweeper Cian O'Sullivan, the glue that holds their defence together, and Mayo's Paddy Durcan were both seen as strong contenders, but neither could force their way into the team.
Well done @Geaney15 on a well deserved All Star, first of many 👍

— Darran O'Sullivan (@Darransull86) November 3, 2016
Hard luck Evan,Conor,Peter and Robbie but Shows how far tipp football has come when we are disappointed we didn't get more all stars, 👍👍

— Declan Browne (@dbrowne15) November 3, 2016
Brian Fenton, who has yet to lose a Championship game playing for Dublin, and Tyrone powerhouse Mattie Donnelly, form the midfield partnership.
There's another Tyrone man in the half-forwards, Peter Harte, with Dublin providing the rest. Diarmuid Connolly and Ciaran Kilkenny will be standing side-by-side at the ceremony at the Convention Centre on Friday night and then on Saturday they'll be on opposite sides - St Vincent's and Castleknock respectively - in the Dublin SFC final on Saturday.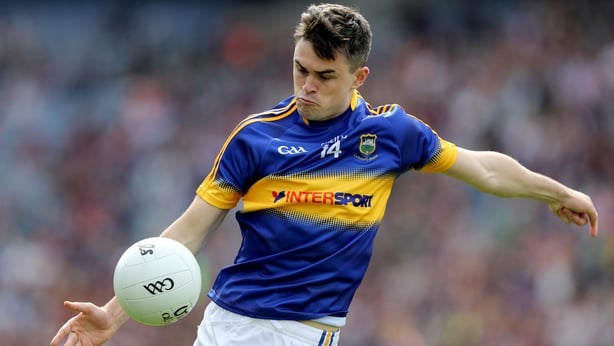 Before the drawn All-Ireland final Dublin's Kevin McManamon was favourite to be named Footballer of the Year yet he wasn't even able to make the All Star team after being taken off in that game against Mayo.
Instead his team mate Dean Rock, Tipp's Michael Quinlivan and Paul Geaney make up the inside line.
There are eight first-time All Stars on the 2016 selection, an unusually high number. They are Clarke, Harrison, Cooper, McHugh, whose brother Ryan won one in 2012, Quinlivan and Geaney.
Ryan McHugh (Donegal) is wing back on #AllStars. McHugh's join Brogans from Dublin as only ones to have a Dad & 2 sons named as All-Stars

— Des Cahill (@sportsdes) November 3, 2016
Kev Mc was favourite for player of the year before the final and doesn't even get an all star.... 🤔🤔🤔

— Shane Lowry (@ShaneLowryGolf) November 3, 2016
Five of the 2015 team were honoured again; McMahon, Keegan, Fenton, Donnelly and Kilkenny.
The nominees for Footballer of the Year are Fenton, Keegan and Kilkenny. That prize is voted for by the players and the winner will be announced tomorrow night along with the Young Footballer of the Year for 2016.
The All Star hurling team will, along with the Hurler and Young Hurler of the Year, also be revealed live at the ceremony at Dublin's convention centre on Friday night.
2016 GAA/GPA Opel All Star football team
1. David Clarke (Mayo)
2. Brendan Harrison (Mayo)
3. Jonny Cooper (Dublin)
4. Philly McMahon (Dublin)
5. Lee Keegan (Mayo)
6. Colm Boyle (Mayo)
7. Ryan McHugh (Donegal)
8. Brian Fenton (Dublin)
9. Mattie Donnelly (Tyrone)
10. Peter Harte (Tyrone)
11. Diarmuid Connolly (Dublin)
12. Ciaran Kilkenny (Dublin)
13. Dean Rock (Dublin)
14. Michael Quinlivan (Tipperary)
15. Paul Geaney (Kerry)