To crack Dublin, it is likely that you'll first have to crack Stephen Cluxton.
The only team to beat the Dubs in Championship football since Jim Gavin took over in 2013, and led them to two All-Irelands, is Donegal in the '14 semi-final.
The reason the Sky Blues came undone against Donegal was because Gavin's all-out attacking style was rumbled - an issue he has since addressed comprehensively with the deployment of Cian O'Sullivan as a sweeper.
A few other teams have come close - most notably Mayo in the drawn 2015 All-Ireland semi-final and Kerry in the last four just a few weeks ago. On both occasions the opposition managed to get under Cluxton's skin.
The five-time All Star goalkeeper is credited as a man who has revolutionised Gaelic football with his kicking from the tee, his almost-always nerveless passing and brilliant left foot.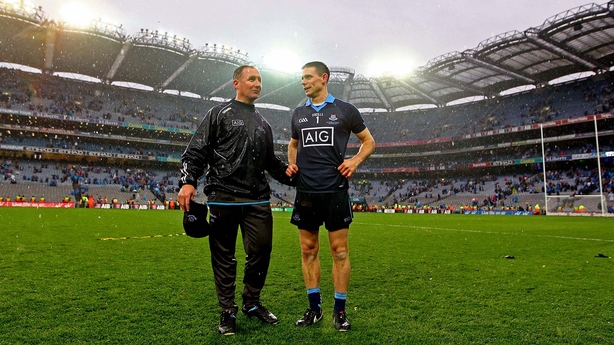 His preferred restart is usually within ten seconds of the ball going dead and to one of his defenders making a run short, sometimes even inside the 13-metre line.
As a rookie back in the early 2000s he used to simply go long to the middle like every other keeper, though as his game developed he used to favour a half-forward target; think of Paul Flynn's many runs to the wing.
That route is more-often-than-not cut off now, as opposition players drop off with the plan of stopping the Dublin juggernaut by turning them over in the tackle before they reach the halfway line.
The Dubs' win-rate would suggest that this has only been a limited success for most teams.
Cluxton, known to be quiet off the field, is always animated on the pitch as he harasses his team-mates and organises his defence. He has been known to completely lose his cool too, notably picking up red cards in front of Hill 16 when he temper has blown.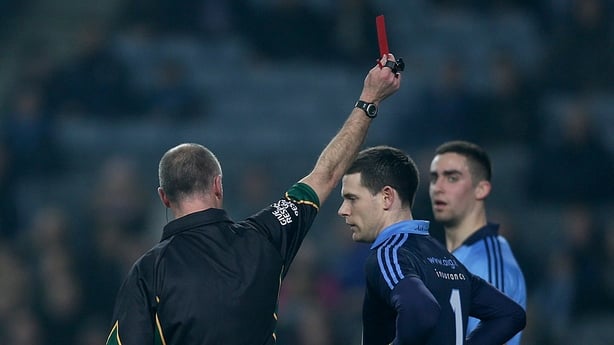 In 2003, when just a 21-year-old, he kicked out at Armagh's Steven McDonnell, earning a red card and a suspension for the first game of the 2004 Championship.
In 2014, the Dubs played Mayo at Croke Park in a grudge match, with the Connacht champions keen to get some measure of revenge for the previous September's All-Ireland final defeat. They targeted his kick-outs, he cracked and aimed a boot a Kevin McLoughlin. An early shower duly followed.
In between, in 2011, he decked former Ireland soccer international Jason McAteer following a set-to in a charity soccer match. He has got form with regards to the red mist descending.
As RTÉ Sunday Game analyst Pat Spillane has noted: "When Cluxton goes into meltdown it seems to permeate the whole team. When Cluxton is confident and finding his men, Dublin play with confidence."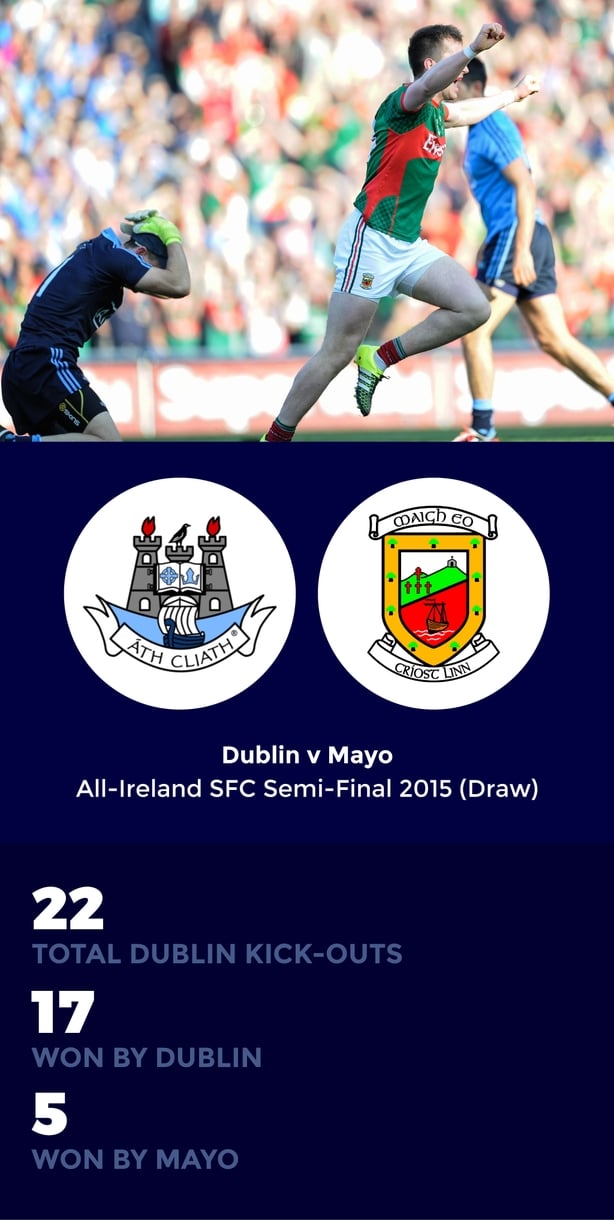 In August 2015 the Dubs appeared to be cruising towards another semi-final win over Mayo, leading by seven points with 10 minutes to go.
In the first half, Cluxton had a perfect eight-from-eight record with his kick-outs, most of them going no further than his own 40-metre-line. Plenty of times he played in one of his full-back line, took back possession and started the attack with his lethal foot-passing from the hand.
The Green Above the Red abandoned their policy of allowing the Dubs uncontested possession from kick-outs late in the game, pushed up and it paid almost immediate dividends.
With seven minutes to go he hit an under-pressure Jack McCaffrey with a restart, took the ball back, played a one-two with John Small and was then blocked down by the attacking Andy Moran, who hit the post with his follow-up effort.
Dublin were still five ahead at this stage so there was no need to panic, but Cluxton's confidence melted.
Over the remainder of the game he had four more kick-outs and put three of them straight down the throats of Mayo men, including his last of the game, which led directly to Moran's equaliser.
During the game, Dublin won 17 of their 22 kick-outs, leaving Mayo the other five, but it was those late three that were crucial.
KEY STAT: In the final five minutes Dublin lost three out of four kick-outs and conceded 1-2.
MATCH FACT: In the first 63 minutes of this game Cluxton found his target from 16 out of 18 kick-outs.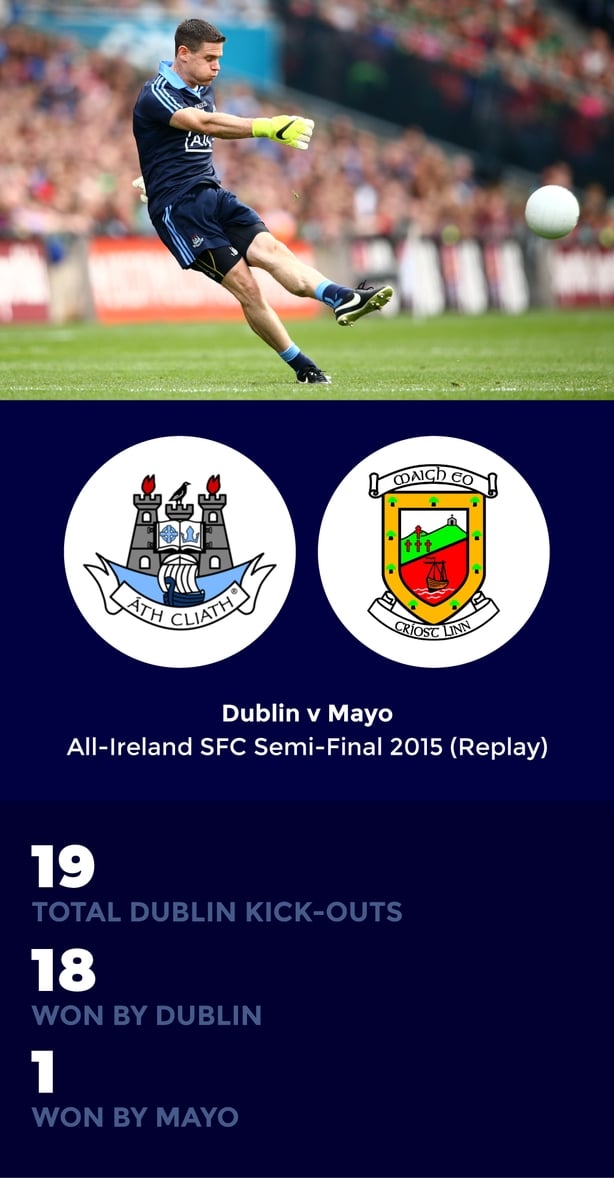 In the replay it was confidently predicted that Mayo would squeeze Cluxton from the off, but they didn't, sitting off and preferring to try to turn the Dubs over in the middle. It didn't work. They were hammered as Dublin won 17 of their 18 restarts and Cluxton was the icy-cool platform for attack.
KEY STAT: Dublin only kicked one long restart to the middle of the field - and they lost that.
MATCH FACT: In the first half Cluxton kicked the ball out 14 times and Dublin won 13 of them.
In August, Dublin beat Kerry in a pulsating All-Ireland semi-final and the raw data says that Dublin won 16 of their 21 kick-outs - a far higher ratio than the Kingdom managed - including all 10 in the second half.
After 24 minutes Dublin had won four of their five kick-outs while Kerry had managed just seven of 13 off Brian Kelly's tee, leaving the Kingdom trailing nine-four on the scoreboard.
It was then that Kerry's full-court press, leaving Dublin's inside-forward line virtually unmarked and pushing 12 players into a zonal formation to frustrate Cluxton, started to come into affect.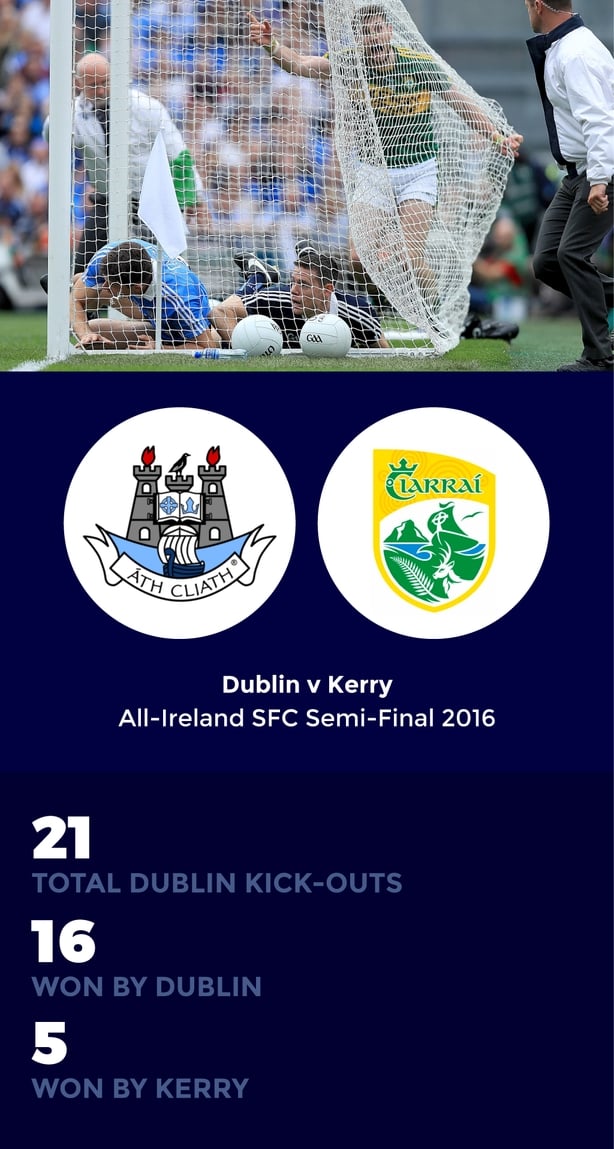 In the 11 minutes before the break, Kerry claimed four out of five Dublin restarts, including one that went straight out for an attacking sideline ball. They came from three points down to hold a five -point lead at the break, both goals coming straight from shaky restarts.
This shows that it is possible to get to Cluxton, because once one kick-out goes astray more often follow. His focus is usually locked in, but occasionally he can be rattled.
However, the fact is that teams have so far only managed to do it for 10-minute periods. In recent years, no side has managed to pressurise and unsettle him for a more sustained spell. Doing this could be the key to beating the Dubs.
KEY STAT: In the eleven minutes before half-time Dublin lost four out of five kick-outs and conceded 2-2.
MATCH FACT: Dublin won all ten of their own kick-outs in the second half, the majority going short.