Former Donegal defender Kevin Cassidy has hit out at the style of football that his former team-mates played in this year's Championship - and said Rory Gallagher needs to change it if he's to stay on as manager.
The 2012 All-Ireland champions bowed out in the quarter-finals after a 1-15 to 1-10 loss against reigning champions Dublin, and Cassidy believes that their current style is not particularly pleasing on the eye.
He was infamously axed from Jim McGuiness's panel in 2011 after contributing to Declan Bogue's book This Is Our Year, which consisted of interviews with ten Ulster footballers surrounding that year's championship odyssey.
Cassidy insisted he has no bitterness about that incident, but implored the current management team to make this Donegal crop easier on the eye.
I didn't think that I had said that much (in the book). There was no damage done, and I don't regret it.
"I don't like it much to be honest," told RTÉ Raidió na Gaeltachta. "Watching the match between Dublin and Kerry, the open style, the skill ... but the style we have at the moment, it's not nice.
"It's hard to watch and hard to play. If Rory Gallagher is going to stay on as manager, he has to change that style.
"I think Rory could do that. He has great knowledge of styles from all around the country. He knows he needs to change something."
Cassidy hasn't played for his county since the fallout with McGuinness, but he has no regrets, and said Donegal's subsequent All-Ireland triumph justified his manager's actions.
"I didn't think that I had said that much (in the book). There was no damage done, and I don't regret it. My outlook on life is that things happen and you move on."
"After that meeting with Jim in the Clanree when he told me I was off the team, that was it, I moved on. I know a lot of people were very upset about it in the parish, because people were talking to me about it.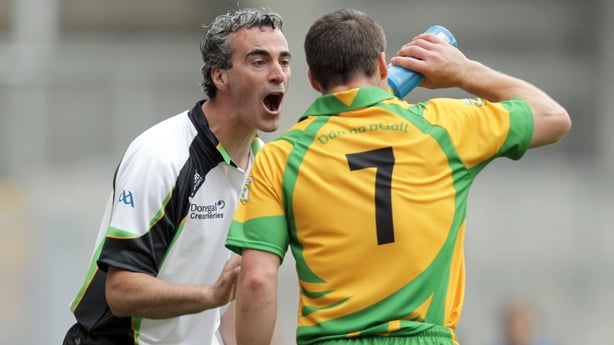 "My own family was very upset. It might be hard to believe, but it didn't upset me too much personally because that's the kind of person I am."
He did say that the matter could have been handled better, however.
"It happened in September/October, and there was plenty of time before the first match. We could have sat down with the whole panel, and I could've been given a chance to explain what happened... but Jim made the right decision for himself because they went on to win the championship."
Cassidy announced his retirement on Saturday after Gaoth Dobhair lost to Naomh Conaill in the Senior Championship.
"I felt that I had let down the parish, that the team let the parish down ... I've hung up the boots now and they won't be coming out again."
He said it was hard for him to fathom why Gaoth Dobhair was not succeeding for the last number of years, but that he believed it was down to a lack of commitment.
"Maybe we have better players now (than in 2002/2006 when they last won), but the dedication is not there, having your heart in the parish and the jersey. Back in 2002, if we lost a match, that would really hurt you, but would also drive you on.
"The team that won in 2006, there are better footballers there now than then, but what they had back then – belief and spirit – their hearts were in it. Maybe we don't have that for the last 10 years and that's what's keeping us back."