Donegal's Martin McElhinney has hailed manager Rory Gallagher as one of the best he has ever worked with and brushed off criticism from former boss Jim McGuinness.
Donegal face Cork at GAA headquarters on Saturday knowing victory will secure an All-Ireland quarter-final date with old foes Dublin.
We need your consent to load this SoundCloud contentWe use SoundCloud to manage extra content that can set cookies on your device and collect data about your activity. Please review their details and accept them to load the content.Manage Preferences
Fermanagh and Monaghan, courtesy of a replay, were accounted for in Ulster before Tyrone edged past their provincial rivals with a two-point victory in Clones last time out.
Defeat to Mickey Harte's side was a bitter pill to swallow for the 2012 All-Ireland champions and the Naomh Micheál clubman believes there was little to separate the sides in what was a "teak-tough" encounter.
"We were very disappointed to come out on the wrong side, but looking at the game as a whole, we were still leading on 70 minutes," he told RTÉ Sport's Brian Carthy.
"To get beat then by two points was devastating.
"But we've got a second chance and we're just keen to prove that we are a top six, seven team in Ireland."
The 0-13 to 0-11 scoreline reflected a cagey encounter and one of the strongest criticisms of this Donegal team is the so-called over-emphasis on their defensive structure, which sees bodies flooding back and a great deal of lateral hand-passing as the players transition up the pitch.
The 27-year-old doesn't agree however that their tactics are negative.
"I don't know if we were too defensive or not, we just found it hard to break down Tyrone more than anything," he said.
"We don't really listen to what they (critics) say about being too negative or about this team being finished. We just know that if we put 100% effort into training and matches we won't be that far away.
"It's a great opportunity to get another lifeline against Cork."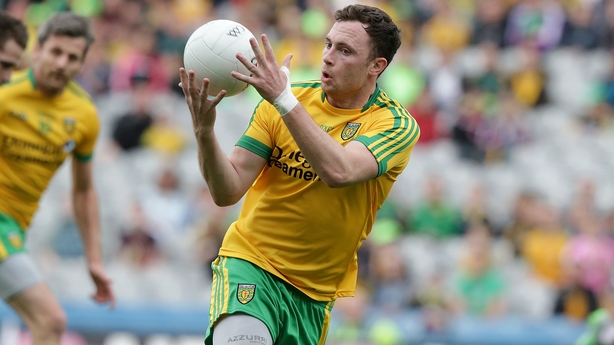 Former manager McGuinness was one of those who felt that the team under-performed in the provincial decider and, in a recent Irish Times column he questioned the tactics of his former assistant Gallagher on the sideline.
He also observed that the transition out of defence was not as effective as it needs to be to break through the congested middle third of the pitch.
McElhinney, who won an All-Ireland and three Ulster titles under McGuinness' stewardship, said those comments have had little impact on the current squad.
"I didn't really hear too much about Jim McGuinness' comments; I saw a few of the news headlines," he said.
"That stuff doesn't affect us. Jim was involved with Donegal for a few years and was a successful manager and he's entitled to his opinions, but we don't really take too much heed into them."
He also singled out Gallagher for special praise, who has had to fill the shoes of the most successful Donegal manager of all-time.
"We've been working with Rory five out of the past six years. We see him as an unbelievable football man, one of the best I have ever worked with.
"Whatever he says we will be doing it and trying to follow it to the letter of the law. That's the way this team works. It doesn't work on any individuals, it works as a team."
The focus is now on Cork and a side they have encountered on a number of occasions in League and Championship.
The Rebels were defeated on the way to their All-Ireland success four years ago, while they also clashed in the League semi-final in Croke Park last year.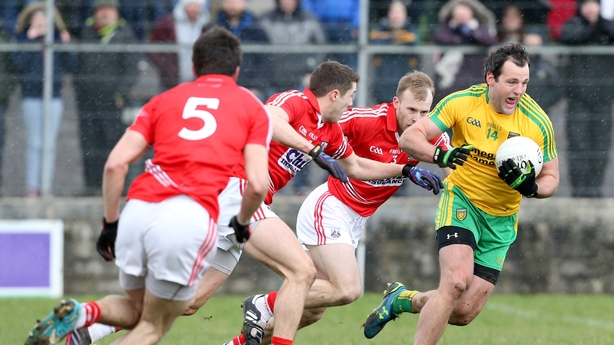 Donegal emerged victorious in their most recent clash in Ballybofey earlier this year, but McElhinney is expecting astern test from a side still hurting from their unexpected Munster exit at the hands of Tipperary.
"Cork are a big strong team. We've got to know them very well over the last couple of years.
"We know what they are like, we know they are no bad team. And they will be firing on all cylinders to meet us."
Listen to Brian Carthy's interview in full on The Championship on RTÉ Radio 1 tonight at 10pm.