Since winning the All-Ireland in 2001, the Galway senior side have failed to cause much of a stir across the footballing landscape.
Yes, they did play their part in that high-quality All-Ireland quarter-final in 2008 – a day the heavens vented its fury on all below to leave the Croke Park sod well and truly saturated. But more often than not they fell to surprising defeats against the likes of Wexford and Antrim in the qualifiers and Sligo in a Connacht decider.
However, recent All-Ireland success at U-21 level has prompted a belief that the good days may again be on the horizon.
Alan Mulholland's tenure as senior boss gave Galway a renewed impetus and now in his second season in charge, Kevin Walsh has made the side winners again following the clinical dismissal of Roscommon in the Connacht final replay.
Walsh's Galway, combining youth with some wise old heads, are good to watch. They also possess a steely backbone and, with all those ingredients in place, the manager felt the time was now right for his charges to make their mark.
Speaking to RTÉ Sport, he said: "I suppose it's like everything else you can talk about getting over the line. It was important for this bunch to get over the line this year, albeit they're a fairly young team, but it's never too early to achieve things.  
"There is a bit of experience there as well and it's important to have that good mix."
And now Galway enter the All-Ireland series. Tipperary are the next hurdle to be overcome at GAA HQ in Sunday's quarter-final.
It's common for observers to say that Galway, going back over the years, are a Croke Park team, that they flourish on the famed sod.
However, Walsh was quick point out that recent history makes a mockery of that depiction.
"In the last 15 years Galway have't won a game in Croke Park," he said.
"It's important then for this group of players to win a game in Croke Park.
"It's about improving.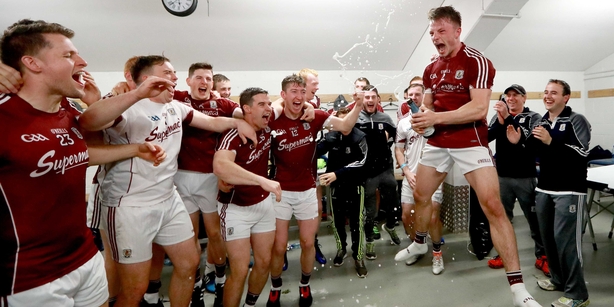 "We are happy with our Connacht final win but we have moved on now to an All-Ireland quarter-final and there is nothing easy there."  
Assessing the challenge awaiting them against Liam Kearns' Tipp, the two-time All-Ireland winner said: "I watched them against Derry and Cork and they were impressive in both games.
They were beaten by ten points by Kerry (Munster final) but it was never a ten-point game and Éamonn Fitzmaurice alluded to that.
"Like ourselves, they have young fellas coming through.
"They won Division 3 a couple of years ago and have backed that up with underage success.
"They are on a roll so it's going to be very difficult."
That said, Walsh is determined that his charges can extend their season to another date at Croke Park for an All-Ireland semi-final on 21 August.
"It will be great achievement to get to a semi-final.
"The belief is there. I'm not going to say that it's not. It was there heading to Castlebar, to Pearse Stadium and back to Castlebar again. We do believe we can go on and win but we have to go and do it."