Eddie Brennan does not envisage Davy Fitzgerald or Donal Óg Cusack stepping away from the Clare set-up, but says the team is at a crossroads after the All-Ireland quarter-final defeat to Galway.
The Banner men saw their 2016 Championship come to a disappointing end after their 2-17 to 0-17 defeat at Thurles with the Tribesmen marching on to a semi-final date with Tipperary.
Now in his fifth year in charge, Fitzgerald led Clare to just their fourth Liam MacCarthy success in 2013, though they failed to win a Championship game in the following two seasons.
After securing the Allianz League title in a dramatic replay victory over Waterford earlier in the year, they fell to the same opposition in the Munster Championship and failed in their attempt of a first Croke Park outing since that All-Ireland success three years ago.
RTÉ analyst Brennan says the defeat will give the management team plenty to ponder over the coming months after another campaign that has failed to live up to expectations.
"It's very frustrating for them," he told RTÉ Radio 1's Morning Ireland programme.
"I think there will be some soul searching done over the next few weeks.
"When the dust settles, I think the questions is going to be asked, 'Where do Clare go from here?'
"I'd imagine pressure will come on Davy from within his own county. He has had five years at the helm now.
"They have had some success, but I suppose there are a lot of people in Clare who would feel they would love to get their hands on those guys.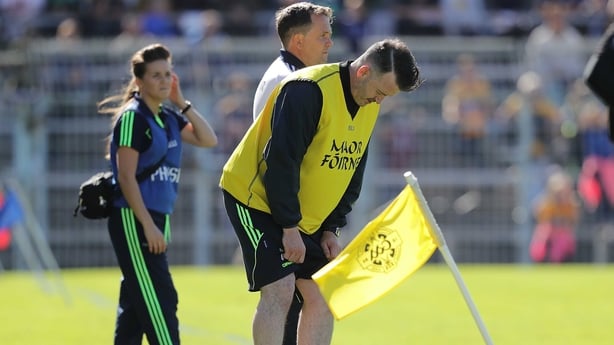 "Davy and Donal Og I'm sure will sit down and decide what they will do. They won't want to step away from that.
"Certainly, they are at a big crossroads in Clare."
The eight-time All-Ireland winner paid tribute to the Tribesmen who answered their critics in style with an impressive team performance at Semple Stadium.
The Leinster final defeat to Kilkenny drew stinging abuse in some quarters, with former manager Ger Loughnane describing the team as "gutless", but Brennan believes the players will need more than outside motivation to land top honours.
"They responded in a way you expect a team to respond," he said when asked if the criticism was a motivation tool for Micheál Donoghue's team.
"I would argue you shouldn't need that, you shouldn't need someone to want to cut the back off you.
"Galway have probably frustrated their supporters and themselves for the last couple of years, but yesterday their leaders really stood up.
"The two Burkes, Joe Canning, Aidan Harte were excellent, but all over the field they just hunted in packs and the basics of hurling were done well.
"They shut down Clare and nullified all their big threats. They wanted it more, that was obvious in their body language."