Liam Kearns hopes his Tipperary players will finally get the respect they are due after adding the scalp of Derry to their victory over Cork earlier this summer.
The Premier County rallied to beat their Ulster rivals as an injury-time point from Conor Sweeney was the decisive score in a 1-21 to 2-17 win in Cavan.
And Kearns hailed the character shown to bounce back after a late Derry burst of 1-2 looked to have snatched victory away from his side.
"The way we won it was similar to the Cork victory, we showed immense guts and character to dig it out when Derry almost mugged us with a couple of minutes to go," Kearns told RTÉ Radio 1's Sunday Sport.
"The way we won it was particularly satisfying.
"People have asked me about the character and the drive and you can't coach that. Teams and individuals either have it or they don't, and these fellas have it."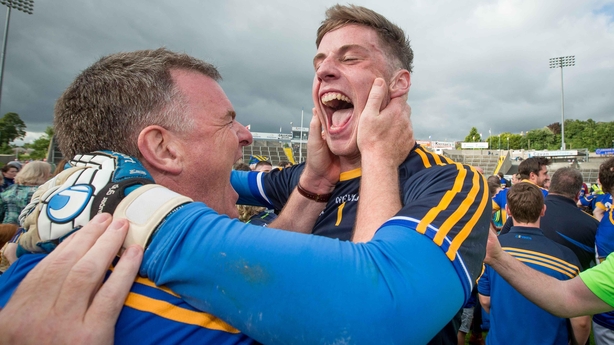 What they also have now is a place in the All-Ireland quarter-finals and the just reward for the work put in during a season that looked set to be spoiled by the departure of several young players to the US and key injuries to others.
"It was very difficult in those first few months because we were down so many players, and those that we did have were injured as well," Kearns said.
"It was only coming up to Championship that we got those players available to us back.
"I suppose we've really overachieved in the circumstances, we got our best team on the field against Cork and the players probably didn't get the respect they deserved for that performance.
"There was only a few highlights shown on television and most people felt Cork underperformed and didn't give the credit to my players.
"I said that to them before they went out, that to get the respect they deserved they needed to win again against Derry and let people see you were capable of doing it on a regular basis."
Galway await in the last eight, and while Kearns has yet to plot his tactics against the Connacht champions, he promised fans that Tipperary would certainly not shy away from the challenge.
"Our momentum is high now and our players are full of confidence and mad to have a go at it again"
"Our momentum is high now and our players are full of confidence and mad to have a go at it again," he said.
"We haven't given a lot of thought to Galway yet, they were very impressive in the Connacht final. They have some excellent players and are very clinical in front of goal.
"We have decent forwards and they have decent forwards so the defence is going to be important.
"But we haven't laid down for any team, including Kerry in their own back yard in Killarney, we had a go at them as well, so we'd be looking to do something similar in Croke Park."