Sunday Game panellists Pat Spillane and Joe Brolly have called on the GAA to implement the use of video replay to prevent future acts of simulation from affecting Championship results.
Mayo forward Aidan O'Shea is under the spotlight after he won a penalty that proved crucial in their victory over Fermanagh, with Erne boss Pete McGrath voicing the view that O'Shea had dived to win the spot-kick.
Asked about the incident, Kerry legend Spillane was in no doubt that the penalty should not have been awarded, claiming it was clear that O'Shea had "cheated" in order to gain an advantage.
"There's none of us that haven't woken up and regretted something from the day before," Spillane said.
"I'm sure Aidan O'Shea woke up this morning and regretted his actions, because he cheated. He cheated.
"It wasn't a penalty. It was a clear dive. We spoke about simulation over the last couple of weeks, it's creeping into the game of Gaelic football."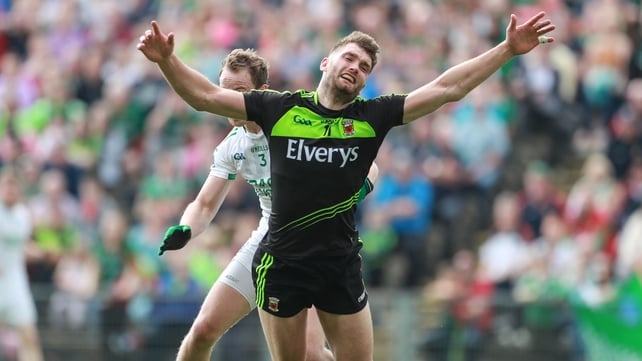 Spillane suggested the decision cost Fermanagh victory and bemoaned the failure of the GAA to utilise the technology at their disposal to ensure future costly mistakes are avoided.
"Nowadays, there is no stone unturned in the preparation of teams, and I just feel that human error, and there was human error on Joe McQuillan's part here, that human error can cost a team a place in the All-Ireland Championship.
"I think his error cost Fermanagh a place in the Championship.
"The bottom line is, you need the fourth official - he's sitting down there at a table, I don't know what the hell he's doing. He's the most wasted individual in the GAA.
"There are television monitors around, so surely in this day and age. It would take 30 seconds."
Fellow panellist Joe Brolly added: "For a big decision like that, that's going to take two to three minutes (to take the penalty) anyway, all the ref has to do is say, 'Is there any reason I can't award the penalty?'"
"We already knew in the studio within 10 seconds that he had dived, think how that would have changed the game.
"He would have given O'Shea the yellow card, Fermanagh a point up and furiously defending that lead with five minutes to go against a very nervy Mayo, who've been all over the place for the last seven months.
"Now you have that festering sense of grievance that Fermanagh are going to rightly have, and it's such an easy problem to solve."