Three-time All-Ireland-winning manager Cyril Farrell believes Galway can beat anyone this summer if they click into top gear, but warned they'll face a public backlash if another summer goes up in smoke.
A player revolt eventually led to Anthony Cunningham walking away from the hot seat, two months after leading his county to an All-Ireland final, which they lost to Kilkenny.
Farrell conceded that the nature of that dispute has heaped extra pressure on those Galway players to deliver this summer, given the crux of their displeasure with Cunningham stemmed from their belief that he was not the man to deliver them a Liam McCarthy.
With a Leinster SHC final showdown coming up against Kilkenny on Sunday, Micheál Donoghue's troops have the perfect opportunity to silence some of their doubters, though Farrel warned the clash is a double-edged sword.
"On their day when they're good they're very good."
"They will be judged on the championship," he told RTÉ Sport. "This is the real thing. Kilkenny are still the benchmark. You'll know where you are after you play them.
"It's more or less the same players [as last year]. They've done the talking, now they'll have to do the walking.
"If you don't beat Kilkenny you're still in training Tuesday night. The real knockout doesn't come until you're knocked out and gone until the following 12 months or whatever it is.
"That's when the real pinch comes. If they play well against Kilkenny [and lose] the Galway hurling public will be happy that they come back into the round-robin because if they got a run there they could go very well."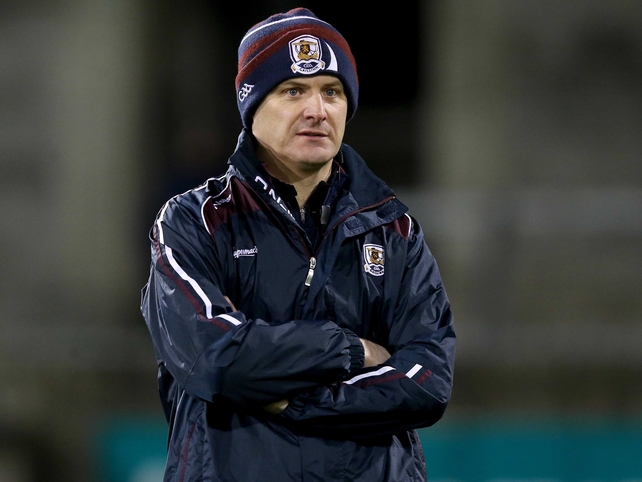 Donoghue has talked up the positivity and enthusiasm in the camp since he took the reins in December.
He came into a panel that had taken plenty of criticism after the ousting of Cunningham, and Farrell expects the supporters' frustrations will be quick to resurface should they go down tamely this weekend.
"It was sad what happened," Farrell said. "I could see where the lads were coming from, they wanted to win an All-Ireland, but they turned the blame on the management.
"That took them a while to get over that, but Micheál Donoghue and his management came in quite easy, so the people would realise it's not all about Micheál or Anthony Cunningham at this stage, it's all about the team.
"If they perform well it's fine and if they don't they'll get a bit of stick.
"On their day when they're good they're very good. It's just that we don't know which Galway team will turn up. If they turn up on their 'A' game they'll put it right up to Kilkenny."
"The backs really have to come up trumps this time."
They'll get nothing easy off the All-Ireland champions, who are hunting a third All-Ireland crown on the bounce.
Farrell identified two key ingredients Galway will need to prevail: "They have to play with great intensity and great pace; pace is the big thing because they have the skill.
"Take the game to Kilkenny and get in front early on. The backs really have to come up trumps this time. They have to stop leaking goals and leaking soft frees.
"Anthony Cunningham is gone. He did lead us to an All-Ireland final. He's taken the full brunt and now it's up to the players to go out and hurl.
"If Galway get a run they'll be very, very dangerous because they do have good hurlers. They have the pieces of the jigsaw, it's a matter of putting them together."