Kildare manager Cian O'Neill has said his side need to improve drastically on their Leinster quarter-final win over Wexford if they are to reach a provincial decider.
The Lilywhites have not featured in a Leinster final since 2009 and face Westmeath in Croke Park on Sunday with a place in the decider on the line.
However, O'Neill admits that if they play like they did in their 0-09 to 0-08 win over the Model County, they won't remain in the Championship much longer.
"We know ourselves, the players know themselves, that performance won't get us much further in the Championship."
There were some positives from that game, primarily limiting Wexford to just eight points, but O'Neill felt other aspects of the sides game plan were sorely lacking.
"We know we defended really well but our transition, our passing, almost our ability to grab the game by the scruff of the neck was missing."
However, time is a great healer and the five weeks between the Wexford game and the showdown with last year's Leinster finalists, Westmeath, has allowed O'Neill work on aspects of Kildare's game.
"We've had that period to work on it and the key thing is we bring those improvements the next day and maintain and develop the defensive qualities we had against Wexford," said O'Neill.
The defensive solidity is also something that pleased corner-back Ciarán Fitzpatrick.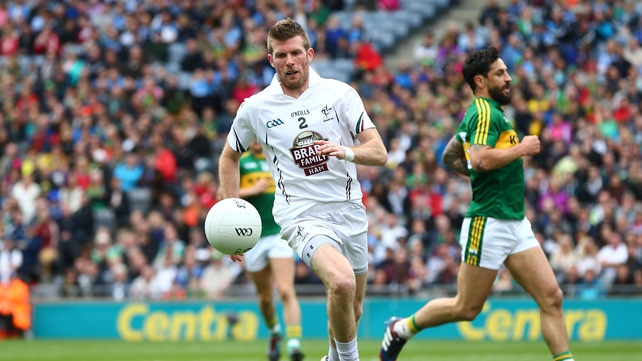 The Kilcock man missed the Wexford game due to an ankle injury he picked up in the Division 3 league final defeat to Clare, but nonetheless was pleased with what he saw from the Kildare rearguard.
"We were very happy with how we performed defensively to only concede eight points. Since then we've been trying to get our transition game moving, getting our scorers on the ball and getting the ball into the right positions."
O'Neill's game plan with Kildare is built upon strong defensive foundations, but Fitzpatrick admits they also need to wed in more attacking guile.
"Our whole thing is we want to limit the scores and stop goals going in so we know we need to play a defensive game plan, but obviously to win games you need to be getting scores and we need to be scoring more than eight or nine points."
Kildare found out their semi-final opponents nine days ago, giving them plenty of time to prepare for the challenges they will bring.
"My role... ultimately is to leave the team in a better place than I found it" - Kildare manager Cian O'Neill
"We know our opposition so it's up to us to come up with a game plan that plays to our strengths but at the same time will be able to cope with the strengths of our opponents," O'Neill says.
Kildare are without some key players for the Westmeath clash, including Paul Cribbin, Kevin Feeley and Daniel Flynn, but O'Neill feels this is not a major negative.
"There are three big players we are missing but our squad is big and strong so we're looking forward to seeing who is going to step up."
It is O'Neill's first season in charge of Kildare, having previously worked under Eamonn Fitzmaurice in the Kerry set-up as a coach and selector.
So far, the Kildare native is enjoying a term in charge that has already seen the side gain promotion to the second tier of the Allianz League.
He also says he does not feel pressure to deliver in a football-mad county.
"I don't see it as pressure I relish the challenge. I don't think anyone in this position would be in the role unless they felt they could add or contribute something.
"My role... ultimately is to leave the team in a better place than I found it.
"Kildare haven't won a Leinster title in 16 years, they have only been in one final in the last seven years, its not as if there's a great track record there so that what makes this such a great challenge – if you win you're back where you feel you should be."
The players also appear to be buying in to his tenure.
"We've taken some bad beatings in the last few years," Fitzpatrick says, before adding "we have every faith in Cian, in the professional set-up he's brought in with him, the game plan he's trying to implement with us."