Kerry 2-23 Clare 0-17
Kerry eased into a Munster SFC final meeting with Tipperary on 3 July with 12 points to spare over Clare in a one-sided Munster SFC semi-final before 11,358 in Killarney.
The damage was done in the opening five minutes when Kerry struck for two goals, effectively killing off the game as a contest and giving the underdogs little chance of causing an upset.
To be fair to the Banner, they never gave up and at times they created openings in the Kerry defence that will worry Eamonn Fitzmaurice, but they never really threatened to get the goals required to make things interesting. 
It was only some indiscipline by Kerry, who conceded far too many frees, that kept Clare within a respectable distance.
Kerry finished with only 13 players on the pitch as they had used up their six substitutes when Killian Young limped off injured and Mikey Geaney picked up an unnecessary black card during seven minutes of injury-time.
Kerry moved with menace early on and had netted twice inside the opening five minutes as their forwards created openings in the Clare defence.
The game was a mere 65 seconds old when Colm Cooper probably attempted to loft over a point from 35 yards out on the right flank but, unfortunately for Clare keeper Joe Hayes, the ball dipped under the crossbar and into the net to give the Kingdom the ideal start.
David Tubridy replied with a point for Clare in the fourth minute but Kerry were moving with intent and Stephen O'Brien raised a white flag.
Disaster then struck for Clare in the fifth minute when Paul Murphy fed O'Brien, who somehow managed to wriggle his way through before finding the net off the inside of the far post.
When O'Brien quickly added another point, Kerry were seven points clear after as many minutes.
To their credit, Clare, with Gary Brennan a central figure at midfield, began to penetrate the Kerry defence with Podge Collins proving a real livewire.
He kicked fine point in the eighth minute and when Eoin Cleary kicked over a sideline ball from the right three minutes later the deficit was suddenly five points.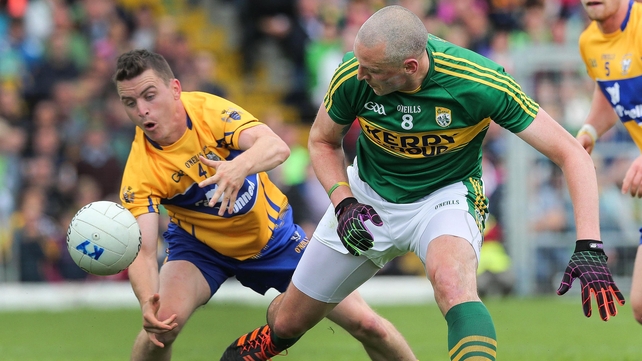 Paul Geaney kicked two quick points to push Kerry seven clear again before Collins broke through and was denied a goal by a superb Kelly save, turning the ball behind for a '45 which Tubridy duly converted.
Bryan Sheehan kicked a free after O'Brien was fouled and Kerry added two more points from O'Brien, bringing his tally to 1-4 for the opening 20 minutes, and Clare looked in trouble.
However, points from Brennan and a free from Cleary closed the gap to seven before the Banner suffered a body blow when Podge Collins was issued with a black card for a trip on Kerry newcomer Tadhg Morley.
Collins was replaced in the 27th minute by Pearse Lillis but it was Paul Geaney who had the next score for Kerry and a Cooper point had Kerry 2-9 to 0-6 in front by the 32nd minute.
Jamie Malone was denied a scoring chance by a great Morley tackle before Clare finished the half with a three-point salvo from Gary Brennan, Cathal O'Connor and substitute Lillis.
Kerry scored a point from impressive full-back Killian Young and looked comfortable leading 2-10 to 0-9 at half-time, due mainly to the fact that they won 11 out of 11 of their own kick-outs and 8/16 of Clare's. 
The expected Clare backlash with the breeze never materialised as Kerry continued to dominate. 
For long periods of the second half, Clare were living on scraps. Though sub Pearse Lillis and Eoin Cleary looked dangerous when in possession Clare turned over too much ball and kicked some bad wides as well.
Darran O'Sullivan had two early second-half points while Sheehan and Cooper added to Clare's misery but David Tubridy and Lillis replied for Clare and they found themselves 2-14 to 0-12 behind with 12 minutes to go.
Kerry's bench then supplied three points from the O'Rahilly's duo of Barry John, with two, and David Moran.
Tubridy and Cleary were doing their best for Clare as they trailed 2-17 to 0-16 with eight minutes to go but Kerry finished the stronger and the loudest applause of the day came with the introduction of Anthony Maher, having his first outing since last year's All-Ireland final.
He kicked an injury-time point while Colm Cooper continued to direct matters up front - Paul Geaney kicking three late points to give the scoreboard a slightly flattering look.
Scorers for Kerry: S O'Brien 1-5, C Cooper 1-3 (0-1free), P Geaney 0-5 (0-1 free); D O'Sullivan, BJ Keane 0-2 each; B Sheehan 0-2 (0-2 frees); K Young, D Moran, A Maher, P Murphy 0-1 each.
Scorers for Clare: D Tubridy 0-7 (0-4 frees, 0-2 '45); P Lillis 0-3, E Cleary 0-3 (0-1 S/L, 0-1 free); G Brennan 0-2; C O'Connor, P Collins 0-1 each.
KERRY: Brian Kelly; Shane Enright, Mark Griffin, Killian Young; Brian ó Beaglaoich, Peter Crowley, Tadgh Morley; Kieran Donaghy, Bryan Sheehan; Paul Murphy, Colm Cooper, Donnchadh Walsh; Darran O'Sullivan, Paul Geaney, Stephen O'Brien.
Subs: M O'Se for T Morley (47); D Moran for B Sheehan (49), J Lyne for B Beaglaoich (52) BJ Keane for D O'Sullivan (54), M Geaney for D Walsh (57) A Maher for K Donaghy (64), M Geaney black card.
CLARE: Joe Hayes: Dean Ryan, Kevin Harnett, Martin McMahon; Cian O'Dea, Gordon Kelly, Sean Collins; Gary Brennan, Cathal O'Connor; Jamie Malone , Keelan Sexton, Shane McGrath; Eoin Cleary, David Tubridy, Podge Collins.
Subs: P Lillis for P Collins (black card 27); P Burke for S McGrath (45), S Hickey for S Collins (54), S Malone for C O'Dea (62), D McMahon for G Kelly (BC 66).
Referee: F Kelly (Longford)