Meath selector and former Antrim hurler Mickey McCullough believes that there is no appetite to replay the Christy Ring final, saying another match would be "empty".
Meath lifted the cup in Croke Park on Saturday thanks to an apparent one-point win.
However, it has now been acknowledged that a mistake, as pointed out by reporters after the game, was made on the scoreboard and that the tie finished level, 2-17 to 1-20.
Royals coach McCullough believe that some arrangement can be made that would allow both sides to enter the Leinster Championship next season, which is the reward for the winner of the second-tier competition.
McCullough told RTÉ Sport's GAA podcast Jones' Road: "A replay? 100%, if that's what they want to do.
"Let's face it, them Meath lads have already been up the Hogan Stand steps, have already lifted the cup, have already done the celebrations.
"It would be an empty game, I think. I would be thinking of looking [past] the replay and saying, 'What are your end goals here?'
"Meath wanted to win the Christy Ring cup - right, you've done that.
"Antrim, you wanted to get into Leinster. Then there has to be something looked at to say, right, there has to be an avenue for both them teams to progress into Leinster.
"What do you want to do here? Do you want to go to Newry on a Saturday afternoon? How many supporters would go to watch that match? Nobody.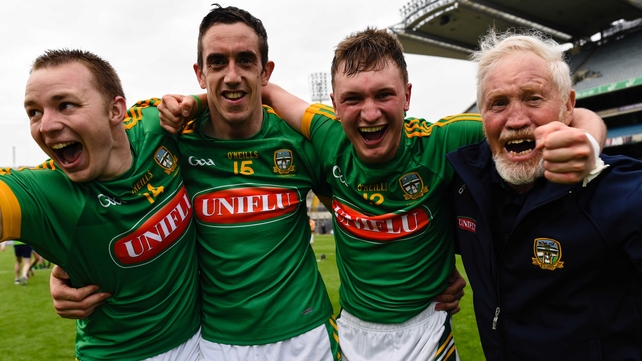 "Would there be any press coverage? Sure nobody would care.
"I know Antrim players are going on holidays this week, are off to America. I know Meath have players heading to America. Sure it wouldn't even be the same two teams playing.
"It would be tarnished from the first game."
Antrim were favourites going into the game and led by nine points at one stage. However, Meath never let up and substitute Sean Quigley hit 1-01 late on, seemingly capping a sensation comeback victory.  
It is believed that referee John O'Brien has now conceded that an error may have been made and the GAA's CCCC will meet on Tuesday morning to discuss the next steps.
McCullough revealed details of how the controversy played out on the sideline.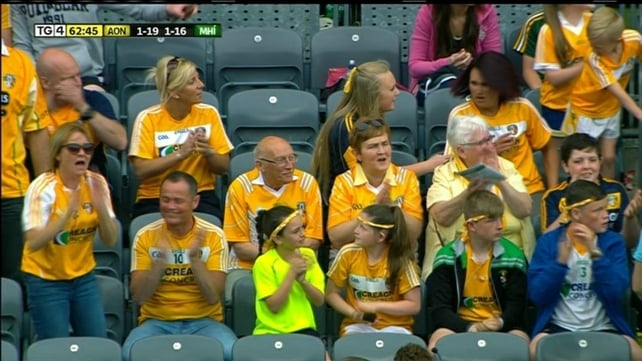 "Word had actually got to us that the score was wrong on the line," he said.
"Around the 62nd minute we'd approached the linesman and asked, 'Look, we've word here from TG4 that the score is wrong. Is the score on the [Croke Park] scoreboard correct?'
"He radioed then over to the referee and on his way back past us again he pulled over and he told us 'Yes, that score on the scoreboard is correct, TG4's wrong.'
"We had asked the question and we were told the score is right. So we played the game that was in front of us.
"I suppose when you are asking an official, that's really the end of it. They must check that with another official and we did.
"And even after it never dawned on me because there was no running on to the pitch from Antrim to contest with the referee or anything. There was nothing.
"My first real realisation of it was after we got into the dressing room and I took my phone out and I had about a million messages, and then one of them came through about, 'I think the score is wrong'.
"I'm sure Antrim aren't thinking, 'Jesus, we need that Christy Ring cup"
"At pitch side, we became aware or thought that the score was wrong and I think it was around [when our] score was at 1-15. At that stage Antrim had scored a point and it had been awarded to us and when we checked it, we just took them at their word – 'no, that score's right'.
"I don't know what can be come of it
"Don't get me wrong – if I was in Antrim's shoes I would be doing the exact same thing. Antrim were probably looking at the long term.
"I'm sure Antrim aren't thinking, 'Jesus, we need that Christy Ring cup.' They're looking at needing to be in Leinster, I'm assuming, I haven't spoken to anyone.
"That's their goal and rightly so.
"Where do we draw the line if we start [calling for replays over every decision]? Human error is part of sport.
"We had a point that we believed was a point in the 40th minute and for some reason, there was no Hawk-Eye.
"The umpire gave it wide and we called the linesman and said, 'That's over the bar, go to Hawk-Eye, go to Hawk-Eye', and we were told no. It's just turned into a bit of a mess."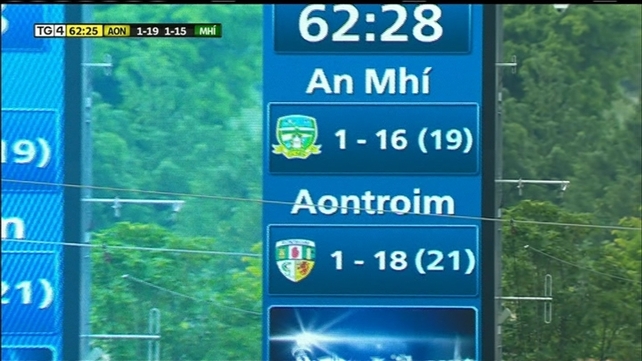 As it stands, Meath will go straight into the quarter-finals of the Leinster Championship next season.
But McCullough feels that this is not the best way forward for the team.  
"Meath aren't ready to move into a Leinster quarter-final, we could be drawn against a Kilkenny or a Dublin or a Galway, he said.
"If Meath could move on to the next stage, go into the round-robin and hold their own in there for two or three years...Meath can obviously build."
Antrim GAA are due to meet tonight to discuss their next step on the issue.