Clare manager Davy Fitzgerald said he was "extremely disappointed" to exit the Munster hurling Championship but vowed the Banner will return with more fire in the belly for the All-Ireland qualifier series.
Waterford booked their place in their second successive provincial decider after they had seven points to spare over Clare to avenge their recent Allianz League final defeat.
In truth, the Déise dominated for large parts of the contest and man-of-the-match Austin Gleeson admitted that lessons were learnt from the extra-time defeat just four weeks ago.
The 2013 All-Ireland champions continue their miserable record in Munster – they have just one provincial win in eight years and their last title came in 1998 – and must negotiate the qualifier route yet again.
Clare were sluggish throughout, particularly in front of the posts. They racked up 11 in the first 35 minutes and, just nine minutes after the break, Colin Ryan became the third player to be given 65 duties.
The normally razor-sharp Conor McGrath hit six wides before being called ashore and Fitzgerald admits there is plenty to mull over before their next outing.
"The best team won. We've no excuses," he told RTÉ Sport.
"Were we at our best? I don't know. We had a lot of wides.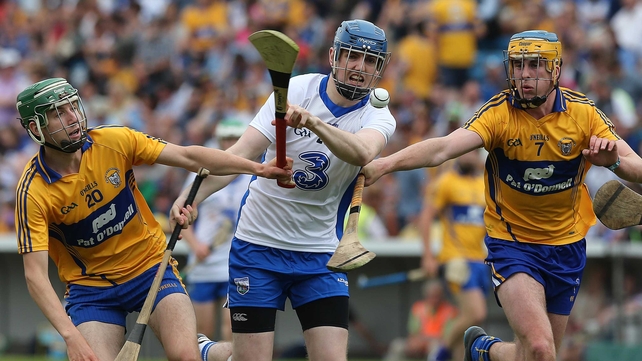 "Clare will come back fighting, don't have any doubt about it.
"There's a lot more in us than that."
Unbeaten in 2016, Fitzgerald said he didn't see such a flat performance coming after Championship preparations appeared to be on track.
"It's hard to put your finger on it," he admitted.
"You are training all week and you think they are spot on and ready for road.
"There's no doubt about it, the most enthusiastic team, the one that wanted it more, won.
"We had gone 13 unbeaten up until Sunday...maybe it's no harm."
"You'll see a lot more fired up Clare than you saw on Sunday, that's all I can promise you"
With Cathal O'Connell impressing after his introduction and notching 0-03, Aaron Cunningham working his way back to full fitness and David McInerney to return, Fitzgerald is hopeful of a decent run in the qualifiers and is promising a dramatic increase in their intensity levels.
"We've a national title won already. The confidence won't drain too much. We'll be back fighting.
"I'll tell you one thing, you'll see a lot more fired-up Clare than you saw on Sunday, that's all I can promise you."