The Central Competitions Control Committee will meet on Tuesday morning to discuss the controversial Christy Ring Cup final after match referee John O'Brien admitted there was a mistake with the full-time score, RTÉ Sport understands.
Underdogs Meath were crowned champions after their one-point defeat of Antrim in Croke Park, claiming their place in next season's Liam MacCarthy competition on a scoreline of 2-18 to 1-20.
However, Antrim admitted afterwards they were considering an appeal after confusion arose following a point in the 63rd minute.
The Saffrons led by four points when Niall McKenna pointed to extend their lead, but the TG4 graphic gave the score to Meath.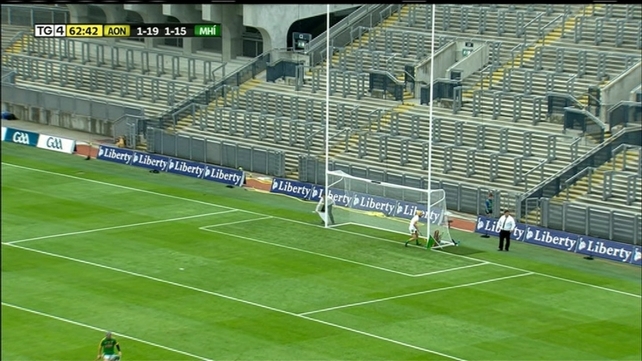 There was confusion on the stadium scoreboards also, and while Antrim's score was amended, Meath's score remained.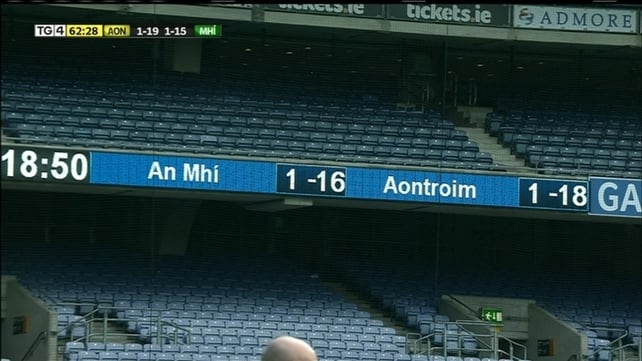 RTÉ Sport reviewed the match footage twice and confirmed the match finished level and it is understood referee John O'Brien has admitted his mistake, having originally informing officials post-match he was "satisfied" with the 2-18 to 1-20 scoreline.
Sources have informed RTÉ Sport that the CCCC will meet on Tuesday morning to discuss the incident and review the referee's match report.
Freelance journalist Paul Keane, who was in Croke Park for the game, said the scoreline did not tally with that of his fellow journalists and clarity is needed quickly to resolve the situation.
"The only assurances we got back from the Communications department in Croke Park was that the referee was satisfied with the match report," he told RTÉ Radio 1's Sunday Sport programme.
"That left a gap of one point that me or my colleagues could not account for.
"I would say there is a large asterisk over the result."
Keane explained how the confusion may have arose in the closing stages of the encounter.
"It was wrong in two different locations," he told listeners.
"It seemed to be initially that a point from Keith Keoghan [Meath, below] wasn't properly attributed on the scoreboard and the next point from Niall McKenna, the Antrim wing-forward, that was incorrectly attributed by TG4.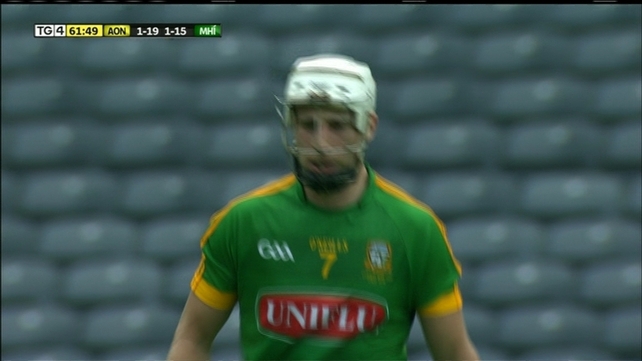 "So you had two different scorelines running parallel.
"I believe there was contact between the referee and the sideline to get some clarity on what should have been the right scoreline at that point.
"Whether he was amending his own details based on the information he was getting on the sideline, which may have been wrong information going to him....we're at a point again where we need clarity."