Aussie Gleeson is hoping that this is the summer that he finally nails down his best position in the Waterford team.
The multi-talented 20-year-old has played across the half-back and half-forward lines and in midfield for the Deise.
He is one of the most impressive young players in the game at the moment and it doesn't seem to matter where he plays.
When talking about his best position, he admitted that he isn't sure yet where he is most effective - though he thinks he would benefit from specialising in one role from now on. 
The WIT commerce student said: "I've been asked that a lot and I still don't really know. I don't know, anywhere between five and 12. I suppose I like coming forward with the ball.
"I was wing-forward, centre-forward and midfield the last day (for the club), a mixture of places, so it's hard to find a position to settle on.
"I would like to settle down in one position but that position still has to be found. Hopefully in the next couple of months the lads put me in a position, I get rewards from it and I get to stick with it from then on."
Gleeson first came to prominence as part of the Waterford side that won the 2013 All-Ireland minor title, when he lined out at centre-back.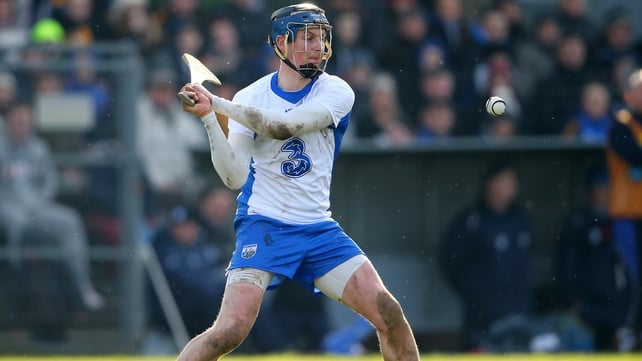 Unsurprisingly, he was quickly fast-tracked into the senior panel and he repaid the management's faith by rapidly establishing himself in the starting line-up.
On Sunday he will be a key figure in the Deise's Munster Senior Hurling Championship semi-final clash with Clare at Semple Stadium - their third high-pressure meeting at the Thurles venue in barely a month.
Waterford came from behind to level their first Division 1 League final meeting with the Banner, which went to extra-time.
It was Clare that rallied late in the replay seven days later, overturning a two-point deficit to win by one.
"It's tough to take," said Gleeson, who turns 21 this month, speaking to RTÉ Sport. "It was more of a shock than anything else, being two points up with 71 minutes gone and then lose by a point.
"We were back in with the clubs on the Tuesday so we had to change our thinking straight away. We didn't have time to dwell on it, but it was still hard enough to take losing a national final.
"He's laid-back. He's not a fella who'll be shouting, screaming and bawling." - Austin Gleeson on manager Derek McGrath
"We know so much about each other already having played each other twice. The first day was a thawing out, with the two teams seeing who would crack first and no team cracked.
"The second day was a more open game, it developed into a great game with an exciting finish. Hopefully the third day develops the same way and hopefully the result is different."
Having been drafted into the senior squad while still in his teens, Gleeson would have been forgiven for having felt out of his depth initially.
That didn't happen to him and one of the major factors behind this was manager Derek McGrath, who also taught and managed him at De Le Salle, Waterford.
"He had me for PE for a few years," explained Gleeson. "He's laid-back. He's not a fella who'll be shouting, screaming and bawling.
"He'd be laid-back and gets along with the students and you'd never hear the students saying 'I hate that fella', it was always 'he's sound out'. He'd help you.
"His man-management and his knowledge of the game are both absolutely phenomenal. No one knows everything about the game, but he knows so much and how to develop a player - as a person and as a player.
"It's phenomenal how he does that and I know through school that he'll do literally anything for his players. 24/7 he's there if you need him - if you pick up the phone he'll be there for you. Everyone wants to play for the man.
"That's the way is - he puts everything into it basically, everything he has goes into Waterford," noted Gleeson.
"He's trying to do his best for Waterford and for us and for his family. We have to pay him back on the field through our effort."