Tony Tighe in Ruislip
London 0-09 - Mayo 2-16
Mayo began their quest for a sixth successive Connacht crown with a comprehensive 2-16 to 0-9 victory over London at Ruislip.
The visitors had captain Cillian O'Connor black-carded after just six minutes but his replacement, Conor Loftus, helped Mayo overcome an uncomfortable start when he netted midway through the first half.
Jason Doherty added a second on 24 minutes as London's short kick-out strategy imploded, giving Mayo a 2-8 to 0-5 interval advantage, and they coasted through the second half without being required to hit top gear as thoughts quickly turned to a Connacht semi-final meeting with great rivals Galway on June 18.
Mayo were taken to extra-time on their last visit to Ruislip in 2011 and they were frustrated by their hosts during the opening exchanges. London worked their way out of defence with a short-passing strategy and it led to the opening score from Scott Conroy.
By that stage O'Connor had been given the line, the Mayo skipper black-carded for a trip on the excellent Philip Butler. After a wasteful start, the visitors got off the mark on 10 minutes through a '45 from goalkeeper Rob Hennelly, and that sparked a purple patch that yielded an unanswered 1-5.
Evan Regan was accurate from placed balls as London began to lose their discipline, and the Exiles shot themselves in the foot on 17 minutes when Kevin McLoughlin intercepted Gavin McEvoy's short kick-out and substitute Loftus found the net.
London also had themselves to blame for Mayo's second goal. They turned the ball over in defence and Aidan O'Shea fed Doherty, who rounded McEvoy to score.
The hosts hit a rare scoring burst with three points in two minutes from London-born duo Liam Gavaghan and Adrian Moyles, but a free from Regan in the final minute gave Mayo a healthy eight-point half-time lead.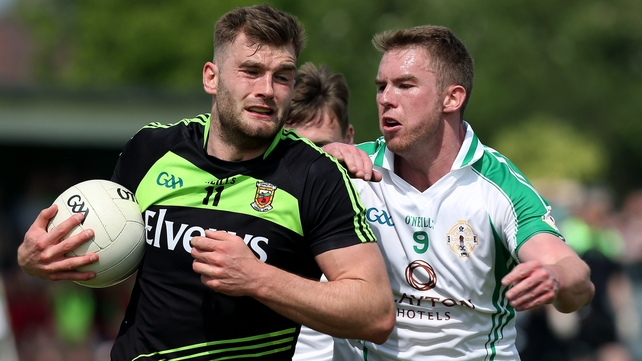 Mayo took their foot off the pedal in the second period and the wides began to rack up. They hit 15 in total, which is an area Stephen Rochford is bound to be focusing on during their training camp in the English capital.
Mark Gottsche and Moyles gave the London supporters something to cheer about with two superbly-taken points, and they introduced Cavan forward Lorcan Mulvey in an attempt to capitalise on the strong wind in their favour.
However, London tired in the final quarter as Mayo also emptied their bench. Andy Moran came on to score two points in as many minutes, while fellow veteran Alan Dillon also got on the scoresheet late on.
Mayo had a couple of late goal chances but the game long over as a contest, they were content to take their points.
Mayo: E Regan 0-7 (5f), C Loftus 1-2, J Doherty 1-0, A Moran 0-2, R Hennelly ('45), A O'Shea, S Coen, K McLoughlin, A Dillon 0-1 each.
London: A Moyles 0-4 (2f), L Gavaghan 0-2, S Conroy (f), E Murray, M Gottsche (f) 0-1 each.
Mayo: R Hennelly; B Harrison, K Keane, K Higgins; L Keegan, C Boyle, P Durcan; S Coen, J Gibbons; K McLoughlin, A O'Shea, J Doherty; E Regan, C O'Connor, C O'Shea.
Subs: C Loftus for O'Connor (7, black card), S Nally for Boyle (46), A Moran for C O'Shea (46), C Carolan for Doherty (52), A Dillon for Gibbons (57), D Drake for Keegan (61).
London: G McEvoy; P Butler, C Carty, Ciaran Dunne; Colin Dunne, D Ryan, D McGreevy; J Moran, L Gavaghan; A Moyles, M Gottsche, C Coyne; E Murray, S Conroy, P O'Hara.
Subs: L Mulvey for Murray (45), C Healy for Colin Dunne (45), M Walsh for Coyne (62), C Og Greene for Conroy (62), C O'Neill for Ciaran Dunne (67), S Hickey for O'Hara (67).
Referee: D O'Mahony (Tipperary)