Kerry 0-20 Cork 1-12
Kerry consigned Cork to relegation for the first time 2009 at a sun-drenched Austin Stack Park.
The hosts knew that only a double-digit defeat to their near neighbours would deny them a place in the Allianz Football League Division 1 semi-finals, but such thoughts were far from the mind of Kerry boss Eamon Fitzmaurice and his players.
They pulverized Cork from the very outset as they ruled the roost at midfield where Kieran Donaghy and David Moran commanded the airwaves and Mark Griffin, who had followed Ruairi Deane outfield, collected numerous breaks.
Coupled with Monaghan's late win over Donegal, this defeat sent the Rebels down, while Kerry can now look forward to a semi-final showdown against Roscommon next weekend.
Donnchadh Walsh kicked Kerry a point in front inside the opening minutes following a Kieran Donaghy assist but Cork levelled with a Colm O'Neill free, though they failed to score from play in the opening half.
Kerry then went on a scoring spree as they poured forward with Colm Cooper, Stephen O'Brien and Alan Fitzgerald in the inside line completely on top. The scoreboard didn't really tell the tale of Kerry's dominance.
Fitzgerald kicked a free for a foul on himself before Kieran Donaghy picked up a yellow card and in the eighth minute. Brian Hurley levelled from a free but that was as good as it got for Cork as they failed to register a score for the next 16 minutes.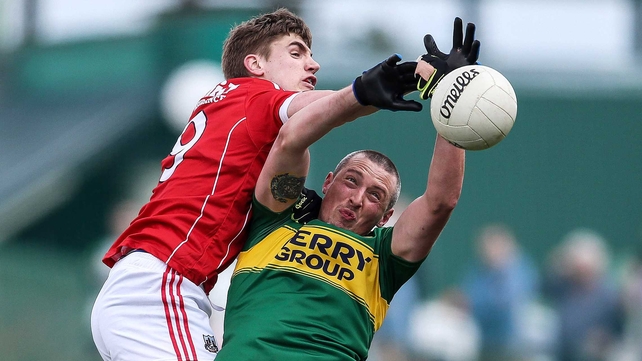 Donaghy kicked a massive point and then soared into the air before delivering a long ball that Stephen O'Brien did well to collect and he cut through for a superb point.
Cork were struggling all over the field and appeared to be in complete disarray. When they did attack, Kerry's defence held firm with Killian Young playing a sweeper's role.
Cooper finished off a great move as he posted a trademark point and then full-back Mark Griffin burst through the middle to score another fine point.
Cork were confined to sporadic raids and Cooper with a magic move that saw him ghost past Kevin Crowley before punching a point had Kerry 0-7 to 0-2 in front after 15 minutes.
Johnny Buckley and Donnchadh Walsh were also influential figures and Fitzgerald added another free while Cooper scored his third point of the half with a beauty after an O'Brien assist.
Johnny Buckley soon had Kerry eight points clear with 14 minutes to go to half-time before Cork finally ended their scoring drought with a Colm O'Neill free after Marc O Se was called for an off-the-ball foul.
O Se was in trouble soon after when he was again singled out by David Gough and shown yellow and O'Neill converted again but then Kerry through Alan Fitzgerald moved 0-11 to 0-4 in front with just five minutes to go to half-time.
Then Brian Hurley appeared to pick up a soft free which he converted himself and Kerry would have deserved, on the balance of play, to go six points clear, but in injury time Cork got a lifeline.
Peter Crowley appeared to take down Ian Maguire but it looked to be outside the penalty area and referee David Gough, much to the annoyance of the Kerry players and crowd, awarded Cork a penalty.
Crowley picked up a black card as Colm O'Neill, with the last kick of the first half, coolly converted the penlty past Kealy and against the run of play. Cork retired just three points down 0-11 to 1-5 and that despite all their scores coming from placed balls as just two
That penalty on the stroke of half-time really seemed to fire up Cork as they came back out a different team.
Despite Alan Fitzgerald kicking an early point for the Kingdom, it was Cork who were now in control with two points from Brian Hurley and suddenly the margin was just two points.
Referee David Gough then became a central figure with a number of decisions that baffled the Kerry players and had the crowd roaring their displeasure. Alan Fitzgerald pushed Kerry three points clear again but Brian Hurley closed the gap with another free.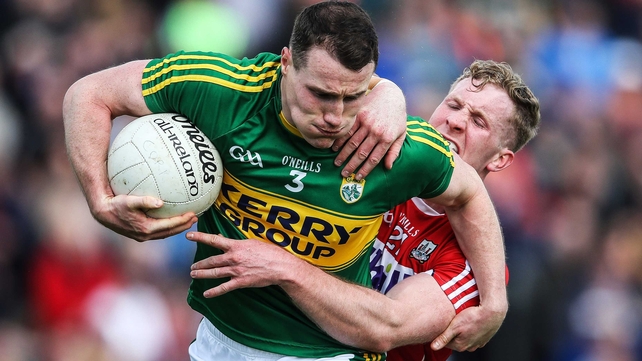 Colm Cooper pushed Kerry three in front by the 51st minute but Cork, thanks to two rapid points from a strangely subdued Paul Kerrigan and wing back Brian O'Driscoll, narrowed the gap to a point 0-14 to 1-10 with 15 minutes left.
David Moran then kicked two '45s wide and Barry John Keane had a point disallowed as the referee alleged that he threw the ball over the bar. Hurley from a free levelled the game with just ten minutes remaining.
Then Mikey Geaney, just on the pitch, made a superb run and combining with his West Kerry teammate Marc O Se for O'Se to kick Kerry in front, a lead they were never to lose.
Kerry controlled the game in the final eight minutes with Cooper kicking two frees and a contender for man of the match Fionn Fitzgerald kicking a mighty point while David Moran proved that he can kick '45s as Kerry emerged 0-20 to 1-12 winners.
Michael Shields was shown a straight with three minutes to go for an elbow on Mikey Geaney while Geaney himself was later to get a black card on a day when referee David Gough took centre stage but overall Kerry were the better side and they now look forward to a league semi-final against Roscommon.
Because of Monaghan's late win over Donegal, Cork are relegated and while they played well in patches, their opening-half performance summed up their campaign.
Scorers - Kerry: C Cooper 0-6 (0—3 frees); A Fitzgerld 0-5 (5 frees), M O'Se, M Griffin, K Donaghy, D Moran ('45), J Buckley, D Walsh, F Fitzgerald and B O'Sullivan 0-1 each
Cork: C O'Neill 1-3 (1-0 pen, 0-3 frees); B Hurley 0-5 (0-3 frees); D Goulding 0-2, B O'Driscoll, P Kerrigan 0-1 each
Kerry: Brendan Kealy; Marc O Se, Mark Griffin, Shane Enright; Pater Crowley, Killian Young, Padraig O'Connor; Kieran Donaghy, David Moran; Johnny Buckley, Paul Murphy, Donnchadh Walsh; Stephen O'Brien, Colm Cooper, Alan Fitzgerald
Subs: Fionn Fitzgerald for P Crowley ( b/c h/t); Brendan O'Sullivan for J Buckley (52); BJ Keane for A Fitzgerald (55); J Lyne for M Griffin (62); M Geaney for D Walsh (66); T Walsh for S O'Brien (66)
Cork: Ryan Price; Colm O'Driscoll, Eoin Cadogan, Kevin Crowley; Daniel Hazel, Tom Clancy, Brian O'Driscoll, Kevin O'Driscoll, Ian Maguire; Sean Kiely, Paul Kerrigan, Mark Collins; Ruairi Deane, Colm O'Neill, Brian Hurley
Subs: Jamie O'Sullivan for D Hazel ( 22), L Connolly for R Deane ( 43) , D Goulding for C O'Neill (55); F Goold for C O'Driscoll (62); M Shields for E Cadogan (62).
Referee: David Gough (Meath)