Castlebar Mitchels are a better team than when they lost the All-Ireland club final two years ago - that's according to flying half-back Paddy Durcan.
The Mayo outfit played well against St Vincent's in the 2014 decider, but were hit by Richie Feeney's early black card and had no answer for Diarmuid Connolly's incredible solo display.
They're back in the final two years on and again facing Dublin opposition - Ballyboden St Enda's - and Durcan thinks they're in a far better place now.
"I'd like to think so," said the second year DCU business student.
"I think lads have physically developed, we have a lot of strength and conditioning behind us, we're more cohesive because we've played more together and we've played more high profile games."
Castlebar also have the knowledge that they have beaten the last two All-Ireland champions in their two most recent outings.
They knocked holders Corofin off their perch in the Connacht final and then beat the mighty Crossmaglen Rangers in the semi-finals. That breeds its own confidence.
"I suppose it does," said Durcan.
"Along the way you'll always get big tests and when we got to the Connacht final against Corofin, we had beaten them two years previously in a Connacht final in Tuam, so though we respected them we didn't fear them.
"You have to have confidence in yourselves and I think we did that day."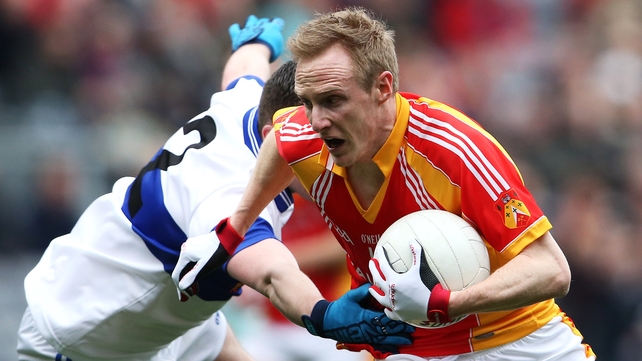 He continued: "Playing Crossmaglen gives you an indication of where you are at. It was a slow start the last day, and there's a lot to work on, but it's pleasing to grind it out and get a victory out of it."
Durcan believes that Castlebar let themselves down two years ago against St Vincent's (above) and they have learned lessons from that.
Some of those lessons were learned by watching a video of that final - something Durcan still finds hard to stomach.
"I have, but I find it difficult to watch," he smiled. "I can watch it up to maybe 43 minutes and then goes off a couple of times!
"I think it's probably bigger to what it was two years ago." - Paddy Durcan
"It is really hard to watch, especially when you think that you haven't done yourself justice. But you have to learn.
"There were a lot of unforced errors - kicking the ball away when it really wasn't on… It wasn't even about under-executing under pressure - the pressure wasn't on the ball and we got overawed. We didn't play clinically like we normally do."
This is the third time that Castlebar have made the All-Ireland final, the first time was in 1994 when they lost to Nemo Rangers.
"I think it's probably bigger to what it was two years ago. You'll probably think because it was the first time in 20 years that it would be massive but I think this time it's even bigger," said Durcan.
"Especially after coming through a tight, tight game against Crossmaglen. People are really looking forward to this one now on Paddy's Day."