Kerry 1-13 Donegal 1-08
Kerry recorded their second win in this year's Allianz Football League Division 1, overcoming Donegal by five points in a somewhat tempestuous clash at Austin Stack Park in Tralee.
Both sides had a man sent off, with a couple of black cards and a plethora of yellows thrown in for good measure.
In fact Conor McGregor might have been in trouble at one stage but thankfully the second half calmed down.
It was a feisty contest and both managers were summoned by the referee at half-time to his dressing room. One presumes Eddie Kinsella laid down the law as regards the feuding that went on in the opening half. As a result the second period cooled down somewhat, though no quarter was asked nor given by either side.
The Kerry contingent cheered on their side at the final whistle as they moved on to four points which now puts them in a strong position as they head for two difficult away trips to Mayo and Monaghan.
An explosive opening 10 minutes, when tempers flared and referee Kinsella struggled to keep control on a game that threatened to boil over in what was a repeat of the 2014 All-Ireland final, played before 7,056 fans.
It was clear from an early stage that neither side were going to back down with the result that there were several flare-ups and a number of players were extremely fortunate not to see red.
Kerry did lose Alan Fitzgerald in the seventh minute and to add to the confusion, at the same time Donegal's Neil McGee went off but it was only a blood sub and his brother Eamonn came on.
The home team then had the better of whatever football was played with the aid of the strong wind with Donnchadh Walsh punching two early points and Bryan Sheehan converting a 45.
Michael Murphy replied from a free for Donegal in the ninth minute and followed up with another four minutes later, but it was obvious that scores were being settled on both sides and the game was always simmering beneath the surface and ready to explode again.
Paul Murphy and Ryan McHugh were in direct opposition and were having a great battle but it was at midfield where Kieran Donaghy and Bryan Sheehan held sway that saw Kerry add on three unanswered points all from the boot of Sheehan.
Then the Kingdom lost two players in the 24th minute when both Shane Enright and Denis Daly were shown black cards for separate incidents and the 14 men battled to build up a lead as Donegal struck the post twice as they patiently carried the ball against the wind.
The free count was 14 to five against Ulster side at this stage and yet it was Kerry that were receiving the cards with Colm Cooper coming on for Daly and Padraig O'Connor replacing Enright.
Then in the 26th minute after another major flare-up, Donegal saw Leo McLoone receiving a straight red when in fact there were a number of others who looked as if they were very fortunate to escape being sent to an early shower.
Sheehan converted another free for Kerry while McBrearty scored a fine point five minutes before the break for Donegal as they closed the gap to four points. Kerry spurned a goal chance on the stroke of half-time when Kieran Donaghy tried to place Sheehan but a defender denied him as he tried to finish to the Donegal net.
It was a real fiery opening half and Donegal, while they raged about the sending-off, must have been happy to just trail by four points.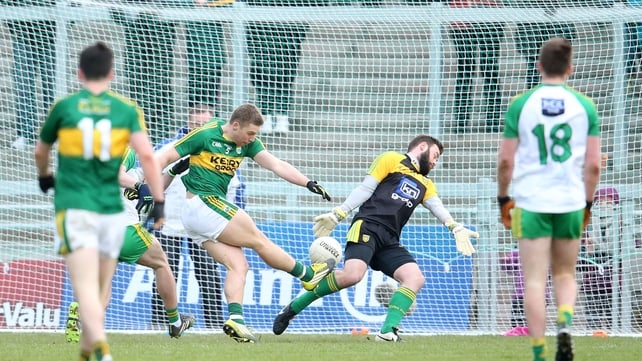 Rory Gallagher's men resumed the second half a fired up side and in the opening seven minutes they reeled off four points without reply from Michael Murphy (one '45), two frees from Patrick McBrearty and a point from play from Neil Gallagher, tying the game at 0-07 apiece and things looked ominous for the Kingdom as they were playing into the teeth of the gale.
However, the crucial score of the game came in the 45th minute when Bryan Sheehan put Kieran Donaghy through and he drew the cover before placing Peter Crowley who billowed the net for a superb goal.
Sheehan added two more frees while man of the match Donnchadh Walsh punched another point,
Suddenly the home side were six clear,1-10 to 0-7. Then in the 55th minute Donegal received a lifeline when Michael Murphy finished a sideline ball to the net. They then missed two scorable frees therafter, before Murphy, from another free, reduced the deficit to two points with less than 10 minutes remaining.
However, Kerry with Walsh, Sheehan, Cooper and O'Mahony pulling the strings finished the stronger, and can now focus on gaining one of the semi-final spots in this year's top flight.
Kerry: Brian Kelly, Marc O Se, Mark Griffin, Shane Enright; Peter Crowley (1-00), Aidan O'Mahony, Fionn Fitzgerald; Kieran Donaghy, Bryan Sheehan (0-08, 0-07fs, 1 '45); Denis Daly, Paul Murphy, Donnchadh Walsh (0-03); Darran O'Sullivan, Alan Fitzgerald, Stephen O'Brien.
Subs: Padraig O'Connor for S Enright (b/c 24), C Cooper (0-01) for D Daly (BC 24), J Buckley for K Donaghy (59), BJ Keane (0-01) for S O'Brien (59), B O'Sullivan for P Crowley (63), A Walsh for D O'Sullivans (70).
Donegal: Peter Boyle; Eoin Ban Gallagher, Neil McGee, Paddy McGrath; Ryan McHugh, Anthony Thompson, Eamonn Doherty; Rory Kavanagh, Hugh McFadden; Leo McLoone, Odhran MacNiallais, Eoin McHugh ; Patrick McBrearty (0-03fs), Michael Murphy (1-04, 0-02f, 1 '45)), Martin O'Reilly.
Subs: Eamonn McGee for Neil McGee (7), N Gallagher (0-01) for H McFadden (h-t), Martin McElhinney for E Doherty (h-t), C Toye for A Thompson (54), Neil McGee for E McGee (56).
Referee: Eddie Kinsella (Laois)