Donegal sharpshooter Geraldine McLaughlin has her sights firmly set on promotion from Division 2 of the Lidl Ladies National Football League.
Donegal are flying high with four wins from four to date but face a Clare side with a similar record in Sunday's top of the table clash.
Donegal were relegated from the top flight in 2014 but despite operating as a Division 2 outfit last year, they claimed a very first Ulster senior crown with victory over Monaghan in the final, as McLaughlin hit 2-7 in the provincial decider.
Donegal have come a long way since August 2012, when Cork inflicted an 8-27 to 0-2 All-Ireland qualifier defeat on the north-westerners.
After winning the 2010 All-Ireland intermediate title, the Donegal group splintered but many who had left returned last year and Ulster glory was achieved.
Now, McLaughlin and Donegal want to regain Division 1 status and victory over Clare would all but secure a play-off spot.
"If you want to go further in the championship, you need to be in Division 1."
She said: "We're happy enough with our start but there are still good teams to come and we'll take nothing for granted.
"It's a top of the table clash and Clare have been an up and coming team in the last couple of years. We'll just go out and try to play our normal game."
But McLaughlin, who scored a hat-trick of goals for Termon in the 2014 All-Ireland senior club final, believes that it's vital for Donegal to make it back to the League's top tier.
She added: "Definitely - if you want to go further in the championship, you need to be in Division 1 playing the top teams.
"It brings you on so much and this team has the potential to play in Division 1. The progress is quicker up there, playing against the top players, and that's where we want to be.
"When we went down, we didn't have our full panel. A lot of the girls were gone but Davy (McLaughlin) brought everybody back together."
McLaughlin has since been replaced by Micheal Naughton, Donegal's intermediate winning manager of 2010, who is back in the hot-seat.
Progress has been steady but Donegal are currently without a number of key players for various reasons, who will hopefully return before the summer.
And while Donegal have racked up a 100% record in the League so far, McLaughlin believes there's even more to come.
She said: "We haven't played to our full potential and we're conceding too much, as well as scoring a lot. Hopefully we'll sort that out."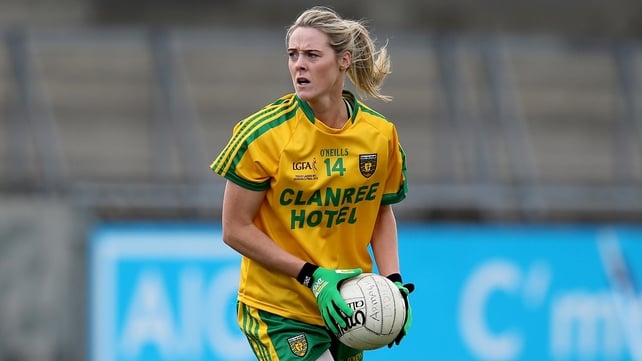 McLaughlin and attacking sidekick Yvonne McMonagle have been in free-scoring form and against Sligo last month, McLaughlin scored 3-8.
But she's never been one for keeping track on individual tallies, preferring instead to focus on the team effort.
"I'm not sure I did even when I was younger," McLaughlin says.
"It really doesn't matter who's getting the scores as long as the team is doing well.
"It was disappointing to lose Davy, who brought us to an Ulster, but Micheal was with us for a couple of years and knows the scene.
"We probably should have got further with Davy and he took us when nobody wanted us. He made us believe in ourselves."
McLaughlin has been a key member of the Donegal set-up since 2010 but in 2009, she won an All-Ireland minor medal when Clare were defeated in the final.
"They've progressed and we've progressed," McLaughlin recalls.
"There have been ups and downs since then. That qualifier defeat to Cork was heartbreaking, knowing we got beaten like that because we weren't that bad.
"We knew we had to stick at it and there are some good young players coming through like Erica Hanna, who's come in and doesn't look out of place."