Since Tipperary beat Kilkenny in the 2010 All-Ireland senior hurling final, to scupper dreams of five-in-a-row for the Cats, their head-to-head record with hurling's dominant force doesn't make for pretty reading.
In 12 league and championship meetings since then, Tipp have won two, drawn one and lost nine against Brian Cody's charges.
Tipp's two victories were achieved in the group stages of the 2013 and 2015 league campaigns but in four consecutive seasons from 2011-2014, Kilkenny ended the Premier County's championship interest.
Kilkenny also won fiercely contested league finals in 2013 and 2014 and the common trend is that in tight games between the neighbours and arch-rivals, those in black and amber prevail.
Still, as former Tipp manager Ken Hogan notes, the early signs for Tipp in 2016 are encouraging.
Acknowledging that the Premier have been good, at times very good, but not good enough to get over the line in recent seasons, new manager Michael Ryan promised a more direct approach and increased levels of physicality when he took over the reins from Eamon O'Shea last year.
Ryan took control of Tipp's preparations in January, declining the opportunity to compete in the Munster senior hurling league and opting for a series of challenge games instead.
The majority of those resulted in facile victories but Ryan vowed that his side would be ready for the start of the Allianz League – and they were.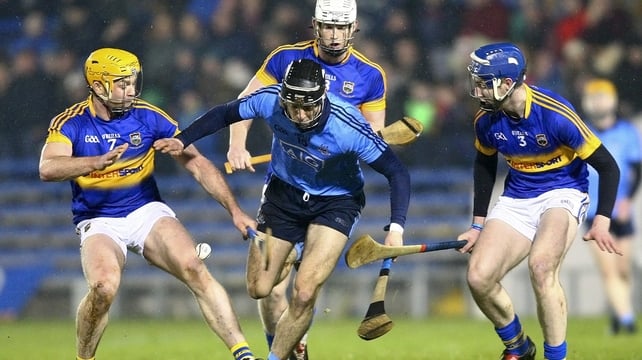 Dublin were blown away by 14 points in Thurles and Hogan was impressed by what he saw.
"The early signs are encouraging and it was important to get off to a good win," Hogan noted.
"We've had slow starts to National Leagues usually and particularly after last year's All-Ireland semi-final reverse to Galway, it was important to get off on the right foot.
"Management mixed up the team very well, with a lot of experienced players and two or three younger guys as well, and that will continue.
"Nobody will get carried away, particularly team management, and they're just watching to see how fellas react and work under pressure. Next Sunday is another test."
It's a test that Tipp, if they pass it, can build on.
"I'm always confident that we would have a decent forward line to put together" - Ken Hogan
Ground conditions at Nowlan Park should be better than Semple Stadium last Saturday night, too.
While Tipp's direct approach was evident, some of that was born out of necessity. It wasn't, as Ryan pointed out, a night for "dilly-dallying" on the ball.
Conor Kenny provides an obvious fulcrum and outlet for the route one delivery on the edge of the opposition square and Ryan is keen to banish the perception that Tipp struggle to win primary possession around the middle third of the field.
The puckout stats from last Saturday indicate that Tipp lost more than they won [23/29] but Dublin's Conor Dooley went short with a number of them and that slightly skews the figures.
Against a team renowned for aerial dominance next Sunday, Ryan will gain a deeper insight into how his men are shaping up in this critical department.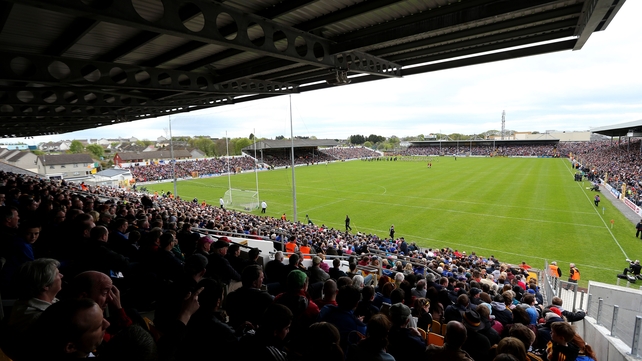 "A huge test," Hogan agrees. "Our record at Nowlan Park wouldn't be wonderful. And particularly with the Kilkenny after suffering a defeat last weekend, they'll be all out to make amends. You can't afford to lose two in a row in this National League.
"It will be interesting to see how things pan out in the match-ups and how we contest high ball. In fairness to Kilkenny, they're the kingpins of winning high ball, hard ball, and Tipp have to counteract that.
"I've no problem with floodlights but I'm not a fan of them in the depths of winter, when conditions are poor," Hogan adds. "Sunday's game will be in daylight and hopefully it will be a reasonable day.
"The Nowlan Park surface is excellent and I think Mick will use maybe one or two different players.
"He hasn't gone totally for physicality either – Daire Quinn has been outstanding for Nenagh Éire Óg in the last couple of years and around that engine room, he can be satisfied with his start.
"Mick will throw players into the mix and it's up to themselves to earn another opportunity."
Tipp will rarely struggle for scorers but it's the supply chain that has come unstuck on more than one occasion under successive managers.
In this regard, Hogan wants to see a continuation of the half-back line dominance that was a feature of the Dublin game.
"I'm always confident that we would have a decent forward line to put together," he says.
"The half-backs were very strong last week and are capable of being strong again. You have the likes of Kieran Bergin to come back in as well and that gives us options.
"If you have a strong back line with a regular goalie in Darren Gleeson, we should have the opportunity to give the forwards plenty of ammunition to make things tell."