Former Waterford captain Stephen Frampton believes the Déise's senior hurlers need to win an All-Ireland title "sooner rather than later."
Ballygunner man Frampton, who played for the county's senior team for over a decade until 2002, is "very optimistic" about the future under Derek McGrath but insists that the time has come to make a major breakthrough.
Frampton also acknowledged that the sweeper system that took Waterford so far last year won't work again this year, and he's eagerly anticipating what McGrath has in store against Kilkenny in Sunday's Allianz Hurling League Division 1A opener at Walsh Park.
Waterford exited last year's championship to eventual winners Kilkenny at the semi-final stage, after winning the Allianz Hurling League.
But Frampton predicted: "The first few weeks will be a disaster with the pitches. A mudbath might suit Waterford but, really, everybody is kind of waiting to see what Derek is going to come up with.
"It's a work-in-progress but the next piece of work is to try and create a few more goal chances up front.
"If we're to be recognised as one of the top teams and to challenge for an All-Ireland, we have to start creating more goal chances.
"He's done a great job at the back, now he has to bring it a step forward and start to bring a bit more bite to the forward line.
"I just think that if you look at the likes of Kilkenny and Tipperary, they have goal threats every time the ball goes up there.
"Waterford have that but only if the ball is held up for a length of time, which was quite seldom given the system.
"It's quite difficult for Maurice (Shanahan) or whoever his partner was up front to create goal chances when coming up against three and four defenders.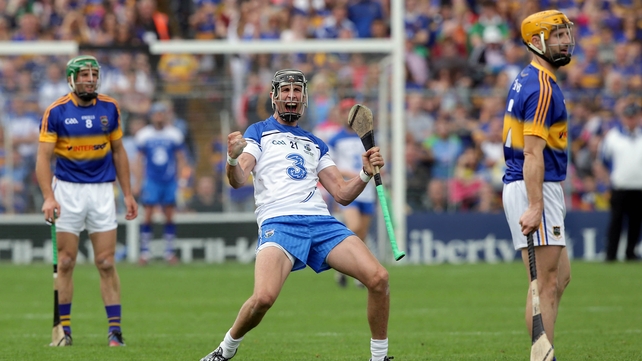 "It was four on two at times and I'd hope that Derek is going to come up with something to add a bit more penetration and a bit more danger."
Frampton believes that reaching the knockout stages would represent a satisfactory campaign for League champions Waterford in the coming weeks and months.
But he admitted that the championship is "the be all and end all" as Waterford once again aim to end an All-Ireland senior famine dating back to 1959.
He added: "The future is bright and positive but it's all very well being competitive and knocking on the door for a long time now.
"It (All-Ireland) needs to happen sooner rather than later.
"That's the way it is. It was a great few years when we were seen as one of the top teams and we were competitive and one of the most consistent over the last 15 years but the fact is we haven't won All-Ireland."
Watch highlights of the weekend's hurling action on Allianz League Sunday at 7.30pm on RTÉ2 and RTÉ Player.