LIDL LADIES' NFL DIVISON 1
Mayo v Dublin, 2.00pm, Swinford Amenity Pitch, (G Chapman)
Mayo were the surprise package in Round 1. They had gone nine years without a victory over Cork and made the journey south as underdogs, but Cora Staunton inspired her county to a famous victory.
The tough opening schedule continues for Mayo though as they face the outright favourites, Dublin, in Swinford.
Mayo have been buoyed by the return of players like Aileen Gilroy and Amy Bell plus the availability of international soccer player, Sarah Rowe - and in experienced players like Staunton, Fiona McHale and Martha Carter they have the capability to go take a giant step towards the knock out stages.
Dublin had a dream opening to their Division 1 campaign as they hit their stride immediately disposing of a fancied Kerry side in impressive style.
The return of ace attacker Sinead Aherne has given the whole team a confidence boost and released Lyndsey Davey to be their chief creator from centre forward, a role she relishes.
Noelle Healy has taken on the leadership role of being captain with the greatest of ease as Niamh McEvoy maintained her 2015 form by scoring a brace of goals. Dublin have welcomed back several players that were unavailable last year and look like a team heading in the right direction.
This match will be a great test of the title credentials of both of these teams and although Mayo are the home side this is a power-packed Dublin squad. A win for Mayo and people will no longer look at them as underdogs.
Kerry v Cork, 2.00pm, Brosna, (K Delahunty)
This is already a crunch match. Kerry had travelled to Dublin in Round 1 fancying their chances but they were sent packing. Cork suffered a similar fate against Mayo.
Kerry need to rally and they will see the visit of their much-vaunted neighbours as the perfect opportunity to set the record straight. No team has caused the Rebelettes more trouble than Kerry in recent years and the Kingdom will be determined to show that their Munster championship victory was no fluke.
Cork are in unfamiliar territory, they lost their opener to a Mayo side that had not beaten them in nearly a decade and they are without the familiar guidance of Eamonn Ryan.
This Cork side will want to create their own identity and that will need to begin this weekend. It is not unusual for Cork to start slowly in the league, they have only claimed their semi-final place on the final day in the past two years; but, such is the quality of the division it will become a much more difficult task if they do not get points on the board this weekend.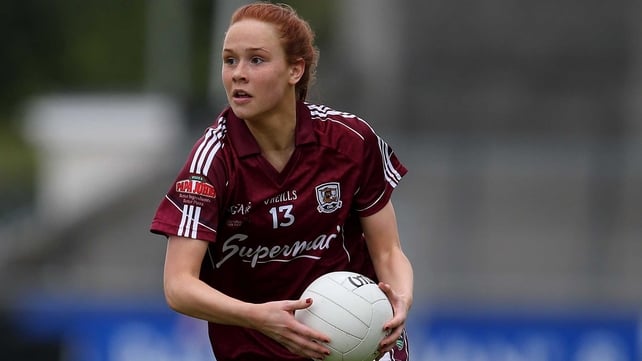 Galway v Monaghan, 2.00pm, Tuam Stadium, (M Kenny)
Galway have been the nearly team in recent years. They came close to beating Cork on three occasions in 2015, but failed to get over the line. Monaghan were the side to push Cork the closest most regularly for the last decade but they have since gone into decline.
Last weekend's terrible weather conditions meant that both teams have had to wait an extra week for their first taste of action.
Galway will go into this season without their talismanic midfielder, Annette Clarke, for the first time since 1997 as the two-time All Star confirmed her retirement this week.
However, there is a great depth of talent in their ranks as players like Nicola and Louise Ward, Olivia Divilly (above) and Megan Glynn are expected to deliver on their huge promise this year, whilst forwards like Roisin and Tracey Leonard are both match winners.
This is a Galway side that have the talent to deliver an All-Ireland and new manager Willie Ward will want them to start with a positive result on Sunday.
Paula Cunningham takes charge of Monaghan for the first time this weekend with question marks hanging over several of their more established players.
Amanda Casey has already called time on her career but there are suspicions that she will be joined by several other star players. Monaghan face into a rebuilding phase as they hope to put the foundations in place for a renewed run at the championship later this year.
The likes of the McAnespie twins, Grainne McNally, Catriona McConnell, Sharon Courtney, Ellen McCarron and three-time All Star Cora Courtney mean that the talent is there for this team to become a real force again but having to play away from home against a determined Galway is as tough an opener as they could possibly have had.
Tyrone v Armagh, 2.00pm, Killyclogher, (B Rice)
Last weekend's bad weather means that both of these sides have yet to get their campaigns underway.
Tyrone will host their Ulster rivals in a crunch match. Tyrone only confirmed their Division 1 status in the final round last season after a shoot out with Laois and they will be determined to avoid a similarly nervous finish to their campaign this season.
This is a key match for Tyrone, who welcome an Armagh team lacking in experience in the top division. Victory for Tyrone will make them feel like they are ready to return to the elite but defeat will reignite fears of a long struggle in Division 1.
Armagh are a side that have taken huge strides in recent years. They have been won in Croke Park, claimed the Ulster title and had back-to-back promotions in the league.
Ronan Clarke has taken over from the architect of that success, James Daly, and he has inherited a squad that is full of potential.
Caroline O'Hanlon is acknowledged as one of the best players of this or any other era, Kelly Mallon, Fionnuala McKenna, Mairead Tennyson, Caoimhe Marley and Sinead McCleary are all top players and in Aimee Mackin they have one of the most promising young talents in the game.
Ronan Clarke will want his Armagh team to make an impact on their return to the top division but they will face a Tyrone side experienced at the top level that know they must get early points on the board.
LIDL LADIES' NFL DIVISION 2
Donegal v Laois, 2.00pm, Moville, (J Niland)
Donegal are the favourites for the Division 2 title and they demonstrated real determination to come back at Westmeath last weekend.
Laois suffered a heavy defeat at home to Clare last time out adding to fears that this is going to be a very difficult time for the 2001 All-Ireland Champions. A trip to Donegal with confidence low is the last thing this Laois side will want as they seek to get their season back on track.
Meath v Cavan, 2.00pm, Ballinlough, (G Corrigan)
Meath had a great victory at home against Sligo last weekend to ease fears that they are caught in a downward spiral.
The Royals have a young side but it is one that is brimming with potential. However, Meath will be sorely tested as they play host to this very strong Cavan side this weekend. Cavan are amongst the favourites for promotion, they have an experienced squad but have worked hard at underage level to unearth some great young talent.
Meath can be in the promotion shake-up at the end of this year but Cavan will provide a stern test and one that might be coming a little too early in the season for the home side.
Kildare v Westmeath, 2.15pm, Hawfield, (S McNulty)
Kildare had a difficult start to the year as they travelled to Cavan and left empty-handed after conceding six goals on a tough day.
Things don't get any easier as they now meet their Leinster rivals Westmeath, who are amongst the title favourites.
Westmeath were disappointed last weekend as they couldn't hold on against Donegal but it was another performance that shows that they are a team heading in the right direction.
Kildare can definitely get involved in the chase for promotion and if they can deny Westmeath victory this weekend it will be a massive step in the right direction.
Clare v Sligo, Cooraclare, 2.00pm, (G Carmody)
Clare were superb as they claimed a win on the road in Laois last weekend. They scored 4-09 and conceded only 4 scores as they cruised to an impressive win.
On the other had Sligo were left disappointed as their return to Division 2 got off to a poor start when they lost out to Meath in round 1.
Sligo are on the road for the second week in a row so they will not relish the trip to Clare. This should be another closely fought game that takes on more importance as the loser will look at the fixtures to follow and know that avoiding the drop will be extremely difficult.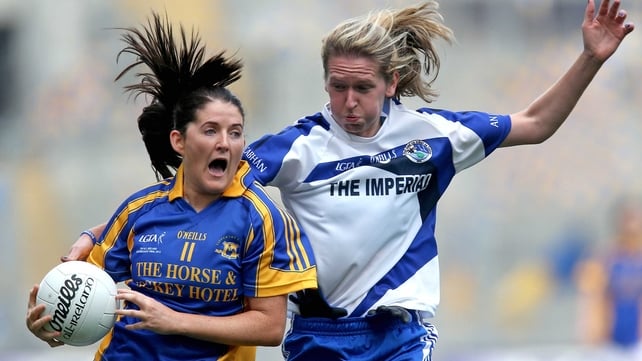 LIDL LADES' NFL DIVISION 3
Offaly v Waterford, 2.00pm, Gracefield GAA, Portarlington, (Tullamore Rd), (D McEnery)
Offaly have never struggled to score goals which is something they demonstrated again when they put 4 past Roscommon; however, they conceded 3-10 to go home without anything to show for their efforts.
Offaly need to tighten up at the back and fast as they face a free-scoring Waterford side. Waterford are the Division 3 favourites and are on the crest of a wave following their All-Ireland Intermediate win last year.
Tipperary forced the Deise to dig deep to come back and win with the last kick of the game. This Waterford side have huge potential but the journey to Offaly will tell us a lot about whether they can deliver on that promise.
Leitrim v Down, 2.00pm, Ballinamore, (K Corcoran)
Leitrim were another victim of the weather last week and will be chomping at the bit to get their campaign under way.
Down will travel to face the Connacht side after suffering defeat by a single point to Wexford last week. Down are very much in a rebuilding phase and could really struggle against a side boasting a forward of the quality of Áine Tighe.
Tipperary v Fermanagh, 2.00pm, Bansha, (J Murphy)
Tipperary welcomed back several high-profile players last week with talents like Mairead Morrissey really making their presence felt as the full-forward bagged one of their goals.
However, they did suffer a heartbreaking defeat against their Munster rivals having led to the end of normal time. Fermanagh make the trip south for their first match knowing that this is going to be a massive test. Fermanagh must hit the ground running but this resurgent Tipperary team will be very hard to beat.
Wexford v Roscommon, 2.00pm, Patrick's Park, Enniscorthy, (K Phelan)
Wexford had a good morale-boosting victory over Down on their opening weekend as they sneaked it by a single point. Roscommon were also victorious in their opener but will be concerned with the concession of four goals. The Connacht side will have home advantage and must get a win against a team that will be their main competition for the top four.
LIDL LADIES' NFL DIVISION 4
Antrim v Derry, 3.00pm, Crumlin Leisure Centre (4G), (E O'Hare)
Antrim will welcome this home fixture after suffering a painful defeat away to Wicklow in the previous round. The Ulster side will harbour serious hopes of promotion but their confidence will have been knocked by that defeat.
Derry suffered a heavy defeat to Louth at home last time out and will fear that they could suffer a similar fate this weekend against their Ulster rivals.
Louth (H) v Longford, 2.00pm, St Nicholas, Drogheda, (C Dourneen)
The All-Ireland Junior champions from Louth had a huge win over Derry last week but they will know that this will be a much stiffer test against their Leinster rivals. Longford have had to wait for their opening match and will really welcome the test that this Longford side will present.
Wicklow (H) v Limerick, 2.00pm, Bray Emmets, (J Flood)
Wicklow showed that they will be a force in Division 4 thanks to a good win over Antrim but this fixture at home to the outright favourites will show if they truly have the potential to win the division. Limerick finally get their 2016 campaign underway and will relish the trip to Wicklow. This should be a close game between two good teams who have lofty ambitions.