Former Roscommon star Frankie Dolan believes that many of the county's current senior players must develop physically to survive at the top level.
The Rossies were beaten by Monaghan in last Sunday's Division 1 opener and face trips to Kerry and Cork for their next two outings.
Dolan admits that Roscommon are already facing a battle to preserve their top-flight status – and suspects that Down and Connacht champions Mayo will also be involved in the relegation dogfight.
Roscommon were caught late by the Farney in Kiltoom in their opening fixture and Dolan views that defeat as a major setback.
He said: "I think it was a game they pencilled in at the start, to try and get two points.
"They could have won it, a couple of mistakes cost them, but physically a lot of players are not as developed as you could see.
"The Monaghan players were more developed physically.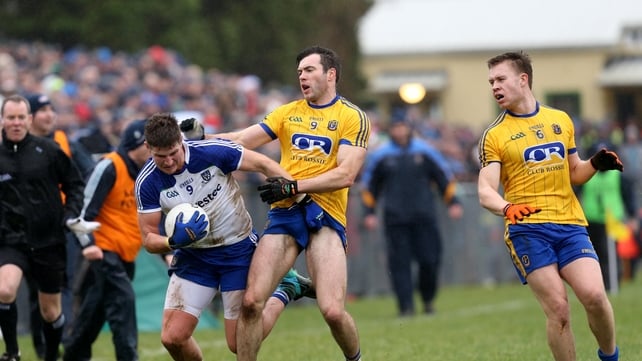 "Some of our players aren't developed yet to compete at that really high level and until they do, they'll find it hard to compete against the likes of Donegal, Tyrone, Dublin, Kerry, who are ahead in that aspect.
"It will take time but what we haven't really got is an out-and-out big, strong midfielder.
"Take out Ian Kilbride and Cathal Shine and we don't have anything else.
"And the half-back line is not physically strong enough to be able to compete for the hard ball, the dirty ball.
"There are a good few young lads there and it will take time for these lads to developed.
"In saying that, these lads have been training hard the last few weeks and thought they might catch a couple of teams fitness wise at the start of the year.
"Staying up would be massive but where are we going to pick up points?"
"Monaghan set them back and now they have a tough game against Kerry on Sunday and then it's Cork, two of those away.
"It's going to be hard to see Roscommon getting a couple of points. Staying up would be massive but where are we going to pick up points?
"Mayo have a lot of injuries and they got a bit of a hockeying against Cork, Down came up from Division 2 and they got a bit of a trimming as well.
"What I'd be looking at is Roscommon, Mayo and Down – can these teams compete with Cork, Donegal, Dublin, Kerry and Monaghan, who finished third in Division 1 last year and are an established team?
"But Roscommon can take a couple of positives – Monaghan are Ulster champions and Fintan Cregg blazed a chance over the bar.
"We could have won the game – we had the chance and competed fairly well despite not having our strongest team out."
Dolan has also confirmed that he's staying on with the Roscommon U21s for the 2016 campaign alongside manager Mark Dowd.
And Dolan has also taken up the managerial post with home club St Brigid's, with whom he won an All-Ireland senior club title as a player in 2013.
He explained: "I was asked to be a selector originally by the committee. I wanted to see whoever they got in and have a chat but that original committee didn't recommend anyone for management.
"I started thinking, put my name in the hat and myself and Eddie Lohan are now joint managers.
"We're back training about three weeks and it's going well. We're missing a lot of the county seniors and U21s but we can have a look at younger lads."
Dolan also reacted to the controversial boundary proposals put forward by Minister for the Environment Alan Kelly, which could see parts of the county moved into Westmeath.
Dolan reflected: "I think it will affect Clan na nGael more than St Brigid's. There's a small section of St Brigid's affected but I don't think we have footballers in that area.
"But if someone moved in there, we could lose them. I don't know the reasons behind it, you'd hear so many, but there are lots of protests going ahead."